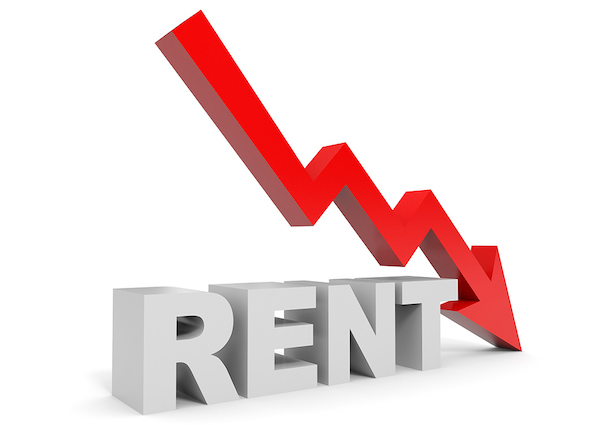 In Southern California, a region with some of the highest rents in the nation, West Hollywood stands out for having had the most significant decrease in the average apartment rent over the past year.
That's according to data from RentCafé.com, a nationwide apartment search website. It reports that West Hollywood's average rent of $2,897 a month in January of this year represented a 2.8% decline, the biggest annual rent in all of Southern California. The average rent in January in West Hollywood was a 0.3% increase over that in December 2019.
"The average rent in Southern California cities is generally higher than the national average rent," says the RentCafé report. "The fastest growing rents in January were in Aliso Viejo, where rental apartment prices increased by 1.2% month over month, $26 more per month. Temecula apartments saw the second highest monthly increase, jumping by 1.1%, making them $19 more expensive than last month. In La Puente prices dropped by 1.2%, $16 less compared to December.
The national average rent in January 2020 was $1,463, up 3% compared to the same time last year according to data from Yardi Matrix, which compiled the data. Yardi Matrix is a business development and asset management tool for brokers, sponsors, banks and equity sources underwriting investments in the multifamily, office, industrial and self-storage sectors. Fully affordable properties are not included in the survey and are not reported in rental rate averages. Local rent reports include only cities with a statistically relevant stock of large-scale multifamily properties of 50+ units.
According to RentCafé, the average rent in Los Angeles reached $2,545 after a 3.5% year-over-year increase in January. San Diego ($2,238) saw rents increase by 3.7% since last year.
Rents in Burbank ($2,429) increased the fastest in Southern California, going up by 8.3% since January 2019. Colton ($1,313) and Redondo Beach ($2,600) rentals follow, with their rates rising by 7.7% since last year. Apartment rates shrank in Carlsbad ($2,311) by a mere 0.1%.
"The priciest city for renters in Southern California is Santa Monica, "says the report, "with apartments now averaging $3,881/month. Marina Del Rey ($3,613) is the second most expensive market."
If you're looking for a "budget-friendly" apartment, RentCafe suggests Indio ($1,141 average monthly rent) and Victorville ($1,155), which have the most affordable rates in the region.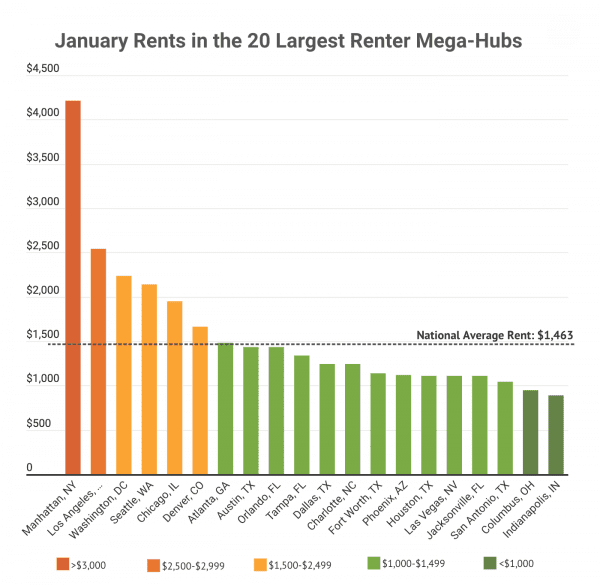 The report doesn't explain why there was a decrease in average monthly rents in West Hollywood last year, however that is likely the result of a huge increase in new apartments built over the past few years. While apartments in new buildings are generally significantly more expensive than units in existing buildings, there is evidence (illegal Airbnb rentals, offers of 13-month leases for a 12-month rent, etc.) that not all of the new buildings are full.
In its report, RentCafé explains that the supply of an apartments has an impact on their rent.  "Indianapolis apartments are the cheapest out of all urban renter hotspots, with an $887 average rate," it says. "The Indiana city offers low prices in part due to the number of apartments available in the city — occupancy rates are below the national average, which means there are more apartments for renters to snatch up."
The full report can be accessed online.