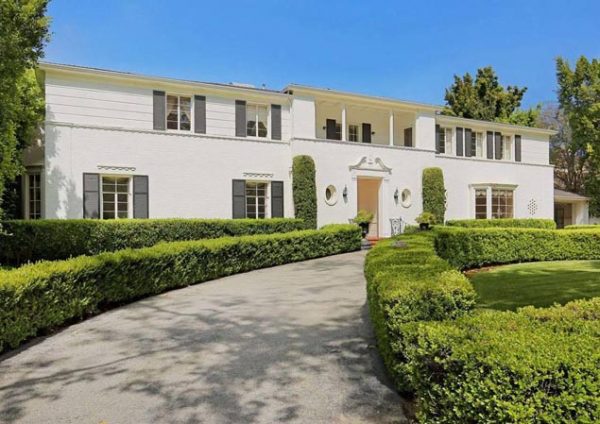 In 1789, the year he became the United States' first president, George Washington embarked on a tour of New England, eventually visiting 60 towns in the region. Years after the tour, his former hosts proudly posted signs that read "George Washington Slept Here" on the inns and private homes where he stayed. In the early 20th century enterprising realtors began placing the signs on houses they were selling, many of which were built long after Washington's visit. Before long, there were so many signs that it got to be a joke.
Ronald Reagan, the 40th president, made Los Angeles his home off and on for 67 years — including 14 years in greater West Hollywood. He lived in quite a few places in the city during that time, but one place he never slept was in a house in the exclusive Little Holmby section of Los Angeles, at 333 South Beverly Glen Boulevard.
The house, which went on the market last month, has been written up recently in news stories and high-end realty listings, all claiming that it has a double dose of celebrity cachet:It is a rare, intact work by renowned architect Paul Revere Williams, an architect to the stars — and it is the former home of the 40th president of the United States.
The first part is true. Williams was the architect, and having had just two owners over the past 60-plus years, the house remains in remarkably pristine condition, much as he designed it. But the second part, like the claims about Washington's sleep-overs in the New England towns, is false. Ronald Reagan never slept there.
Much of the coverage reads like this article, headlined "Inside President Ronald Reagan's Former Los Angeles Mansion," in the Feb. 18 real estate section of the Washington Post: "The Los Angeles mansion where Ronald Reagan lived with his first wife, actress Jane Wyman, before he became president, has returned to market for $6.75 million after selling about a year-and-a-half ago for $6.45 million … Reagan lived in the home during the 1940s."
Fact checkers at the Washington Post would likely give this statement three out of four Pinocchios. Politifact might rate it "Mostly False."
Here is a quick overview of all the places Ronald Reagan lived — and most of the places he was known to have slept — in Los Angeles.
When Reagan arrived from the Midwest in 1937, he first lived in the Montecito Apartments at 6650 Franklin Ave. He moved to West Hollywood the next year, into a house at 1128 Cory Ave, a block north of the Sunset Strip. Around that time, he met Jane Wyman on the set of "Brother Rat." Married but in the process of divorcing, she was living in an apartment at 1326 Londonderry View Drive, a mile east of Reagan's house. Reagan moved into the building (some sources say into Wyman's apartment) in early 1939, and they were married on Jan. 26, 1940. Their daughter Maureen was born while they lived on Londonderry View, on Jan. 4, 1941. (The house on Cory is still standing, as is the low-rise, ochre-colored apartment building perched above the Strip on Londonderry View.)
Later that year, the Reagans moved into house they'd built at 9137 Cordell Drive, a half mile above the Strip in Doheny Estates. (Greatly modified, it is the home today of legendary record producer Richard Perry.) Both their careers were on an upswing, and with money coming in, they made a number of real-estate investments, including buying the house at 333 South Beverly Glen, in 1947.
But by 1947 the marriage was going south – Jane told a newspaper they had political differences, and some sources say she objected to his cooperating with Communist-hunters in Congress. They separated in 1948, and after the divorce became final in July 1949, Jane got the house on Cordell and custody of their daughter Maureen and son Michael. She immediately sold the house and moved to Malibu. Within a few years she bought out Reagan's share of the South Beverly Glen house and moved in. (In his book, "Lessons My Father Taught Me," Michael Reagan recalled how, as children, he and Maureen would "sit on the curb in front of [their] mother's two-story mansion at 333 South Beverly Glen" and wait for their father to arrive for his bi-weekly visitations.)
During his separation from Jane Wyman, Reagan first moved to the Garden of Allah Hotel on the Strip where he dove right into the hotel's notoriously raucous goings-on. (A small historical coincidence: The hotel's founder, Broadway and silent-film superstar Alla Nazimova, was his future wife Nancy's godmother.) He later moved back to the apartment on Londonderry View, where he dated a series of women, including actresses Doris Day, Piper Laurie and, in 1951, Nancy Davis. He and Nancy "dated off and on," as he put it, for several months. Things got serious in early 1952, however, and they were married on March 4. Daughter Patty was born seven months later, on Oct. 21.
The newlyweds moved into a new house at 1258 Amalfi Drive in Pacific Palisades that summer. In 1957, with help from Reagan's employers at General Electric, they built a house a mile away, at 1669 San Onofre Drive. Their son Ron was born while they lived there, in 1958. They kept the house during their time in Sacramento when Reagan was governor but sold it after they moved into the White House in 1981. After Reagan's presidency, they returned to Los Angeles and lived in a house at 668 St. Cloud in Bel Air. Reagan died in 2004 and Nancy in 2016. The house on St. Cloud was recently demolished.
Paul Revere Williams
Paul Revere Williams was one of the most talented – and prolific – architects in Los Angeles in the 20th century. His work included some of the best-known commercial buildings in the city — notably the Los Angeles County Courthouse, Saks Fifth Avenue Beverly Hills, renovations on both the Beverly Hills Hotel and the Ambassador Hotel (demolished in 2006) and Al Jolson's tomb in Hillside Memorial Park. He was on the team that created the futuristic Theme Building at LAX.
There are two Williams buildings remaining in West Hollywood: Chasen's Restaurant, now a Bristol Farms Market at Beverly Boulevard and Doheny Drive, and the Berman/Kohner Building on the Strip. A third, the luxurious Sunset Plaza Apartments on Sunset Plaza Drive, which Williams designed with L.G. Scherer, was demolished in 1987 despite having been designated a Los Angeles Historic-Cultural Monument in 1980.
Among the dozens of residences he designed were mansions for stars like Frank Sinatra, Lucille Ball and Desi Arnaz, Lon Chaney and Barbara Stanwyck – as well as the house Jane Wyman bought on South Beverly Glen, which also stood in in 2017 as Joan Crawford's home in the series, "The Feud."
Paul Williams' accomplishments are all the more remarkable because he was black – in fact, he was the first African American Fellow of the American Institute of Architects, the AIA. He designed more than 2,500 buildings in his 60-year career, working for most of that time in the shadow of Jim Crow.