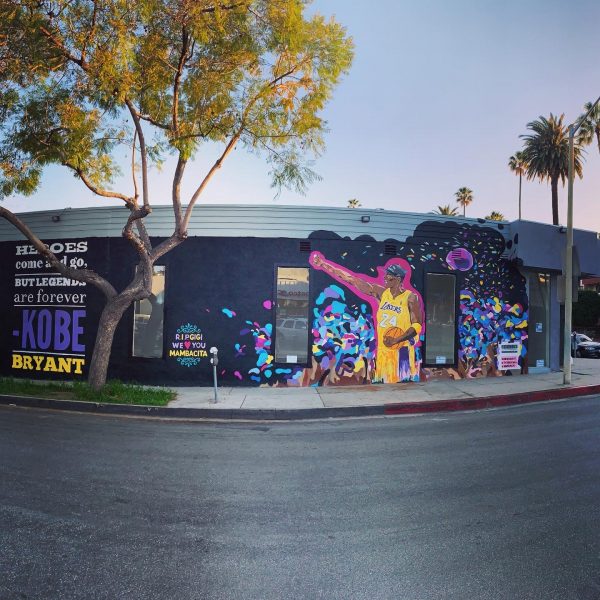 Thousands flocked to the Staples Center in Los Angeles last Monday for a commemoration of the life of the late Kobe Bryant.
But the famous basketball player's life continues to be commemorated today on the wall of a retail space on the border of West Hollywood and Beverly Hills.
Matthew Lavi, whose family has owned that now-empty space at 470 N. Doheny Blvd. for almost 30 years, commissioned a mural by artist BournRich celebrating Bryant.
"This wall is very special because it can be seen from Santa Monica Blvd and Melrose, when entering or leaving Beverly Hills," Lavi said. "This specific intersection can also be considered one of the unofficial gateways into Beverly Hills. Such a large beautiful blank canvas."
Lavi said he wanted to pay homage to Bryant with the mural "since he was such a big part of my life, and the community's … I was able to find the right artist, Bourn Rich, to depict Kobe Bryant as the larger than life superstar he was. My brother Nuriel and I grew up watching every single Laker game and were a witness to all five of his championships he brought to Los Angeles. Kobe's inspiration went beyond being just a basketball star; he was a role model for anyone aspiring to be bigger-better and excel in life."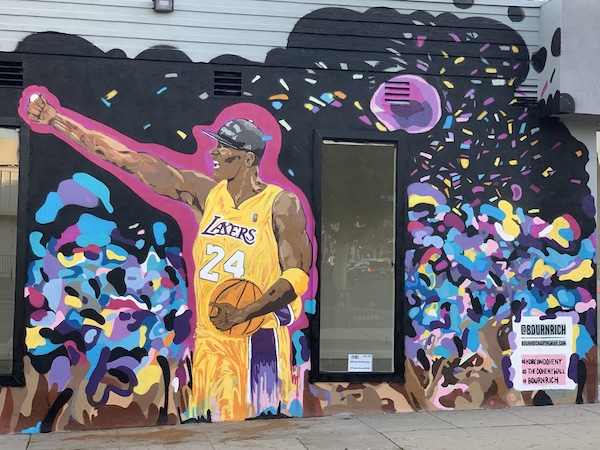 "The wall is attached to a space that we've had in our family for almost 30 years," Lavi said. "The space was once a video store, back in the days when you'd actually go out and rent VHS tapes. As digital media became more wide spread we eventually closed, and it has actually been vacant since. My family have been community business owners here for many years. I have been working in real estate for over 10 plus years specializing in the West Hollywood area, as a proud Weho resident.
"Less than a year ago we decided to remodel the entire space and welcome brands and business owners to come use the space as a pop up shop," Lavi said. "We want to give people, brands, and companies a chance to showcase their goods and services to the community.
"We tried to make beauty and art out of tragedy. And this unique mural is just that. We hope the community will come visit the mural and spread the love we all had for Kobe."
BournRich, the artist Lavi commissioned to create the mural, has his own intriguing life story.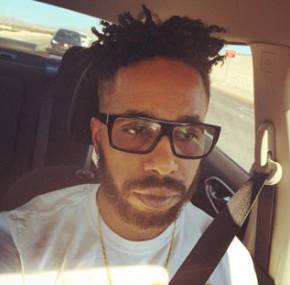 Lavi said the artist was born in inner city Chicago to a young couple in their early twenties. "During his early development, around three years old, BournRich experienced a tragic break up of his parents. His mother packed up leaving Chicago and my father for a better life in LA. From that moment on he had to be the little man of the house."
"His childhood memories include sports leagues, basketball baseball football, and also the LA graffiti hip hop and skateboarding scene. As a result, his work regularly includes subtle images and symbols reflective of this formative early period of his childhood.
" Later in life, he witnessed his mother's health decline, which made him quit college to be closer to her take care of her. Art has definitely saved his life. His art is deeply infused by these experiences rooted in his diverse interests, unusual life experiences, and deeply founded ideals, Rich's art translates his unique perspective into visual imagery that is vibrant bright and touching. He is currently residing in Los Angeles where he actively paints murals canvas and does street art. "
Lavi invites the community to come by and see the mural at 470 N. Doheny Drive, on the corner of Rangely.