The iconic Rocky and Bullwinkle statue has finally found a permanent home after being erected in the triangle at the intersection of Holloway Drive and Sunset Boulevard.
The statue currently is covered with a tarp, which is expected to be removed with a welcoming ceremony on March 28.
"It's wonderful to see history repeat itself," said Alison Martino, the noted historian of old Hollywood and the Sunset Strip, whose Vintage Los Angeles Facebook page is followed by nearly 380,000 people. "As a West Hollywood resident, nothing is more thrilling to see our history restored."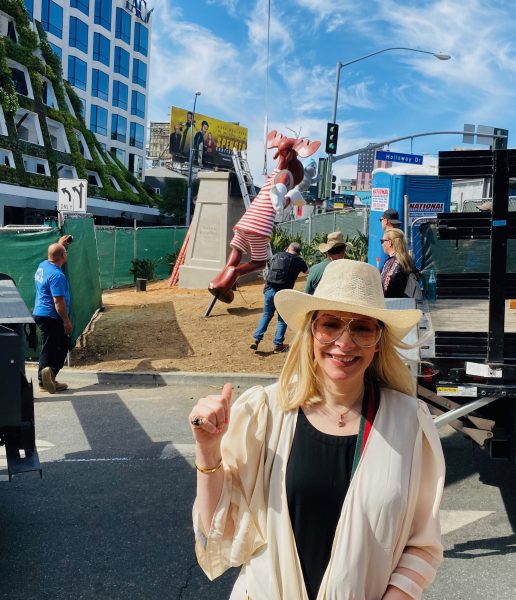 Martino was instrumental in rescuing the statue, which was first erected at 8218 Sunset Blvd. outside the offices of Jay Ward Productions, producer of "The Adventures of Rocky and Bullwinkle and Friends." That cartoon series first aired on Nov. 17, 1959, and immediately became a hit.
The sculpture disappeared in July 2013. Martino sounded the alarm in an article in Los Angeles magazine titled "Vintage Los Angeles: The Moose is Loose!" Eventually, it was revealed that DreamWorks Studios and Twentieth Century Fox had funded a restoration of the sculpture as part of an exhibit at the Paley Center for Media in Beverly Hills. The sculpture reappeared on Oct. 9, 2014, inside the glass atrium of the Paley Center. When that exhibit ended the Jay Ward family offered to donate the statue to the City of West Hollywood if it were placed on Sunset Boulevard near its original location. After a brief display in the West Hollywood City Hall lobby in 2016, Rocky and Bullwinkle went back into storage where the statue underwent an extensive restoration by Ric Scozzari while City Hall tried to decide where to put it.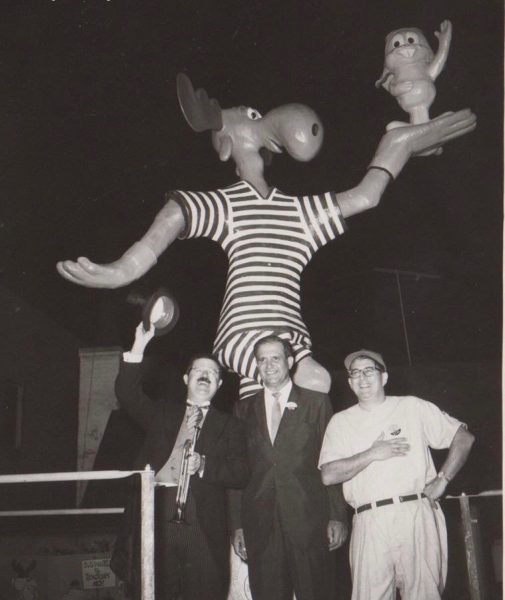 Residents of the West Hollywood Heights neighborhood opposed moving the statue to that location. They argued that it might cause problems with tourists stopping to take photos and driving slowly along Sunset in search of the statue. Another concern was for the safety of pedestrians crossing Holloway or Sunset to enter the traffic island.
But at a City Council meeting on the subject, fans of Rocky and Bullwinkle turned out waving a sign to urge the Council to approve the installation. Among them was Brad Norman, the voice of Bullwinkle in the new Amazon Prime series "The Adventures of Rocky and Bullwinkle" with Tara Strong, the voice of Rocky, who made a comedic pitch to the Council. Amber Ward, vice president of Ward Productions and the granddaughter of Jay Ward, creator of the iconic TV show, also appeared before the City Council to support the installation on the Holloway traffic island.
The City Council approved the installation on the Holloway/Sunset site in a unanimous vote.
A variety of costumes over the years, pictured below: