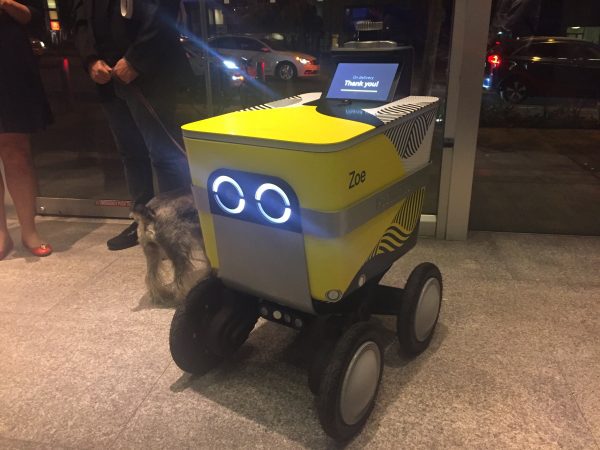 The future took another step toward becoming reality Monday night as the West Hollywood City Council voted 3-2 to allow a trial run of food deliveries by robotic devices on the city's sidewalks.
Beginning sometime in April, the food delivery service Postmates plans to do a 90-day trial run of the "autonomous delivery devices," which are about three feet tall and two feet wide and move at about three miles per hour. The robots have monitors that detect people and other objects and can navigate around them.
The delivery robots will not come into apartment buildings or homes. People ordering deliveries will have to come to the sidewalk to get their food. When the robot is at the apartment building or house, the robot will send a text message to the person's phone to come get the food, along with an electronic code for unlocking the container. Once the code is punched in, the storage container will open and the person can take out the food.
During this trial period, the robotic devices will be escorted by a human who will have a remote control to deal with any navigation issues and problems that arise.
If all goes well and the program is extended, the devices will then operate without a human chaperone. However, a human will be monitoring the delivery process from a mile or two away via a computer or tablet and sending instructions as necessary.
Approval comes with several conditions during this pilot period. Deliveries will only be allowed during daylight hours. Streets with extra narrow sidewalks or "substandard sidewalks" like Fountain Avenue will not be available for robotic use. Only three robotic devices will be allowed to operate within the city limits at any time.
Residents ordering food deliveries will be asked if it is alright if a robotic device delivers the food. They can opt out if they want.
Postmates will continue to use humans for deliveries of two miles or more as those are not practical for the robots due to the travel time. But for shorter deliveries, say just a few blocks from the restaurant, the robots would be ideal.  
"Our goal is to be help brick and mortar retail be able to compete in an era of increasing e-commerce," Vignesh Ganapathy, Postmates' head of government relations, explained to the Council.
The robots are already being tested in the Hollywood area. During the public comment period, WeHo resident Kevin Burton detailed he had fun when he encountered a robot on a sidewalk in Hollywood. He deliberately blocked the robot's path several times and it automatically moved around him to get by.
Similarly, Councilmember Lindsey Horvath said she'd witnessed a robot in operation on Melrose Avenue near Fairfax and reported it did not hit anyone and the pedestrians seemed to enjoy watching it operate.
"I don't think this slow moving robot is going to be the cause of chaos," said Horvath, who praised Postmates for going through the proper channels to get official permission to operate the robots, unlike the electric scooter companies like Bird and Lime, which launched scooters in the city without any advance notice or city permission.
Councilmember John Heilman said it was worth a try, noting that delivery vehicles already add to traffic congestion and double park while dropping off food.
"I think the benefits of it are reducing vehicle traffic, automobiles, reducing carbon emissions and it also has the potential to serve a lot of people in the community," said Heilman.
Councilmember John Duran voted against the trial run, feeling the city of West Hollywood was too dense and busy for such an endeavor. He suggested a smaller area would be more appropriate for the pilot, such as the Pacific Design Center campus or Cedars Sinai Medical Center campus.
"The pragmatist in me says not functional in such a dense part of Southern California, too much competition on the streets and sidewalks, too much human activity," said Duran. "What happens when the three robots get hit by cars or buses or by a scooter? I can just imagine so many more difficulties that seem to outweigh placing our public streets and sidewalks at play."
Likewise, Councilmember Lauren Meister also voted against it, believing the city's infrastructure could not handle the robots on the crowded sidewalks. She suggested it would be more appropriate to operate in separate lanes such as the bike lanes.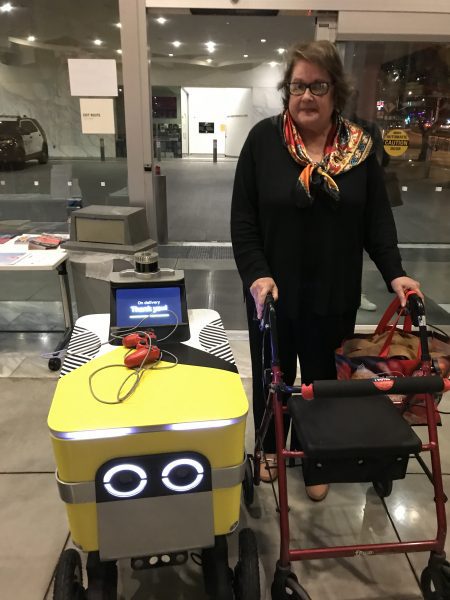 "Here we are the most pedestrian friendly city and we're making it more difficult to be a pedestrian," said Meister. "Until we answer the urban design question, it's really not the right time for us to be testing this technology."
Resident Yola Dore spoke strongly against the robots, explaining that access on the crowded sidewalks could be difficult for people with handicaps or limited mobility having to compete with the robots. She urged the Council protect the pedestrian experience.
"Is a delivery in our city with a device like that so important or are our citizens?" asked Dore.
Similarly, resident Manny Rodriguez agreed that protecting pedestrians was essential, adding if Postmates is worried about reducing vehicle exhausts, their delivery people could use bicycles for deliveries.
Resident Larry Block gets food deliveries from Postmates almost nightly, but doesn't believe robots are a good idea. He suggested the pilot should be done somewhere in the San Fernando Valley, which is less dense,  before being introduced in West Hollywood. Block also suggested the robots could cause traffic snarls as looky-loo drivers slow down to look at the robots on the sidewalk.
Meanwhile Sol Yamani, who owns the Pink Dot store on Sunset Boulevard and contracts with Postmates, reported the hardest part of his business is getting delivery people.
"I will always say, if only I could have robots doing my deliveries," said Yamani, who reported Pink Dot does about 300 food deliveries a day. "This is West Hollywood; this is the most cutting-edge city . . . I highly recommend that we be the first city to do this and do it right and set the tone like we always do."  
Likewise, Genevieve Morrill, head of the West Hollywood Chamber of Commerce, said the plan was well thought out. "It's our future and we should be at the lead and forefront of that," Morrill said, adding that people looking at their phones while walking on the sidewalk and crossing streets are more dangerous to other pedestrians than these robots.
Several other commenters praised the innovative technology and urged embracing this future-thinking idea.
With the approval, the Council added a provision that city staff could shut down the pilot program instantly if problems arose. Likewise, if the pilot is a success, city staff can approve it to continue for the period until it comes back to the Council for review.
After the meeting, Ganapathy of Postmates said he was excited by the approval.  
"[West Hollywood] is the location we wanted to launch in from the outset, which is the reason we reached out to city," Ganapathy explained to WEHOville. "We're heartened that West Hollywood continues to be a beacon for smart ways to bring technology forward rather than shutting them out."
Ganapathy explained that while West Hollywood will be the first citywide pilot program, the robots have been tested in several senior living centers. Likewise, the company has made over 2,000 robotic deliveries in the Hollywood area over the past six months.
He added Postmates is committed to getting this right and working out any kinks so it can potentially expand to other robotic possibilities in the future.
"If we don't do this right, then this type of technology may never roll out, so we want to be doing well by our neighbors," Ganapathy said.