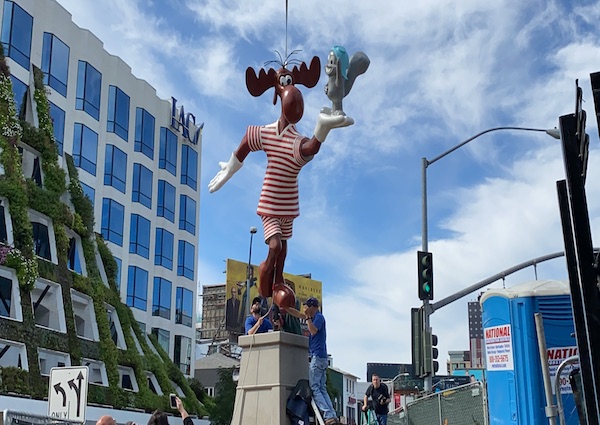 If you would like to welcome Rocky & Bullwinkle home, the City of West Hollywood invites you to an event on March 28 celebrating the installation of the iconic statue in the triangle at Sunset Boulevard and Holloway Drive.
The formal unveiling of Rocky & Bullwinkle, which takes place at 10 a.m., will be the 75th such permanent artwork to be displayed in West Hollywood.
The Rocky & Bullwinkle statue was originally created to to celebrate the "The Adventures of Rocky and Bullwinkle and Friends," an animated comedy series featuring Rocket J. Squirrel and Bullwinkle J. Moose that appeared from Nov. 19, 1959, to June 27, 1964, on the ABC and NBC television networks. The series was the creation of Jay Ward Productions, outside whose studio at 8218 Sunset Blvd. the statue was first unveiled on Sept. 24, 1961 by Jayne Mansfield to a crowd of 5,000. This past November marked the 60th anniversary of "The Adventures of Rocky and Bullwinkle and Friends."
Jay Ward (founder of Jay Ward Productions) was the mastermind and producer of the hit television shows, "The Bullwinkle Show," "The Adventures of Rocky and Bullwinkle and Friends," "Mr. Peabody and Sherman," "George of the Jungle," "Tom Slick," "Super Chicken," and "Dudley Do-Right," to name a few.
The statue will be dedicated and "elbowprints" installed in cement at 10 a.m. on March 28th at the Sunset Boulevard and Holloway Drive triangle in West Hollywood. Guests expected for the event include the voices of Bullwinkle (Brad Norman) and Rocky (Tara Strong) from the current Rocky and Bullwinkle show on Amazon Prime, an appearance by fan Pickle, as Natasha Fatale, Mayor John D'Amico, Tiffany Ward (daughter of Jay Ward and president of Jay Ward Productions), Amber Ward (granddaughter and vice president of Jay Ward Productions), and Alison Martino of Vintage Los Angeles, who has championed the restoration and display of the statue.
In 2015 the Ward family donated the sculpture to West Hollywood's Urban Art Collection after the Jay Ward Legacy exhibit closed at The Paley Center for Media in Beverly Hills. After living in the lobby of City Hall for a while, the location of the Sunset Boulevard and Holloway Triangle was approved for a permanent installation. In its new home, the statue of Bullwinkle J. Moose and Rocket J. Squirrel (Rocky), stands 12-feet tall, a concrete and steel structure complete with a makeover paid for by Dreamworks Animation and restoration by Ric Scozzari.
The "Elbowprint" was first introduced in 1961 at the sculpture's unveiling as a cheeky response to the handprints at what was then known as Grauman's Chinese Theatre (now, TCL Chinese Theatre). Elbows were used instead of hands so that no one would spill their martini. New "Elbowprints" of the Jay Ward Production family and key crew and cast members of recent Jay Ward Productions projects based on the original show characters will be captured at the dedication event.
"On behalf of the Ward family, I am thrilled to dedicate our Rocky and Bullwinkle statue to the City of West Hollywood," said Tiffany Ward. "For 52 years the statue was an icon on Sunset Boulevard. This feels just right for my favorite two characters to spend their eternity – so close to where they were born back on the famous Sunset Strip."