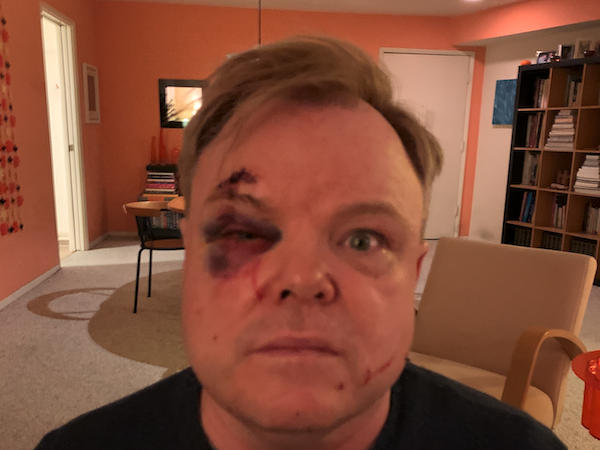 For John Boucher, what was meant to be a pleasant moment in West Hollywood's William S. Hart Park devolved into several brutal attacks by an apparently homeless woman and a months-long complicated and unsatisfying journey through the law enforcement process to get justice.
Boucher, 57, is a talented writer who was a 2011 Lambda Literary Foundation Fellow and is a recipient of a 2016 City of West Hollywood and PEN Center USA's WeHo Writing Craft Scholarship. Now he struggles to deal with a possible damage to his vision and scars on his face.
It all started on the afternoon of Nov. 12, when Boucher was randomly assaulted by a woman in Hart Park, an incident captured on video and seen by two witnesses.
Boucher said he did a "citizen's arrest" and that five or six deputies from the West Hollywood Sheriff's Station quickly arrived on the scene and asked her to leave the park.
A deputy gave him several documents, including a "victim's bill of rights" that included the case number assigned by the deputy to the incident and a classification of the incident as (232P).
"On the evening of Nov. 12, I was contacted by a deputy and told to email him the video evidence. I mistakenly forgot one video and emailed it to him the following day, Nov. 13," Boucher said in an email exchange with WEHOville last week.
"I was told I would be contacted by a detective in two weeks or less," Boucher told WEHOville. "I was never contacted."
In early December, Boucher followed up with a phone call to the Sheriff's Station and was transferred to the voice mail of a female detective. He left a message there, he said, and never heard back from her.
Then on Feb. 3 he sent an email to the state Attorney General's Victims' Services Unit, which states that its mission is to "provide support, information, and assistance to victims at every stage of the criminal process." On Feb. 5 he got a disappointing response from L.A. County Deputy District Attorney Janet Wilson "saying the case would be dropped due to lack of evidence and no witnesses.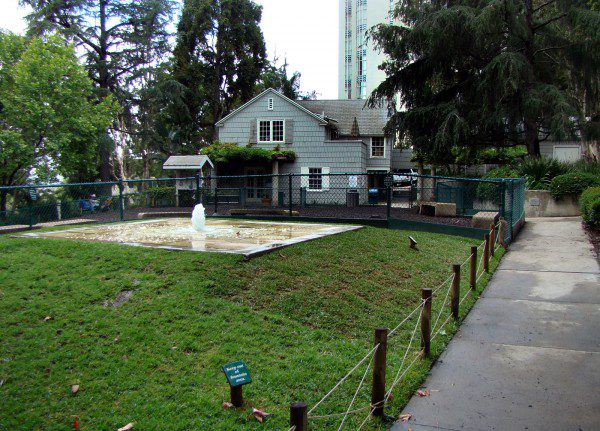 "I wrote her back and told her I had two witnesses, one of whom lives in my building … and that there is video of the woman threatening me after the battery as we are waiting for the sheriff to arrive, Boucher said in an email to WEHOville.
He followed up with an email to District Attorney Janet Wilson. "She emailed me back on Feb. 6th that I should contact Detective Margarita Parra with this information, and she would re-review the case. I called Detective Parra on Feb. 6th at 1:22 pm and left her a message."
"I wrote her back and told her I had two witnesses, one of whom lives in my building … and that there is video of the woman threatening me after the battery as we are waiting for the sheriff to arrive, Boucher said in an email to WEHOville.
Early on the evening of Feb. 8, 89 days after the incident, Boucher was headed back to Hart Park, walking Hobbes, the dog of his neighbor, Dr. Arshavir Blackwell, who had witnessed the alleged assault on Nov. 12.
"I was across the street from my apartment and I passed a silver Nissan Leaf, California license plate number 8PAV596. As Hobbes and I passed the car, headed west on the north side of De Longpre Avenue, a tan dog lept halfway of the passenger window facing the sidewalk and scared us," Boucher said. "As I passed the car, I turned back to see who was in the car, and it was the woman who battered me on Nov. 12.
Boucher had been unable to secure a restraining order against the woman because he didn't know her name or other identifications. But this time he decided he would alert the Sheriff's Station and take a photo of her license plate to document the fact that she was there.
"This enraged the woman, who got out of her car and threw her snarling dog at Hobbes instructing him to 'get him boy, get him'," Boucher said. "As I tried to get the dogs apart, the woman snuck up on me and was suddenly inches from my right temple, and she sucker punched me in my right eye. She had something in her hand because my eye filled with blood and swelled shut as my blood streamed down my jacket and sweater and onto Hobbes.
"The woman then began to claw at my face with her nails and then bit me on my left arm breaking the skin though my jacket and sweater. This is the point when I thought I was going to die and began to kick her in the groin. A middle aged African American woman came out of nowhere and began shouting, 'I got it, I got it! I saw everything.' I honestly think she was an accomplice of the woman who attacked me and had been planted across the street as the woman's 'witness.' Then a tall, slim well-dressed African America man in his 30s, who was walking his dog, came by and assisted me by helping me find my cell phone, which had been lost in the bushes during the attack."
Boucher called 911 and Sheriff's deputies and paramedics quickly arrived. "I was transferred to Cedars Sinai by ambulance," Boucher said. "I had seven stitches above my right eye and three on my right eyelid. I had the where with all to email DA Janet Wilson and Detective Margarita Parra while I was in route to the hospital. This woman stalked me and found where I lived and laid in wait to attack me."
But now, Boucher said in his email last week, "the DA wants to drop the case … because the woman is claiming self-defense. I may never regain full vision to my right eye and may have facial scars for the rest of my life."
Meanwhile, his apartment building manager spotted the woman in front of West Hollywood City Hall around noon on Feb 12. "She was screaming at a maintenance worker that she was going to kill him," Boucher said.
WEHOville reached out to the District Attorney's Office and the West Hollywood Sheriff's Station for a response to Boucher's statement.
Lt. William Moulder of the West Hollywood Sheriff's Station told WEHOville that Boucher had never shared information about the additional witness to his alleged attack. "One of our detectives called him when she heard he had additional information, but he never called her back," Moulder said in an email message last week. "She recently called him again, and we received an email from him that did not reference any witness information.  Instead, he provided additional information about the suspect that he had researched on the internet.
"Today the detective spoke with him on the phone.  She is in talks with him about that person."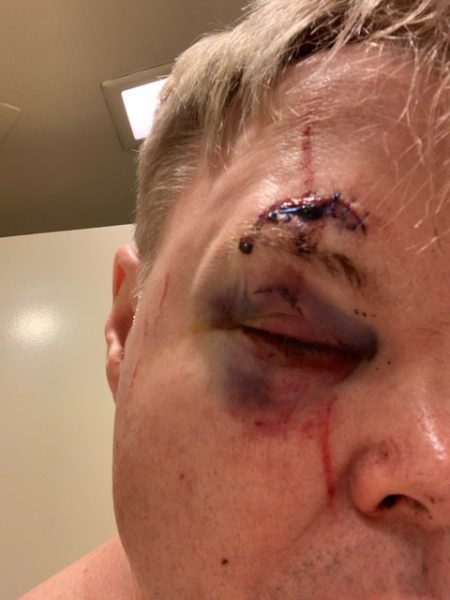 Greg Risling of the District Attorney's Office said it now has asked for a further investigation into the incidents. And Boucher acknowledged in an email to the District Attorney's Office on Tuesday that he had heard from Detective Parra.
"Detective Parra just spoke to me for the first time since the Nov. 12, 2019 battery," he wrote. "She informed me that I had seen her on Feb. 20th when Dr. Blackwell and I spoke to Detective Morales in the lobby of the WeHo Sheriff's station, but I was not introduced, and she was helping other citizens, so I did not realize it was her.
"She stated that she had NOT been given or reviewed the video of the assailant threatening me after the battery or the video showing the assailant harassing me and Dr. Blackwell when she is four feet above us on an upper patio of Hart Park filming us. She started she would get both videos from Detective Morales and review them and then resubmit the case to your office.
"… It is horrific that in order to get a case prosecuted independent witness are required," Boucher said. He ssid he asked Detective Parra if the lead officer responding to the Nov. 12 attack "was wearing a video camera when he responded." That detective, Boucher said,  "informed me that my video evidence was not needed because (there were) two witness (Dr. Blackwell and the blonde woman in her 40s with the small white dog).  "But Detective Parra informed me they don't have cameras yet."
Lt. Moulder said the alleged attack on Feb. 8 "is still being investigated and has not been filed."