St. Patrick's Day is upon us. St. Patty's is the day we all wear green and think green. In West Hollywood we aim to think green throughout the year. I'm proud to have initiated the new Green City Awards upon becoming chairman of the Public Facilities Commission. Over the past few months we have developed a new Green City program that will culminate in the first ever Green City Awards at the City Council Chambers on May 13 at the annual Public Facilties Commission televised broadcast.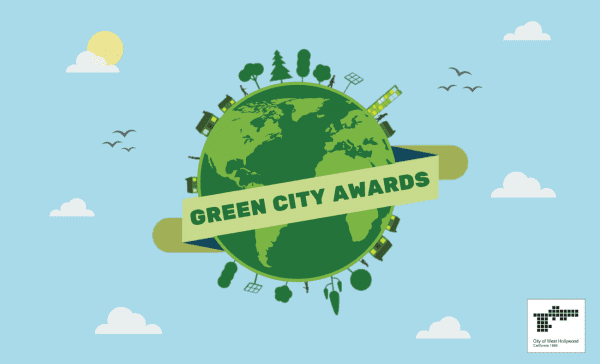 Over these past months your Public Facilities Commission and city staff have worked tirelessly in weekly evening meetings to develop the guidelines, eligibility, vision, logos, and more to create the first ever West Hollywood Green City Awards Program.
In our deliberations we aimed to reward local initiatives, big and small, and environmental actions taken by an individual, a business or organization or school.   The commission was fervent in its belief that "Mary" should get the award. Mary is code word for the neighbor who started a community garden or helped initiate an idea to make West Hollywood greener and more sustainable.  
Our goal was to reward a developer who exceeds the buildings standards with energy, water, or other efficiencies. Our promise was to keep it local for ideas or projects that are born or built in West Hollywood. Our ideal was to build community and collectively work to make West Hollywood a model Green City.
Please go to www.weho.org and submit a nomination for your favorite "green person" or "green program."  Many of our conversations evolve around protecting our trees, our parks, or hoping for new community gardens.   Many of you have taken action in the area of bike lanes and tree preservation. And many new projects have met a new golden standard for sustainability.   I'm excited to promote these green actions and move our city forward to greener pastures.
I'd like to take this moment to say a special thanks to my colleagues on the Public Facilities Commission.   Vice Chair Tai Sunnanon along with Commissioner Noemi Torres, Commissioner Susan Isaacs, Commissioner Elaine Polachek,  Commissioner Richard Karliss, and Commissioner Ed Stapleton have all contributed and worked passionately to make this program successful as our city completes its Vision 2020 plan.   The process was not always easy. We challenged the status quo and broadened the Public Facilities Commission purview and could not have been successful without the knowledge and support of Helen Collins and Erin Hamant.
A very special thanks to Mayor John D'Amico, who I called upon being elected chair with the idea of the Green City Awards, and it was on the very next City Council agenda. And none of this would be complete if I did not acknowledge former Commissioner Brandon Millan.   His inspiration made this my first order of business upon being elected Chairman. And now.. its up to you. The first West Hollywodo Green City Awards. Nomination deadline is March 31, and wishing you all the luck of the Irish!.