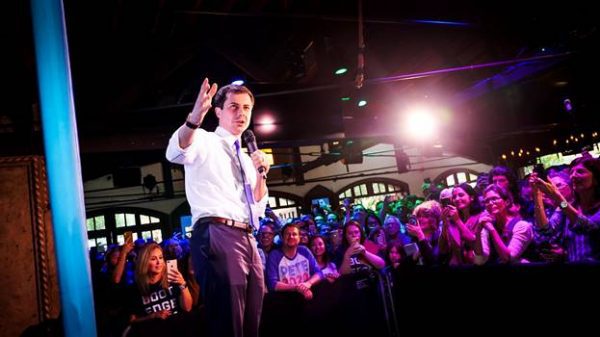 The Los Angeles County Registrar-Recorder still hasn't counted all of those Super Tuesday election ballots, so it's not yet clear how the candidates for the Democratic Party's presidential nomination ranked among West Hollywood voters.
However, one indicator of who got the most love (even if not the most votes) might be the amount of money West Hollywood residents donated to the candidates (and the number of people who donated).
A review by WEHOville of the latest Federal Election Commission filings shows that Mayor Pete was the clear winner, with $240,916 in donations from a total of 277 West Hollywood residents. As an openly gay man running for president, it's perhaps no surprise that Buttigieg got so much support in a city where 33% of residents identify as gay men (that's according to the city's 2019 Community Survey). His supporters included Mayor John D'Amico ($1,000 donation) and City Councilmember Lindsey Horvath ($630).
The support for Buttigieg, who dropped out of the race last week, also supports West Hollywood's image as a center of gay life. However, West Hollywood's "progressive" bona fides took a bit of a hit with fewer donations to Bernie Sanders, the self-proclaimed Democratic socialist, and Elizabeth Warren, whose platforms were way to the left of Pete Buttigieg's centrist position.
Sanders ranked a distant second to Buttigieg in the amount of money donated ($60,623 from 101 people.) Warren ranked fifth, with $33,644 from 81 donors. City Councilmember Lauren Meister was one of Warren's supporters, with a donation of $216.
Joe Biden ranked third in terms of the amount of money donated, with a total of $53,714. But he got that money from only 51 of the city's 37,000 residents. (One of whom was City Councilmember John Heilman, who donated a total of $700). Cory Booker, who dropped out of the race in January (and endorsed Biden today), ranked fourth with $46,000 in donations from 37 people. However, several of those donors (like Leonardo DiCaprio and Ron Burkle) actually don't live in WeHo. They are allowed to use the office address of their lawyers or agents under a California law designed to help celebrities keep their addresses secret). When the non-WeHo celebrities are dropped from the list, Booker's donations total $40,000.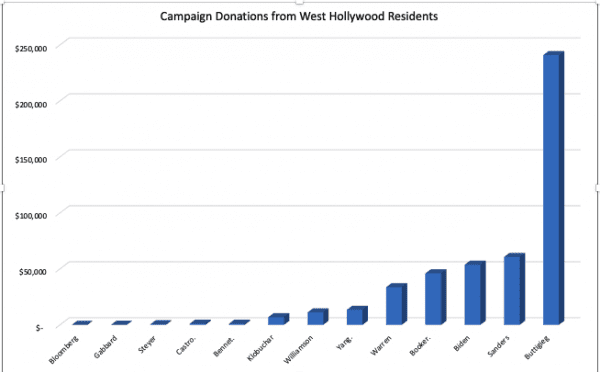 Andrew Yang, who suspended his campaign last month, raised $13,449 from 16 West Hollywood residents. Marianne Williamson, who ended her campaign in January, and is popular among gay men who viewed her as a spiritual advisor during the height of the AIDS crisis, raised $11,107 from 15 people. Amy Klobuchar, who withdrew from the race last week, ranked eighth with $6,866 in donations from 10 West Hollywood residents.
Other former candidates and the contributions they received from West Hollywood donors are:
Michael Bennet, $1,000 from two donors
Julian Castro, $1,000 from two donors
Tom Steyer, $535 from two donors
Tulsi Gabbard, $125 from one donor
Michael Bloomberg, no donations at all.
Donald Trump, who will be facing off with either Biden or Sanders on Nov. 3, is still on a roll with a small number of West Hollywood residents. The FEC records show a total of $141,745 in donations from 34 West Hollywood residents to Donald Trump for President Inc., Make America Great Again Committee, and the Republican National Committee.
The biggest donations in the most recent FEC database came from the Mani brothers (Daniel and Simon) and Simon's wife, Rachel, who together have donated a total of $106,500 ($35,500 each) to the three organizations backing Trump. That's a big jump from the $16,800 to Trump's 2020 re-election campaign that WEHOville reported in August.
The Mani brothers own five major office buildings in West Hollywood and have been regular donors to the campaigns of or organizations associated with several West Hollywood City Council members. For example, Councilmember John Heilman in September of last year solicited a $5,000 donation to Equality California, the LGBT rights organization, from the Mani Brothers. And Councilmember John Duran has solicited donations to the Gay Men's Chorus of Los Angeles, whose board Duran long chaired until he stepped down amid accusations of inappropriate sexual conduct with its young members (an allegation he has denied).
WEHOville reported in August that data from campaign finance filings for the March 2019 City Council election also showed that Daniel, Simon and Tsipi Mani, Daniel's wife, each donated the maximum of $500 to the re-election campaigns of City Councilmember Lindsey Horvath and Mayor John D'Amico. Each of five members of the Mani family also gave donations of $500 to Councilmember Duran's 2017 re-election campaign. (Duran's law office is located in one of the Mani buildings.)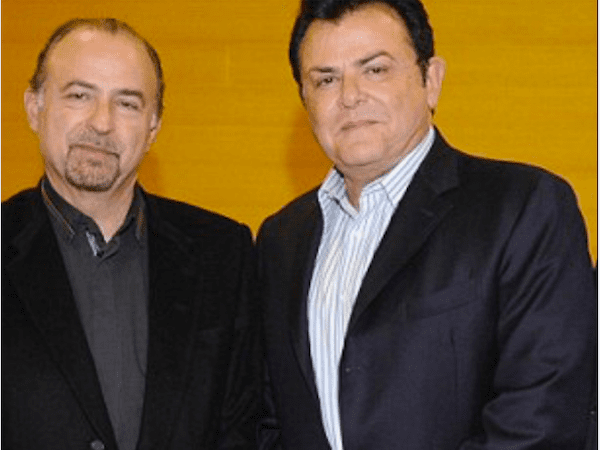 Daniel and Simon Mani also donated $15,000 to an independent expenditure committee formed to support Heilman's re-election to the City Council in 2015. Seven members of the Mani family also each donated $500 to Heilman and Horvath, for a total of $3,500. And Daniel and Simon Mani contributed $20,000 to another independent expenditure committee —Friends of West Hollywood —which identified itself as "a committee to elect John D'Amico, John Heilman, Lindsey Horvath and Joseph Guadarrama to the West Hollywood City Council" and whose organizers included Duran.
The Mani brothers' support for Trump has been awkward for the City Council members who have often declared their opposition to Trump. Councilmember Lindsey Horvath, when she was serving as mayor, even stated that Trump would not be welcome to enter West Hollywood and participated in a protest asking members of West Hollywood's Equinox Gym to give up their memberships because of the financial support for Trump from the founder of the company that owns Equinox.
EDITOR'S NOTE: An earlier version of this story erred in stating that Pete Buttigieg was the first openly gay man to run for president. In fact, Fred Karger, also an openly gay man, was a candidate for president when he ran in the 2012 GOP primaries. The story has been updated to correct the error.