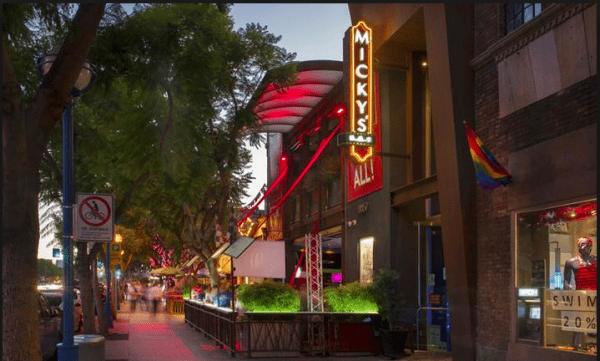 The Public Safety Commission and owners and managers of local businesses last night pushed the West Hollywood Sheriff's Station to step up its patrols of the city's nightlife and entertainment district on the west side of Santa Monica Boulevard.
Their concerns were mostly about aggressive behavior by homeless people. Adam Eraminan, general of Micky's, the popular gay bar at 8857 Santa Monica Blvd., said "the homeless population has gotten out of control."
Eraminan said Micky's has been the victim of several lawsuits filed by customers because of harm to them caused by homeless people while they were at the bar. In one case, a homeless person threw a customer's drink at him, cutting the customer's face. Like many other bars on Santa Monica Boulevard, Micky's has an open façade facing the sidewalk and outdoor seating, making it relatively easy for someone on the sidewalk to interact with a customer.
Bill Karpiak, general manager of the Ramada Plaza hotel at 8585 Santa Monica Blvd., where he has worked for almost 30 years, said he has seen the impact of aggressive homeless people on nearby restaurants and other businesses that the Ramada's guests visit. Referring to the nearby Starbucks coffee shop, Karpiak said "It's sad to see where it's going, from its pinnacle to its decline." 
"It's very intimidating for our international customers," said Karpiak. "… We try to tell them how great West Hollywood is, until they arrive and they are asked for drugs and money (by homeless people)."
Larry Block, owner of the Block Party store at 8853 Santa Monica Blvd., called out each of the calls to the Sheriff's Station in the past year from him or one of his employees. They included complaints about a woman smashing his front store window, a person coming into the store swinging a golf club and threatening a staffer, and someone wielding a knife.
Block also criticized the Public Safety Commission for what he said was its lack of action on the homeless issue.  Block said the Commission should ask the City Council for permission to form an ad hoc committee to work with the city's Human Services Commission to study issues involving the homeless. "The commission isn't looking deep into the issues," he said. "If some of you have not walked down the street where the biggest problems in the community are, maybe you should resign."
Marcus Rainford, the Starbucks district manager who oversees the coffee shop chain's West Hollywood locations, said that he was concerned about the slow response of Sheriff's deputies to calls from the Starbucks at 8595 Santa Monica Blvd. at Westmount. "I personally am in Glendale, and I get there faster than the Sheriff's deputies," he said.
Amanda Laflen, the chair of the Public Safety Commission and the new manager of that Starbucks, said she has shared with Sheriff's Sgt. Jon Klaus issues about people dealing drugs behind the Ramada Plaza and homeless people apparently camping out in the parking garage on Hancock Avenue at Santa Monica Boulevard, which is near Gym Sportsbar, Five Guys Pizza, and Tender Greens restaurant.
Laflen said she would like to see more foot patrols by Sheriff's deputies on the westside of Santa Monica Boulevard. "I think we actually need to see people to feel safe," she said.
Lt. William Moulder of the West Hollywood Sheriff's Station said he and Capt. Edward Ramirez are focusing more on the Westside entertainment district. He said the Sheriff's Station is adding patrols in the area and has assigned its entertainment policing team to patrol Santa Monica Boulevard from Robertson Boulevard on the west to the club and bar area on the issue. Moulder said they also are thinking about adding foot patrols during the daytime, given that some of the issues raised by business owners occur during the day. Moulder said Sheriff's deputies have seen an uptick in violent behavior by homeless people.
The commissioners acknowledged that there are limits on what the Sheriff's Station can do, given that people who appear to be mentally ill or abusing drugs can't just be locked up. The Sheriff's Station has a mental evaluation team staffed by a deputy and a mental health clinician that can respond to issues involving those thought to be mentally ill if summoned by a deputy on the scene or a member of the city's Block by Block Security Ambassador bicycle team.  Adam Eraminan of Micky's cited those limitations in describing an incident last Friday in which a homeless person threatened one of the bar's security guards.  He had an arrest record and was arrested, but was released and soon back in front of Micky's.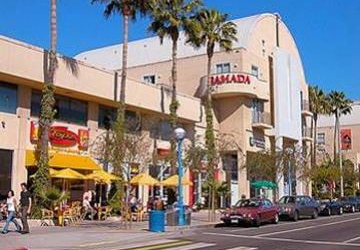 Commissioner Jeffrey Waack suggested the Sheriff's Station resume the regular walks with the Sheriff's Station captain and Public Safety Commission members to local businesses, where they would drop in and here the business owners' concerns.
Commissioner Kerri Balbone said that another issue is that some business owners and their employees don't know who to call about issues involving the homeless.  She cited concerns raised by employees of the Crossroads Trading store and nearby Joey's Diner and Hamburger Mary's bar and restaurant, who have to deal with homeless people tossing trash on the sidewalk and soiling their space. 
Public Safety Director Kristin Cook said the City of West Hollywood's Communications Department is developing a guide that will be mailed to local residents that includes information on who to reach out to about issues involving the homeless.
The commissioners acknowledged the success of the Sheriff's Stations effort to clean up littering, drug use and other misbehavior by homeless people in and around Plummer Park on the Eastside.  That was the result of the Sheriff's Station increasing its patrols of the park and nearby areas.
West Hollywood in February saw a major decline in serious (Part 1) crimes compared to the same month last year.  A report from the Sheriff's Station shows reports of vehicle burglaries fell from 70 in February 2019 to 34 last month, and incidents of petty theft (theft of items worth $950 or less) fell from 70 in February 2019 to 48 last month.  Grand theft incidents, involving items worth more than $950, fell from 32 in February 2019 to 26 last month.  However, last month there were 191 misdemeanor arrests, up from 122 in February 2019. Felony arrests increased from 42 in February 2019 to 69 last month.