Merry Norris, an art dealer with a passion for architecture, died Monday.
Norris, who lived on one of the Bird streets above Sunset Boulevard, had a major impact on the arts culture of West Hollywood in very visual ways. A noted art consultant in Los Angeles, she worked with the architect for the West Hollywood Library to commission Shepard Fairey's "Peace, Freedom and Creativity" mural at the adjacent City Council Chambers building and to install "Platanus Bibliotechalis," a sculpture by David Wiseman that scales two stories of the library's stairwell.
As was mentioned in a 2016 profile of Norris in West Hollywood Magazine, she also participated in the city's "Art on the Outside" program. She organized the temporary installation of painted steel sculptures by Peter Shire on the median of Santa Monica Boulevard Hills and coordinated a photo exhibit at the Pacific Design Center entitled "The Japanese Contemporary Architecture."
Norris also had worked with the Andaz hotel, helping in 2008 to commission and oversee the installation of "The Departure," Jacob Hashimoto's first exterior public art work. The multi-layered tapestry of 700 painted aluminum tiles was strung on nautical cables and suspended in front of the hotel's restaurant/lounge. She also has worked with the Center for Early Education, whose expansion plan included the installation of public art.
Norris was involved in the founding and funding of MOCA (Museum of Contemporary Art.  Her passion for architecture led to her being named an honorary member of the American Institute of Architects Los Angeles (AIA/LA) in 1990. Norris was the first person in the chapter's history to be elected as a public member of the AIA/LA board of directors in 1995, where she served for 14 years.  In October 2011, she was awarded the Presidential Award as the first "Design Advocate," "in recognition for being a sublime design champion and public arts maverick."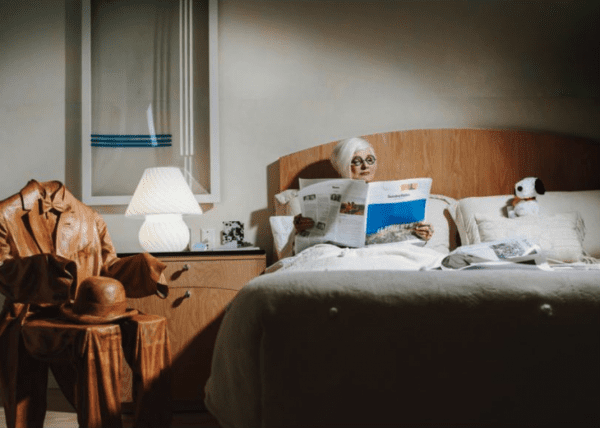 Morris served on the board of trustees of the Southern California Institute of Architecture and as a founding trustee for the Pasadena Museum of Art . She also served on the board of advisors for the Los Angeles Forum for Architecture and Design and The Industry,
Norris lived in a house on Oriole Street in the Bird Streets neighborhood north of Sunset Boulevard and collected art as well as advising collectors. Her house was, in effect, a museum of its own. She also served on the board of advisors of West Hollywood Magazine.
Norris is survived by three children: Jill Bauman, James Wiester, and Joni Martino, who announced her passing in an email to her close friends.
"She felt ready to go, expressing joy and satisfaction with her full and colorful life as well as pride in her children and grandchildren," they wrote. "Her passing was the result of health issues exacerbated by pneumonia.
"…  Given the current state of the world, we cannot set a date yet for her memorial service. In the meantime, if so inspired, please send thoughts and photos to rememberingmerry@gmail.com.
"In lieu of flowers, we are suggesting donations be made to the Merry Norris Scholarship Fund at SCI-Arc (www.sciarc.edu) and/or to the Merry Norris Creativity Fund at Imagine LA (www.imaginela.org).