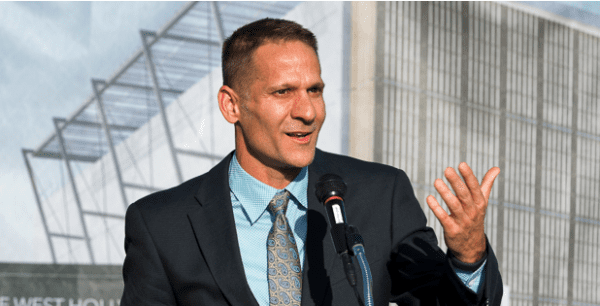 West Hollywood Mayor John D'Amico has tested positive for COVID-19.
The City of West Hollywood announced D'Amico's positive status this afternoon, shortly after D'Amico notified City Manager Paul Arevalo of his condition.  D'Amico did not attend Monday's City Council meeting in person (but did participate over the phone), saying he was feeling ill.
Arevalo issued an immediate order for all staff members to leave work. City facilities have been closed to the public and staff who can work remotely are being transitioned to work-from-home schedules for continuity. All city facilities will undergo immediate sanitization procedures.
"The mayor is taking every precaution as directed by his physician and public health directives," said the city's announcement of D'Amico's infection. "He is home resting and practicing an abundance of self-care. His husband is doing fine and is doing his part to quarantine at home with Mayor D'Amico. To facilitate their household's focus on wellness, the mayor is asking for privacy at this time."
D'Amico, an openly gay man, is 57 and is HIV positive. Public health officials have warned that those 60 and older may be more at risk of a COVID-19 infection, however there is no evidence that those with HIV are at greater risk unless they have a low CD4 cell count, and are not on HIV treatment (antiretroviral therapy). D'Amico, who has been open about his HIV status and has fought against stigma associated with the disease, does take the medication that is part of antiretroviral therapy. He has said he will quarantine himself for two weeks.
The announcement noted that West Hollywood has been taking coordinated action following the lead of public health recommendations to respond to the rapidly evolving coronavirus public health crisis. "Last week, the city issued a cancellation of all non-essential meetings and events. On Monday, the city declared a local emergency. On Tuesday, West Hollywood City Hall and city facilities were closed to the public. At each step, the city has been taking absolutely every precaution to safeguard employees.
The Los Angeles County Department of Public Health reported today that there were 11 confirmed COVID-19 infections in West Hollywood, an increase from the eight announced on Tuesday and the five announced on Monday. Wednesday's COVID-19 count means WeHo continues to have the highest number of infections as a percentage of population of any city or neighborhood measured by the Los Angeles County Department of Public Health and the health departments of Long Beach and Pasadena. The eight confirmed cases mean that one of every 3,350 West Hollywood residents has the COVID-19 virus.  As of today Melrose, the neighborhood to the south of West Hollywood, has 10 confirmed cases, or one for every 4,910 residents. Beverly Hills, which on Monday had one confirmed case, as of today has four. That means that one of every 8,456 residents is infected with COVID-19.