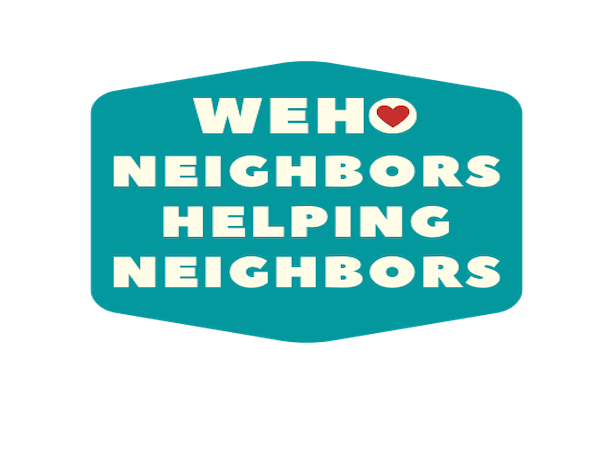 The coronavirus (COVID-19) epidemic has put many of us in a dark place with the directive to socially isolate and the risk of going broke as businesses are forced to close.
But there are a few bright spots, one of them being WeHo Neighbors Helping Neighbors (WNHN). The group was created last week to connect those in and near West Hollywood who need help with those who want to offer that help.
WNHN's Facebook page is full of posts about special services offered by local businesses (especially restaurants) and government services to those in isolation now. But perhaps more important, WNHN has a Google page where one can sign up to offer help one on one, and a page where those looking for that help can request it.
The WNHN group was put together quickly last weekend as the coronavirus, and anxiety about it, spread.
"Last week, my neighbor Rebeca Mojica contacted me and said she wants to organize a group to help neighbors during this crisis and asked me if I could help organize," Sepi Shyne told WEHOville. "I said yes and we discussed some of the ideas. She then put a call out on Nextdoor to see if other community members wanted to help to help organize too.
"Over the weekend we had our first Zoom call with seven incredible women. We discussed everything from our mission, branding, PR, Google forms, outreach to the city and businesses, volunteer training, resource links and social media creation. We divided up the tasks and started working on them right away. We had three more people join and one left the group, and now we consist of eight amazing women and one amazing man. "
The group's initial members are Mojica and Shyne, Jessica Sykes, Jessica Hencier, Catherine Eng, Marie Keeler, Terra Englebardt, Gregory Rutchik, Amanda Bleich, and Keely Field. So far eight more have joined.
Shyne, who is a lawyer and is running for a seat on the West Hollywood City Council in the Nov. 3 election, said the group put things together quickly. "We set a deadline of Sunday for branding and by Monday we had everything set up for review and editing.  We went by Tuesday. We chose to call the group WeHo Neighbors Helping Neighbors. "
"We are a grassroots collective of residents in West Hollywood and WeHo-adjacent neighborhoods who serve senior citizens, people with disabilities, those in immuno-suppressed households, and other vulnerable residents with communication (phone and/or email) check-ins and links to community resources during this health crisis," Shyne said.
"Our hope is that during this time of social distancing we can provide connection and support to our neighbors in need."
Here's a list of what volunteers can do:
Make 10- to 15-minute phone call check-ins six times a week with someone who lives alone (This is primarily what the group does).
Send daily email check-ins to someone who lives alone
Pray (over the phone) with someone.
Volunteer at a local food bank or other organization that needs assistance
Help NHN promote its services by doing graphic design, helping with scheduling or phone interviews, posting flyers, etc.
"Check ins can help people during this unprecedented time of social distancing because people can often feel isolated and lonely, and we want to make sure we are there to connect with resident and be a positive voice they can depend on during this crisis," Shyne said. "People can request calls, emails or texts. If for some reason a match does not workout, and you let us know, we will pair you with another volunteer. "
Shyne said she sees a life for WNHN beyond the coronavirus. "COVID-19 is the spark for this group, but we are hoping that we can utilize our volunteers again if we face something similar. If a matched volunteer/client connection becomes a friendship then even better! It is always wonderful when neighbors get to know one another. "
Residents interested in receiving daily calls or emails or perhaps delivery services, are asked to complete an online form. Then WNHN's Rebeca Mojica will and match you with a volunteer