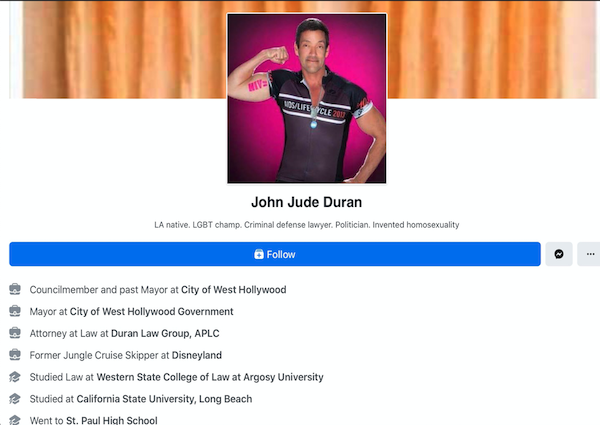 WEHOville has reached out to West Hollywood City Attorney Mike Jenkins to ask him to instruct City Councilmember John Duran to stop blocking some West Hollywood residents and WEHOville from access to his Facebook account.
In its request on Sunday WEHOville cites a federal court decision in 2017 in Knight v. Trump that Donald Trump, in denying his critics access to his Twitter account @realDonaldTrump, was violating the First Amendment of the Constitution. The U.S. Court of Appeals for the Second Circuit today denied the Trump administration's request for a review of the ruling by New York's Second Circuit Southern District Court, meaning it remains in place. 
Duran, who is up for re-election on Nov. 3, uses his Facebook account like Trump uses his Twitter account. He posts regularly about city issues, with his posts usually opening with "Dear WEHOANS." His Facebook page is followed by 2,587 people. But several residents have said Duran has blocked them from access to his account after they fell into a disagreement.  Larry Block, owner of the Block Party store and a candidate in the Nov. 3 City Council race, is one of a few willing to be identified publicly by WEHOville.
Duran has blocked WEHOville from access to his Facebook account following its coverage of allegations that he made sexually inappropriate remarks to young members of the Gay Men's Chorus of Angeles, whose board he once chaired, and used his title of "mayor of West Hollywood" to solicit sex on Grindr. (Duran has denied the GMCLA allegations). However, Duran does link his posts to a reporter from the Los Angeles Times and to two friends of his, Karen Ocamb of the Los Angeles Blade, and Paulo Murillo of WeHo Times, whose limited coverage of the accusations against Duran by young GMCLA members has been mostly positive. Duran has sometimes mentioned WEHOville in his Facebook posts, but not by name. He most recently described WEHOville as "the reckless sensationalistic blog." He also has pushed several WEHOville advertisers to stop, which to date has had on impact on WEHOville's limited revenue. Local residents who Duran hasn't blocked often copy some of his more controversial statements that they deem newsworthy and forward them to WEHOville for coverage.
In a post on the Knight First Amendment Institute's website, Jameel Jaffer, the lawyer who argued the Knight Institute v. Trump lawsuit brought before the U.S. District Court for New York's Southern District in 2017, described the reason behind it and why it applied to the personal social media accounts of public officials
"Public officials' social media accounts are now among the most significant forums for discussion of government policy," said Jaffer, who is executive director of the institute. "This decision will ensure that people aren't excluded from these forums simply because of their viewpoints, and that public officials aren't insulated from their constituents' criticism. The decision will help ensure the integrity and vitality of digital spaces that are increasingly important to our democracy."
Duran has faced other criticism of his Facebook account, where he identifies himself as "the inventor of homosexuality." For many months after he gave up his position as mayor in March in response to controversy over his alleged sexual misconduct with young members of the Gay Men's Chorus of Los Angeles, Duran continued to claim that honorary title on social media platforms such as Facebook, Instagram, Twitter, and LinkedIn. Several City Council members and local residents objected to that, one of whom wrote a letter to the City Attorney that resulted in Duran dropping that title from his profiles in July 2019.