At its teleconference meeting last night, the first such official city board or commission meeting since the coronavirus epidemic, the West Hollywood Planning Commission considered whether to approve tract maps for two different apartment buildings that are converting into condominiums.
A tract map is one of the processes used to subdivide real property into smaller lots. Typically, the
tract map is used to create five or more residential lots. State law requires that a condo subdivision tract map must be approved or denied within 50 days of receiving the completed application. Thus, time was running out for the commission to deal with these tract maps.
The Commission unanimously approved, with minimal discussion, a subdivision tract map for a four-story, eight-unit building currently under construction at 916 Westbourne Drive, just north of Santa Monica Boulevard.
However, with a 4-3 vote, the Commission rejected a subdivision tract map for the three-story, seven-unit Patio del Moro apartment building at 8225-8237 Fountain Ave., just east of Harper Avenue.
Built in 1925, the Spanish Colonial Revival building by architects Arthur and Nina Zwebell is listed as an historic building on both a national level and a local level. The building also has a Mills Act contract which reduces property taxes in exchange for preserving it.
That historic designation proved problematic since city rules require buildings that convert to condominiums meet all the current zoning and building standards. Yet for Patio del Moro to meet those standards would mean upgrades that could damage some of its historic components.
Also of concern was that the building does not have adequate onsite parking to meet current standards – the building has six spaces, but 15 are required. Likewise, on-site laundry facilities aren't easily accessible to all units.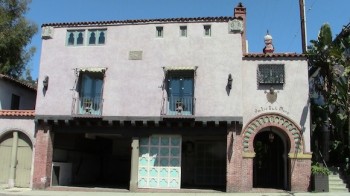 The commissioners were also worried about existing rental tenants who might be evicted for landlord occupancy when new owners buy the individual units. Owner Jay Friedman, who lives in the building and owns the building with his brother, explained they have no plans to evict any tenants and were happy to sign such a statement. However, as the commissioners pointed out, the Friedmans could change their mind after getting the approval and state law prevents the city from including an anti-eviction clause in the resolution.
The commissioners felt the proposal needed more work to fine tune these details. With the state deadline for approval looming, the commissioners rejected the condo conversion without prejudice, meaning the Friedmans can return with a revised proposal. Commissioners John Altschul, Sue Buckner and Stacey Jones all voted against rejecting it, feeling a continuation was more appropriate while the owners worked out a development agreement.
The Commission was originally scheduled to meet in person on March 19 to consider these two tract maps. However, that meeting was changed to a teleconferencing meeting at the last minute due to the coronavirus. Then the meeting was postponed when city staff realized there had not been the required 72-hours' notice about the change.