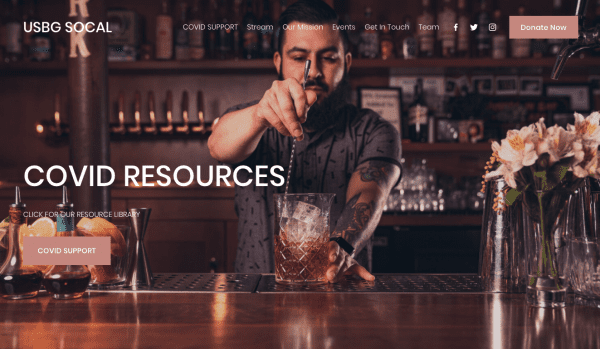 Employees Only's collaboration with the United States Bartenders Guild Socal, referenced in the story published Tuesday, is now formal. The USBG SoCal Chapter's Project Cornerstone on Friday will begin offering "relief packs" to hospitality workers including servers, bar backs, bussers, line cooks, preps, hosts, maitre'ds, floor managers, event planners, caterers, concierges, dishwashers, security.
The relief packs will include produce, rice, beans, eggs, snacks, toilet paper, etc. In an announcement of the program, USBG SoCal Chapter said "the contents of the relief pack may change slightly due to availability, but our hope is that this packs gives you some support so that you can spend what money you have on things outside of basics. All packs are vegetarian so that we do not have to worry about meat spoilage, handing out goods that people won't be able to eat based on lifestyle choice, etc."
The packs will be distributed outside Employees Only, 7953 Santa Monica Blvd., beginning Friday. Those interesting in obtaining a package must go to the Project Cornerstone website to schedule a pickup. In addition to the distribution at Employees Only, USBG SoCal Chapter will be distributing packages at Flying Embers Taproom in Los Angeles, Ordinaire in Long Beach and White Horse in Pasadena.
The USGB SoCal website also offers links to financial assistance resources for bartenders with financial issues because of the COVID-19 epidemic.  Those resources can be accessed by clicking here.