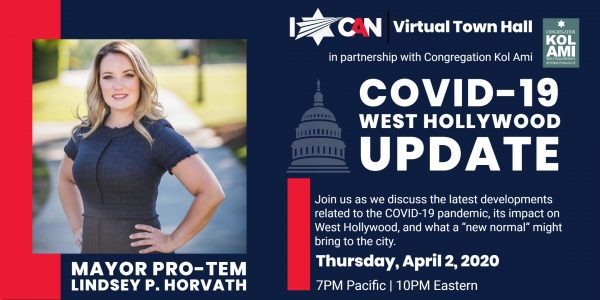 West Hollywood City Councilmember Lindsey Horvath will appear in a "virtual town hall" on Thursday to discuss COVID-19 and the impact of the pandemic on West Hollywood.
The town hall can be accessed online from 7 to 8:30 p.m. Those who want to visit the town hall are asked to register online.
The event is hosted by the Israeli-American Civil Action Network and Congregation Kol Ami and is not a City of West Hollywood-sponsored event.  Horvath is expected to address questions that have been raised by West Hollywood residents, including how to get access to tests for infection of the COVID-19 virus and what services the city is providing to its residents.
As mayor pro tempore, Horvath is in line to be named the city's mayor in April. That honorary position rotates each year to one of the City Council's five members.
The City Council's next meeting in on April 6 and is expected to be conducted online given the risk of contracting the COVID-19 infection by gathering in groups.