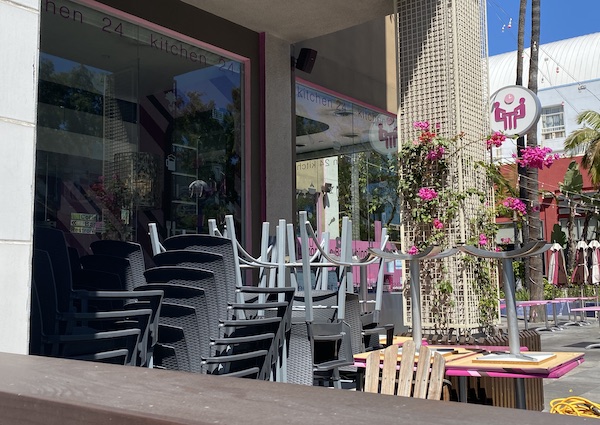 The West Hollywood City Council on Monday will consider whether to temporarily bar landlords from evicting commercial tenants who fail to pay their rent because of losses associated with the COVID-19 pandemic.
If a majority of the Council supports the measure, which seems likely, business owners who can prove that the COVID-19 pandemic has had a serious impact on their revenue will be able to delay paying rent due from March 16 until May 31, the current expiration date of Gov. Gavin Newsom's emergency order. They then will have six months to pay back their past-due rent, and landlords will not be able to levy late-payment fees. The city is encouraging landlords to offer payment plans to tenants that could go beyond the six-month repayment period.
The Los Angeles County Board of Supervisors implemented a similar moratorium on March 19 that applied to businesses in unincorporated areas of the county. On March 17, Los Angeles Mayor Eric Garcetti declared a moratorium on evicting commercial tenants that is in force through May 31. Tenants will have three months to pay the delayed rent after the moratorium expires.
The West Hollywood commercial eviction moratorium comes after an emergency declaration by the Los Angeles County Department of Public Health on March 19 that ordered the closure of all "non-essential" retail businesses. Businesses deemed "essential," like pharmacies, grocery stores and liquor and medicinal cannabis retailers remain open. But restaurants, bars, nightclubs and most other retailers have been forced to close, although restaurants can offer meals for take-out or delivery.
A business owner who wants to take advantage of the rent moratorium will have to notify the landlord in writing within 30 days of when the rent is due. The notification, which can be via a written letter, a text message or an email, must explain the lost income and inability to pay rent due to a limitation or closure of the tenant's business related to COVID-19, with appropriate supporting documentation. If a tenant suffers only a partial loss of income, the tenant must pay the pro-rated share of the rent that corresponds to the income generated during the period of loss.
Mayor John D'Amico and City Councilmember Lauren Meister also are proposing other steps the city can to help small businesses. They would:
Allow meters to temporarily be converted to ten-minute loading zones in front of restaurants for easy pick-up and delivery. Post a downloadable temporary sign on the city's website for easy access by interested businesses.
Determine if it is necessary to increase Block by Block Security Ambassadors to patrol business areas with reduction in customer traffic.
Develop a centralized job board on the city's website and/or provide links to available resources in the community.
Try to negotiate with food delivery services (such as Postmates, GrubHub) to provide a reduced city-wide rate rather than a rate per individual business.
Try to negotiate lower internet rates (citywide vs. individual) with internet service providers such as Spectrum for the next few months since more people are working at home at this time.
Develop a "Shop Local #WehoStrong" temporary banner, signage and storefront window campaign to encourage residents to support local restaurants and businesses when possible.
Authorize the City Manager's office to work with the West Hollywood Chamber of Commerce to negotiate reduced rates for the city and/or businesses to advertise using pole banners, underutilized creative signs and empty store front windows –providing low cost advertising opportunities for open businesses and income to businesses that are not able to fully function during this crisis
The City Manager's office is asking the Council to consider allowing him reduce certain taxes temporarily on businesses that agree not to lay off employees. Other measures the Council will be asked to consider include:
Deferring assessments for the businesses included as part of the Sunset Strip Business Improvement District. Payments were due on March 2 and began accruing late fees as of March 3. Staff recommends deferring payments until July 1 and waive any late fees and/or penalties.
Extending the period for which businesses already have paid fees for using a sidewalk dining area or reserving parking metered spaces for valet pickups and drop-offs. when the encroachments are not in use.
The Council also will be asked to ratify a number of emergency orders issued by City Manager Paul Arevalo on March 25 and already in effect. According to those orders:
Restaurants within hotels may provide to-go meals to non-guests in accordance with social distancing practices required for other restaurants providing to-go meals under the county's Safer at Home order.
Restaurants and retail stores that have a valid city license for on-site alcohol sales and a valid ABC license may sell alcohol for off-site consumption in manufacturer pre-packaged containers as to which their license permits on-sale consumption.
In addition to selling food in manufacturer pre-packaged containers restaurants selling beer, wine and pre-mixed drinks or cocktails for consumption may sell those products off the licensed premises when sold in conjunction with meals prepared for pick-up (to-go) or delivery.
All grocery stores, restaurants and alcohol retailers may be open from 6 a.m. to 2 a.m.
Parking and traffic operations plans for restaurants are suspended to allow easier access for customers picking up to-go meals.
Zoning regulations limiting temporary banners and signs are suspended to allow businesses the opportunity to notify the public of additional food sales and availability of other essential goods.
Zoning regulations concerning the conversion of restaurants and other commercial uses to a grocery store/market use are suspended to allow commercial establishments to temporarily sell food and other essential goods.
Cannabis dispensaries with a city medical license may provide curbside sales and delivery, upon submittal of an operations plan to the city.
The Business Tax Certificate fee associated with opening an e-commerce operation for existing brick and mortar retail stores is waived.
Business license tax payments due to the city are deferred from May 1 until July 1.
If it requests the City Manager in writing, a hotel may be allowed to delay for a period not to exceed 30 days its payment of hotel room taxes from February and March.
The City Council's meeting will be via teleconference and will begin at 6:30 p.m. on Monday. It can be watched through several channels:
Spectrum Channel 10 (in West Hollywood)
AT&T U-verse Channel 99 (in Southern California)
SmartTV Apps: AndroidTV; AppleTV; FireTV; and Roku
Those who want to comment on items on the Council's agenda can do so by clicking here and submitting a comment in writing before 4 p.m. on Monday. To offer an audio comment, one can email City Clerk Yvonne Quarker  at yquarker@weho.org to be added to the public speaker list for the meeting. Include your name, the phone number from which you will be calling, and which item you would like to speak on. Dial-in 10 minutes prior to the start of the meeting to (669) 900-6833. Use participant passcode: 899075038 then #. Comments from the public are limited to 2 minutes per speaker. Commenters are asked to mute their phones until they are called to speak.