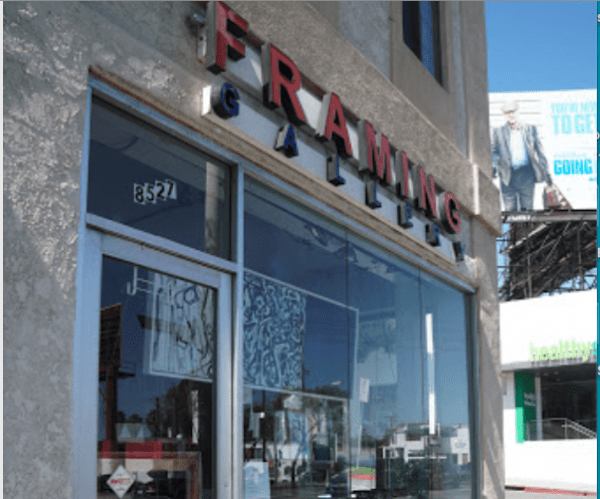 A local business owner's refusal to close his picture framing shop because of the coronavirus (COVID-19) pandemic has angered some West Hollywood residents who have taken to Facebook to condemn him.
Zohar Wertheim, who opened the Framing Gallery at 8527 Santa Monica Blvd. on April 4, 1994, says the Los Angeles County Department of Public Health's emergency declaration that all non-essential business should close is an example of government overreach.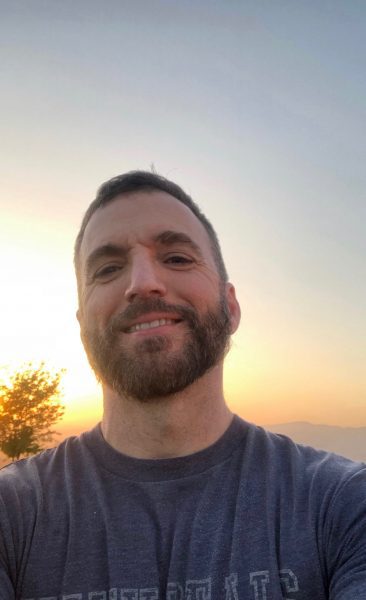 "I refuse to shut down. This is not Nazi Germany," said Wertheim, who noted that he is gay, Jewish and politically conservative.
"My business poses zero to no threat to anybody," he said. Wertheim said he sees greater risks of infection from the people walking in and out of Healthy Spot, the pet supply and grooming shop near his frame shop. He also cited the fact that Koontz Hardware remains open as a sign that his business was being unfairly singled out as nonessential.
Wertheim said this his business is essential – "It is essential to me, essential to my family."
Wertheim said he keeps the front door to his shop closed and lets in customers one at a time. On his glass front door he has posted a sign saying "NOT CLOSED FOR BUSINESS. This is simply discrimination and will not be accepted by this shop!" the sign reads. "As long as other businesses are open, my business will remain open and will take care protecting my customers. Only one person at a time will be allowed in the shop for customer support, pickups and help."
Wertheim said that someone from the city's Code Enforcement Division and also Sheriff's deputies have stopped by his frame shop and told him to shut the business down. The deputies "knocked at my door and said I should close my place. I said it isn't open. My door is closed. I am not shutting down my business."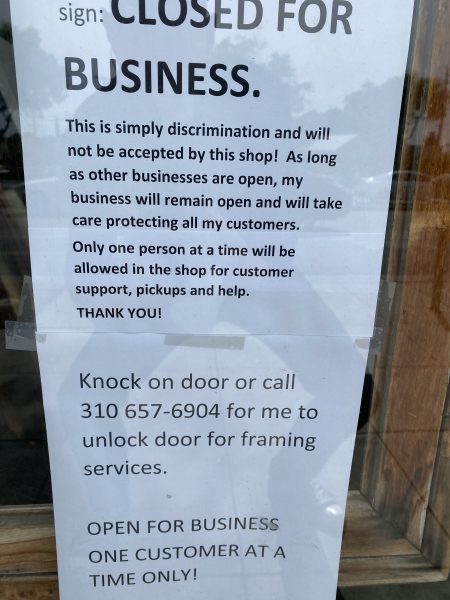 Wertheim's refusal to close his shop drew an angry response from people posting on the Facebook page of Jimmy Palmieri, who yesterday alerted his followers about it.  Some said they would boycott the store in the future. Others said the city should shut the business down.
The Los Angeles County Department of Public Health on March 21 issued an order that all "non-essential" businesses be closed to reduce the chance that people infected with COVID-19, a virus transmitted by coughs and sneezing, would infect others. Among those deemed essential are medical facilities, grocery stores and supermarkets, pharmacies, those selling pet supplies and hardware stores. 
Wertheim also was criticized because he is a Republican. "He is not only spreading disease by not complying, but he also has evil, Repub–can ties through the horrid Log Cabin affiliation," said one critic in a reference to the Log Cabin Republicans, an association of gay members of the Republican Party.
"Only a leftie would talk like that," Wertheim said in response to his critics. "I'm Jewish, I'm gay, I'm conservative. I used to be on the left. A conservative person would never talk like that. There is an emptiness on the left that they can never fill with anything,
"The gay community is a self-hating community. It hates its own. They always complain and make their own people look bad because it makes them look good."
As to the threat of a boycott? "My business has been boycotted for many other reasons. Let them boycott it," Wertheim said.