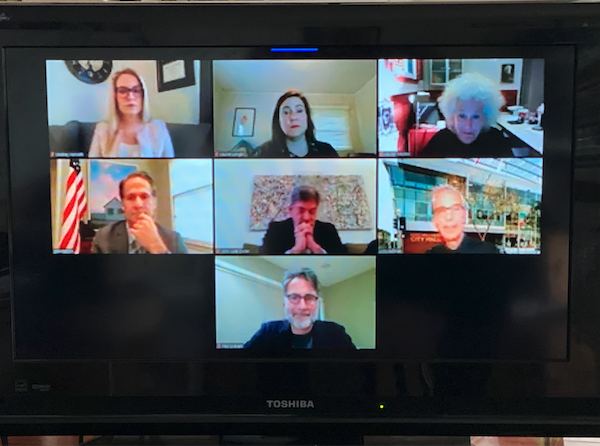 The West Hollywood City Council tonight enacted a six-month moratorium on evictions of commercial tenants unable to pay their rent because of the impact of the COVID-19 pandemic and extended the payback period for apartment renters from six months to 12 months. The moratorium for both residential and commercial tenants takes effect retroactively as of March 16 and ends as of May 31.
The Council's decisions were made during a meeting that included speculation about the long-term ramifications of the pandemic on a city whose economy is built largely on tourism and nightlife. City Manager Paul Arevalo said the pandemic would mean a city budget deficit of $15 million this year and another $15 million next year. Arevalo said it is unlikely that the city's business community would recover as early as June or July this year, as some have hoped for. And he noted that there is likely to be another surge in virus infections this fall.
In addition to extending the payback period for apartment tenants, the Council decided that those tenants, some of whom are self-employed, should not be required to provide documentation of their COVID-19-related financial problems in order to qualify for the moratorium. While commercial tenants will have to provide documentation of their financial issues, the Council agreed to give them up to 90 days to do that. Councilmember John Duran, who has his own legal practice, said he and others like him haven't had any income for three weeks, but that it would take a month or two to get a bank statement to document that.
Included in the wide range of pandemic-related issues raised at the meeting were:
–What the city should do about complaints from residents that workers on construction projects aren't maintaining a six-foot social distance to avoid transmission of the COVID-19 infection or practicing proper hygiene. Some residents have asked that all construction projects be shut down. City Manager Paul Arevalo noted the negative impact of that on the more than 4,000 people working at 900 construction sites in the city. Arevalo said the city is working with contractors to ensure they have necessary sanitation tools.
–Enforcing social distancing at city parks and dog parks, where some residents have noted people playing basketball and gathering closely. Arevalo said the city is putting up signs at the parks to alert people to the importance of social distancing. However, he said it is likely that the city will be shutting down the parks, including the dog parks, this week.
–Making COVID-19 testing more available to West Hollywood residents. Currently there are 11 testing sites in Los Angeles County, with another three scheduled to open this week. Arevalo said the city is working with the Los Angeles Department of Public Health to create a testing site in or near West Hollywood. People who want to get tested can apply testing online and must have symptoms of the infection. The requirement that one also be 65 or older, or have underlying health conditions, or be quarantined because of COVID-19 exposure has been lifted.
–The impact of the city's deadlines for building owners required to determine if their property must be retrofitted to protect it from an earthquake. Some building tenants who are attempting to isolate themselves have complained about having seismic engineers entering their homes. The Council agreed to extend those deadlines for one month after the end of the emergency period, which currently is May 31 but may be extended.
–The possibility of opening a temporary or permanent food bank to assist low income West Hollywood residents. Jewish Family Service's SOVA food bank, whose services to West Hollywood residents are subsidized by the city, closed its location at 8846 W. Pico Blvd. because of the COVID-19 pandemic. Arevalo said SOVA continues to deliver meals to people's homes twice a month and that it wouldn't be wise now to open a food bank where people can congregate. The Council voted tonight to allocate $227,500 for emergency funding food services and to Bet Tzedek, the organization that provides legal assistance to renters;
The Council also agreed to grant a temporary medical cannabis license to the Original Café, which has licenses for on-site consumption and delivery of recreational cannabis. Only those businesses that deal in medical cannabis have been allowed to remain open under the Health Department's declaration that non-essential businesses must close.