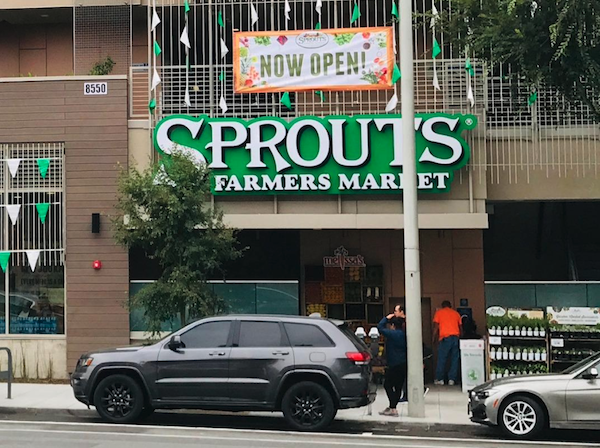 Sprouts Farmers Market, the grocery store at 8550 Santa Monica Blvd., closed briefly this morning after learning that one of its employees had tested positive for a COVID-10 infection.
Diego Romero, Sprouts spokesperson, said the store was closed until noon after Sprouts learned that a former employee had tested positive for the virus. That employee's last day working at Sprouts was March 31.
"We followed CDC (Centers for Disease Control and Prevention) guidelines and coordinated with local health authorities, Romero said. "We informed all of our team members in the store and identified those who may have come into close contact with the affected team member to assess whether they should be quarantined. We then conducted extensive professional cleaning and sanitizing of the entire store to minimize any risk of surface transmission. At this time we have had no reports of any other team members at the store having any symptoms or testing positive."
Romero said that Sprouts is adding work hours to "allow for more frequent cleaning, sanitizing and disinfecting, paying close attention to high touch areas such as service counters, restrooms, carts and checkout lanes. We've also implemented steps to promote social distancing at the registers and are installing plexiglass barriers at the registers to add extra protection for team members and customers at the front end.
"We continue to remind team members about recommended CDC hygiene and to practice social distancing whenever possible. Team members are also required to complete a health screening questionnaire prior to working. We also ask that if they feel any symptoms of illness at all to stay home and call their medial provider immediately. "
Grocery stores are among those deemed essential businesses and thus can remain open to the public during the COVID-19 emergency shutdown declared by the Los Angeles County Department of Public Health. All of the grocery stores in West Hollywood are now marking the approaches to checkout lanes to ensure that customers remain six feet apart. They also are limiting the number of people who can enter the store to help ensure the shoppers can distance themselves from one another. And they have installed hand sanitation containers. Pavilions has installed large plastic shields in front of the checkout clerks to protect them and the customers from one another.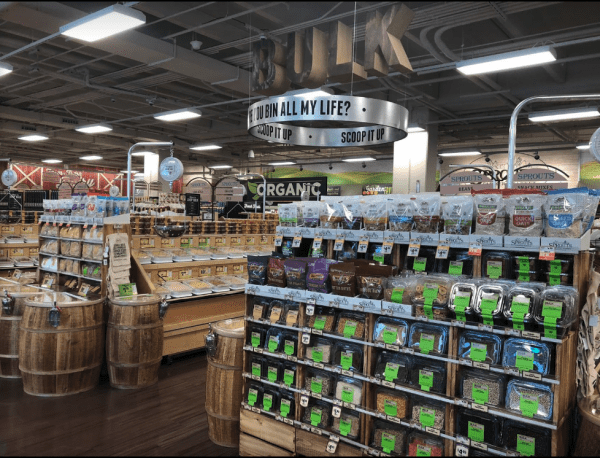 The Washington Post recently reported that major supermarket chains are reporting deaths of employees infected with COVID-19 and are beginning to require the practices that Sprouts has put in place.
Los Angeles Mayor Eric Garcetti today issued an order requiring the employees of essential businesses in his city to cover their mouths and noses with cloth face coverings while at work. That order goes into effect at Thursday night at midnight. Stores must provide face coverings for their employees or reimburse them for the costs. In addition to grocery stores, the face covering is required for employees of drug stores, restaurants, and hotels, those working on construction sites and drivers working for taxi companies or Lyft and Uber. Those face masks do not have to be surgical masks or N95 masks, which officials say should be reserved for healthcare workers dealing with those who are infected with the virus.
The order also requires these businesses to provide their employees with access to sanitary restrooms with soap and sanitizer and let them wash their hands every 30 minutes. They also have to take steps, like the plastic shields at Pavilions, to ensure that customers and employees keep a distance from one another.
The Los Angeles Times has reported that other California cities are requiring that residents out in public to shop or pick up prescriptions must wear something to cover the nose and mouth. The City of Lancaster has enacted a face covering ordinance, and the Carson City Council will consider doing that at its meeting tonight.
The City of West Hollywood is urging residents to wear face coverings when they are shopping or otherwise out in public for essential purposes, however it does not require that.