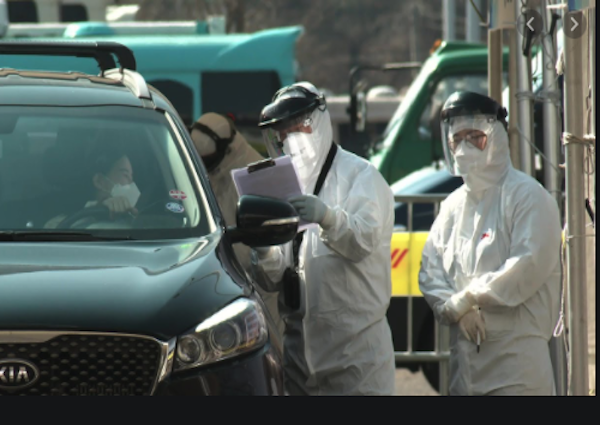 The Los Angeles County Department of Public Health will open a novel coronavirus (COVID-19) drive-up testing site for West Hollywood on Monday.
The WeHo site, whose location has yet to be announced, will join 21 others across Los Angeles County. Currently the closest site for West Hollywood residents is at the VA Hospital six miles to the west.
"We're grateful to our partners at the Los Angeles County Department of Public Health for expanding testing options and to the medical providers who are helping to connect residents to testing," said West Hollywood Mayor John D'Amico. "West Hollywood is doing everything we can to get more test kits and more testing locations into the community. We're sending a huge thank you to the healthcare workers, first responders, and essential workers caring for those in our community and are showing our support of their commitment by lighting the lanterns above Santa Monica Boulevard blue in their honor."
Those who want to be tested must apply online or call 2-1-1 to reach operators who can assist with online registration by determining eligibility. Online appointments are not yet available on the West Hollywood site but will be by Monday. Testing is available only to those who have symptoms of a COVID-19 infection, which include coughing, fever, feeling very tired and/or difficulty breathing, and meet one of the following criteria:
Are 65 or older.
Have underlying health conditions such as diabetes, heart disease, hypertension, chronic lung disease, and moderate to severe asthma. Also included are people who are immunocompromised, including as a result of cancer treatment.
Are in the first week of a mandatory 14-day quarantine because they have been exposed to an individual with a confirmed case of COVID-19.
More details about the testing process can be found on the Health Department's website.
On March 16, the City of West Hollywood declared a local emergency and begin to take steps locally to address the impact of the COVID-19 pandemic on WeHo residents and businesses. Information about city programs and services can be accessed by clicking on the links below:
f you or someone you know develops COVID-19 symptoms – such as fever, shortness of breath, or dry cough – call (do not immediately visit) a healthcare provider to determine next steps. Your healthcare provider may also have access to testing.
The city is advising residents to adhere to the Los Angeles County Safer at Home and California State Stay at Home orders and asks that . The city urges everyone to stay in place, maintain your space, and cover your face. Leave home only for essential needs; always use social distancing of at least six feet; and follow guidelines to use cloth face coverings such as bandanas or scarves so that medical masks, which are in short supply, are prioritized for health professionals.
West Hollywood City Hall is currently closed to the public and has suspended all in-person transactions. All public city buildings, playgrounds, and facilities are closed. City Hall will remain accessible for business and essential services with transactions to be conducted by phone (323) 848-6400 and via the city's website at www.weho.org.
The City of West Hollywood coronavirus updates are available at www.weho.org/coronavirus and residents can follow @wehocity on Twitter and Facebook and Instagram for up-to-date information.