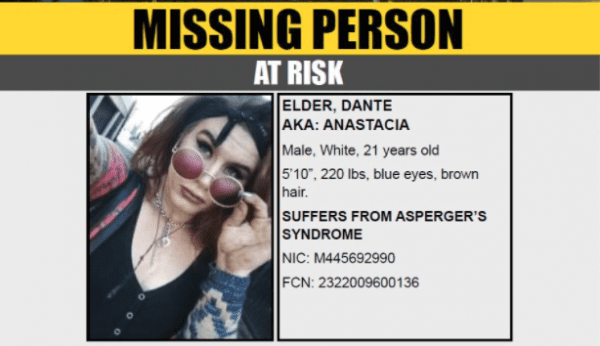 The Sheriff's Department is searching for a missing 21-year-old with Asperger's syndrome who frequents the West Hollywood area.
Dante "Anastacia" Elder was last seen March 22 about 2 a.m., according to Deputy Eric Ortiz of the Los Angeles County Sheriff's Department. A flyer from the Sheriff's Station says Elder's family is very worried.
Elder is described as white, 5 feet-10 inches tall and weighing 200 pounds, with blue eyes and brown hair.
The sheriff's department asked anyone with information about Elder's whereabouts to contact the Missing Persons Unit at (323) 890-5500 or call 911. Those with information can also call Crime Stoppers at (800) 222-TIPS.