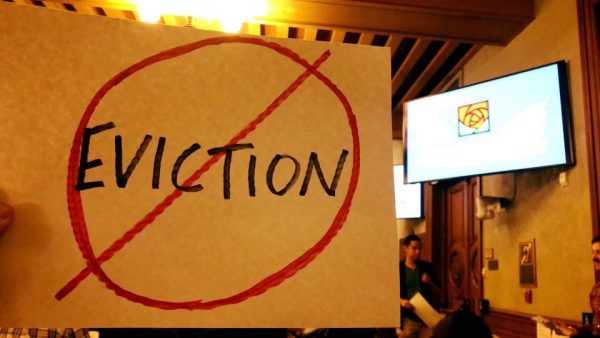 If you are a business owner struggling to pay your rent, or the landlord of a building with tenants who are falling behind, the City of West Hollywood is offering guidance with an online seminar on Wednesday.
The seminar will focus on the temporary moratorium on evictions of commercial tenants whose income has been affected by the COVID-19 pandemic. The pandemic has resulted in the closure of "non-essential businesses" such as bars, restaurants, nightclubs and most other retailers.
The West Hollywood City Council on April 6 voted to bar landlords from evicting commercial tenants who have lost income during the COVID-19 pandemic. The eviction moratorium took effect retroactively as of March 16 and ends on May 31. At the end of the moratorium period, commercial tenants have 12 months to pay back the rent they owe.
The online seminar will be presented by Deputy City Attorney Lauren Langer and City Hall staffers. It will begin at 11 a.m. on Wednesday. Those who want to participate can register for the free webinar online. The webinar also will be archived on the city's coronavirus information page when the recording of the panel is finalized.
In an announcement of the seminar, the city says "this webinar is for informational purposes only and is not intended to constitute legal advice; rather, all information, content, and materials available on this webinar are for general informational purposes only. Participants of this webinar should contact their attorney to obtain advice with respect to any particular legal matter. "
West Hollywood also has declared a moratorium on the eviction of residents from their homes. That moratorium expires on May 31 and tenants have 12 months to payback the rent they owe.
West Hollywood has declared a local emergency in response to the coronavirus (COVID-19) outbreak and is advising residents to adhere to Los Angeles County Safer at Home and California State Stay at Home orders. The city urges everyone to stay in place, maintain your space, and cover your face. Leave home only for essential needs; always use social distancing of at least six feet; and follow guidelines to use cloth face coverings such as bandanas or scarves so that medical masks, which are in short supply, are prioritized for health professionals.
West Hollywood City Hall currently is closed to the public and has suspended all in-person transactions. All public city buildings, playgrounds, and facilities are closed. City Hall will remain accessible for business and essential services with transactions to be conducted by phone (323) 848-6400 and via the city's website at www.weho.org.
City of West Hollywood coronavirus updates are available at www.weho.org/coronavirus and the city encourages residents to follow @wehocity on Twitter and Facebook and Instagram and turn on notifications for up-to-date information regarding details in the City of West Hollywood.