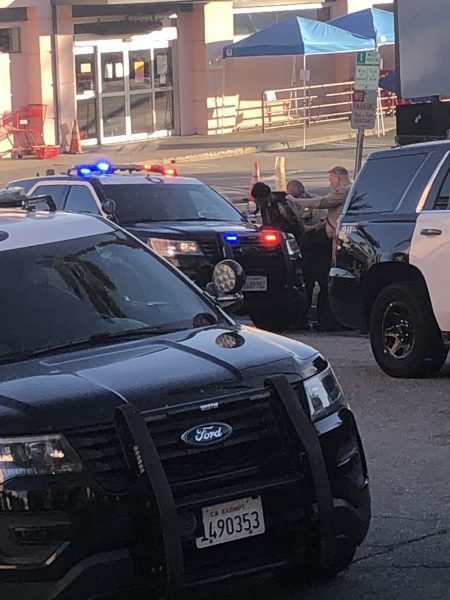 Part of Holloway Drive and streets leading south from Holloway to Santa Monica Boulevard were closed this afternoon as West Hollywood Sheriff's deputies responded to a call about an attempted carjacking on Rugby Drive and Westbourne Avenue this afternoon.
The suspects failed to steal the car and drove away in another vehicle. Officers from the Los Angeles Police Department's Wilshire Division saw that vehicle, ran the license plate number, and saw that it was reported stolen. The vehicle took off and ended up crashing at Trader Joe's at Santa Monica Boulevard and Westmount. All four suspects ran north west from that location.
The shutdown of traffic on area streets was set up with LAPD Wilshire Division officers and West Hollywood Station deputies. LAPD helicopters were immediately at the location, as well. A Los Angeles County Sheriff's Department helicopter also responded, as did a department canine team.
One suspect was found.  A little while later, two other suspects were located.  A resident reported a sighting of the possible fourth suspect running through yards.  Another containment was set up, and the LASD helicopter returned.  That person was not located.  The other three suspects were arrested. 
The operation was a "great collaboration between LASD West Hollywood Station deputies and LAPD Wilshire Division officers to keep our communities safe," said Lt. William Moulder of the West Hollywood Sheriff's Station.