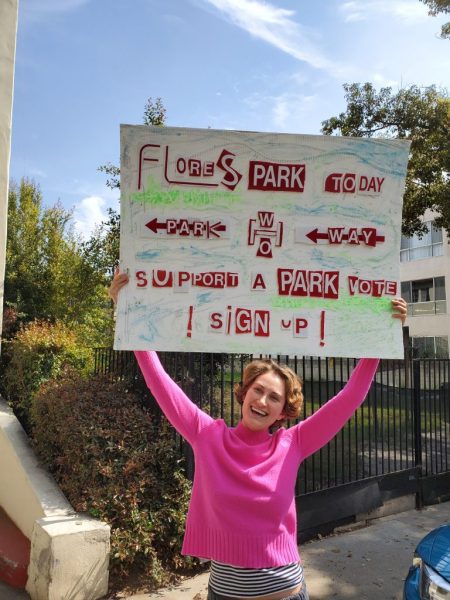 Residents of North Flores Street have launched a campaign to have an empty lot designated as a park and "pollinator garden."
The campaign is the latest effort to block development of an apartment building on the lot at 1216 N. Flores, which has been empty since 2013.
Tom Wright and Calli Goldstein, who all live on the street, are the organizers of the campaign and have created a petition online to solicit signatures from supporters of the park idea. The petition asks that the City of West Hollywood purchase the lot and "open a community park that demonstrates sustainable garden practices for the residents and wildlife in West Hollywood." To date 65 people have signed it. 
The 9,000 square foot lot is owned by Barry Shy, one of whose current projects is the Hill Street Lofts, a 33-story building with 239 apartment units at 920 S. Hill St. in downtown Los Angeles.  Shy is asking that the City of West Hollywood re-issue a permit obtained by another developer, Boaz Miodovski, who had planned to construct a five-story building with 14 condo units and underground parking.  Five of those units were to be reserved for low- or moderate-income people.
Shy bought the property after a lengthy and expensive effort effort by Miodovski to get the city's permission to build a condo building there. Eventually he decided to drop plans for the project and sell the property.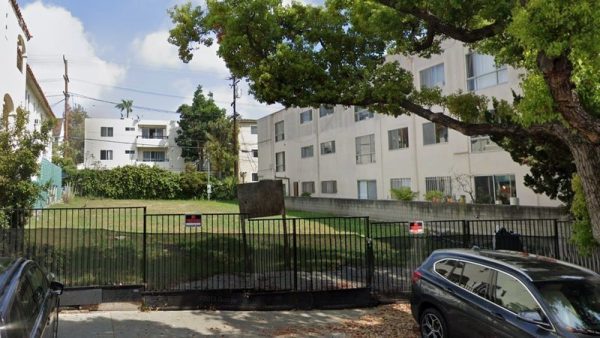 Miodovski had faced pushback from residents who said the building's design didn't reflect the character of the street and who opposed a staircase that would have been on the front façade of the building.  Ron Emmons, who owns the historically designated building at 1224 Flores, next door to the 1216 N. Flores lot, objected that it would cast a shadow over his property. Nevertheless, the project was approved by the city's Planning Commission in 2015, a decision that Emmons and George Credle, another neighbor, appealed to the City Council.
The City Council asked for changes to the project, with John D'Amico saying he found the staircase unattractive and John Duran said he would prefer the building be only four stories, even if that meant eliminating the five affordable condo units.
Miodovski responded by setting back the building from the northern edge of the lot, which is where the 1224 Flores building is located, and changed materials on the building façade to make it more compatible with the stucco facades of nearby buildings.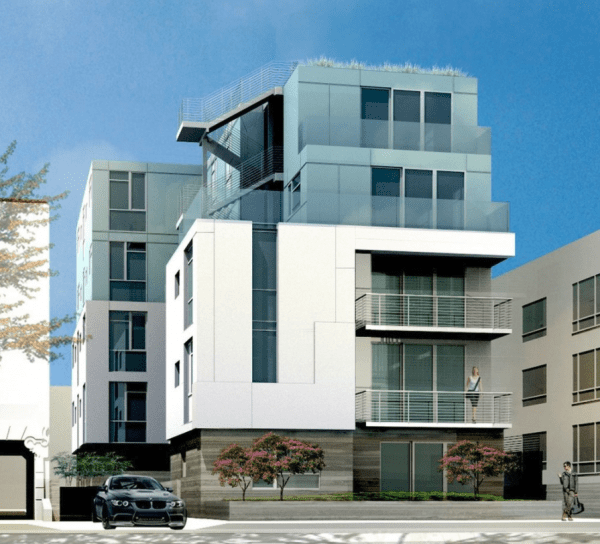 A year later, in November 2016, the City Council rejected Credle and Emmon's appeal in a 3-to-2 vote, with Councilmembers D'Amico and Meister voting no.
Wright has lived on Flores for many years and successfully advocated for the installation of speed bumps to slow traffic on the street. He said he had offered Shy $2 million to buy the property, but that Shy declined the offer.
Shy's request that the permit given to Miodovski be reissued was filed with the City of West Hollywood on Oct. 25, 2019 and currently is under review.  WEHOville has reached out to Shy for a comment but has yet to receive a response.  In addition to the attention has gotten for his various real estate developments, Shy also was in the news for suing two owners of units in the SB Grand Lofts (located at Fifth and Broadway in downtown Los Angeles) for libel and slander because of comments alleging he was "dishonest" and a "slum lord."