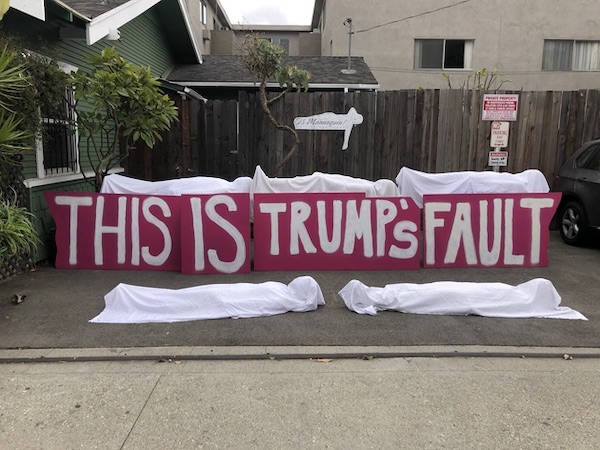 It's not like ChadMichael Morrisette and Mito Aviles haven't already come out of the closet about their political beliefs.
Morrisette and Aviles, known for their window displays in fashionable stores, caused a stir in 2008 when they hung a mannequin portraying Sarah Palin by a noose in front of their West Hollywood home at Fountain and Orange.  That image of the Republican vice presidential candidate hung outside for three weeks, drawing criticism from TV commenter Keith Olberman and some of their neighbors. And support from others.
On Halloween in 2009, they stirred the political pot again by putting on the roof a mannequin illustrating Maggie Gallagher, head of the Institute for Marriage and Public Policy and co-founder of the National Organization for Marriage (and an opponent of same-sex marriage). Hanging from the roof was a bloodied and mangled mannequin illustrating Carrie Prejean, Miss California 2009, who had declared that marriage should only be between a man and a woman.
Now Morrisette has used his design talent to address Donald Trump's response to the COVID-19 pandemic with mannequins that he and Aviles have installed in front of their home.
"This Is Trump's Fault" reads a large sign posted in their yard and topped by the cloth-wrapped images of three who have died.  Images of two other COVID-19 victims are on the ground in front of them.  The images were created by Morrisette and installed by him and Aviles.
"Each and every day, death tolls as result of this pandemic," Aviles said to WEHOville.  "There has been more death around this pandemic as a result of lack of leadership in the White House than ever.  We are being lied to and gaslit by this President, his Administration, and enough is enough. Our economic melt-down, unemployment of so many, the lack of jobs, the lack of infrastructure, the lack of safety and security but most importantly, the lack of truth and transparency is on the hands of this President and his administration. 
"'This is Trump's Fault,' is motivated by ensuring the public does not fall for the gaslighting and lies coming from this President and this Administration.  Effective leadership is needed, and this President is not the effective leadership our country or this world needs.  Time to vote him out."
Quoting James Baldwin, Aviles said: "Art is here to prove that all safety is an illusion… Artists are here to disturb the peace."