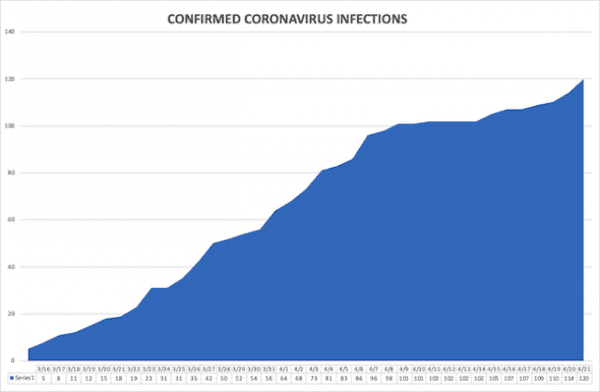 The Los Angeles County Department of Public Health today announced 1,400 new confirmed cases of COVID-19 infections, with 743 of those coming from a backlog of tests whose results are newly released.
That brings the total number of confirmed infections to 15,140. However, a recent study by the Health Department with the University of Southern California suggests that 2.8% to 5.6% of the county's adult population has that antibody to the virus — which means that 221,000 to 442,000 may have had the infection.
The number of confirmed infections of West Hollywood residents increased from 114 reported on Monday to 120 today. That means that one of every 307 WeHo residents has been confirmed to have the virus.
The Health Department reported that there have been 46 new deaths associated with the COVID-19 infection, bringing the total countywide to 663. Thirty-three of those who died were over the age of 65; four people were between the ages of 41 and 65, and two were between the ages of 18 and 40. Thirty-one people had underlying health conditions, including 27 of those over the age of 65, three of those aged 41 to 65 and one person between the ages of 18 and 40.
In its announcement of the latest county, the Health Department said Public Health said that it continues to receive a backlog of test results. "In an effort to expand testing capacity, many new labs are responding to the emergency and Public Health is working with them to ensure that they have the proper reporting systems in place. Until this reporting issue is resolved, there may be periodic increases in positive cases and total cases due to unevenness in daily reporting."
Nearby communities also saw an increase in confirmed infections, with those in Beverly Hills up by five from yesterday's count of 94. The number of confirmed infections in Culver City increased by two to 44. As of today there are 157 confirmed infections in the Hollywood neighborhood, an increase of 11 from Monday's count of 146. The number of confirmed infections in the Melrose neighborhood increased by 16 to a total of 265 today.
Seventy-two residents of the Little Armenia neighborhood in Los Angeles have been confirmed to be infected, up from 65 on Monday. That means 897.2 of 100,000 residents of that area have been infected – the highest rate among the 335 cities and communities surveyed by the Health Department.
There number of infections in the Crestview neighborhood grew by four to a total of 55, meaning that 483.81 per 100,000 residents there have been infected. Crestview is the second most highly infected neighborhood.
The Carthay neighborhood in Los Angeles, with 54 infections as of today ranks third, with 375.97 infections per 100,000 residents. Rancho Dominguez saw no increase in the previously confirmed 10 infections, which equals 375.8 per 100,000 residents and makes it the fourth most highly infected area.
The Hancock Park neighborhood has 61 confirmed infections, up from 58 on Monday, as of today, which ranks it fifth with 358 infections per 100,000 residents. With its 265 infections, the Melrose neighborhood has 341.07 infections per 100,000 residents and is the sixth most infected area.
West Hollywood is now the seventh most highly infected community, with 324.70 residents per 100,000 having a confirmed COVID-19 infection.
As reported previously, the county has loosened conditions for qualifying for same-day tests, which formerly were reserved for those with symptoms of an infection who were 65 or older or had an underlying health condition such as heart disease. Those who want to be tested now must only exhibit symptoms of a possible infection, which include coughing, a fever, tiredness and, in severe cases, difficulty breathing. Those who want to be tested must first go online to see if they qualify and to book an appointment. A testing site adjacent to West Hollywood is on Alden Drive at the Cedars-Sinai Medical Center.
The best protection against COVID-19 is to wash your hands frequently, avoid touching your eyes, nose, and mouth with unwashed hands, self-isolate if you are sick, practice physical distancing (especially by staying at home) and wear a clean face covering when out in the public procuring or providing essential services. N95 and surgical masks should only be used by healthcare workers, first responders and essential workers providing care for people who are ill.
Essential businesses must provide a cloth face covering for all employees to wear while performing duties that involve contact with other employees and or the public and to post physical distancing plans. The public is required to wear a face covering to enter essential businesses as well. Beaches, trails and trailheads and non-essential businesses remain closed, and all public and private gatherings of any number of people occurring outside a single household or living unit remain prohibited.
Residents with questions about the COVID-19 pandemic and who are looking for resources to deal with it can find answers on the City of West Hollywood's website. Here is a list of links to sections about particular issues:
Below is a list of cities and neighborhoods in Los Angeles County, the number of confirmed COVID-19 infections in each.
| | |
| --- | --- |
| City of Agoura Hills | 29 |
| City of Alhambra | 51 |
| City of Arcadia | 32 |
| City of Artesia | 11 |
| City of Avalon | 0 |
| City of Azusa | 31 |
| City of Baldwin Park | 52 |
| City of Bell | 104 |
| City of Bell Gardens | 63 |
| City of Bellflower | 78 |
| City of Beverly Hills | 99 |
| City of Bradbury | — |
| City of Burbank | 151 |
| City of Calabasas | 29 |
| City of Carson | 181 |
| City of Cerritos | 42 |
| City of Claremont | 19 |
| City of Commerce | 9 |
| City of Compton | 126 |
| City of Covina | 66 |
| City of Cudahy | 40 |
| City of Culver City | 44 |
| City of Diamond Bar | 25 |
| City of Downey | 147 |
| City of Duarte | 37 |
| City of El Monte | 72 |
| City of El Segundo | 21 |
| City of Gardena | 121 |
| City of Glendale | 369 |
| City of Glendora | 35 |
| City of Hawaiian Gardens | 8 |
| City of Hawthorne | 134 |
| City of Hermosa Beach | 22 |
| City of Hidden Hills | 0 |
| City of Huntington Park | 87 |
| City of Industry | — |
| City of Inglewood | 215 |
| City of Irwindale | — |
| City of La Canada Flintridge | 33 |
| City of La Habra Heights | — |
| City of La Mirada | 40 |
| City of La Puente | 30 |
| City of La Verne | 13 |
| City of Lakewood | 61 |
| City of Lancaster | 184 |
| City of Lawndale | 42 |
| City of Lomita | 29 |
| City of Long Beach | 464 |
| City of Lynwood | 119 |
| City of Malibu | 26 |
| City of Manhattan Beach | 61 |
| City of Maywood | 45 |
| City of Monrovia | 23 |
| City of Montebello | 88 |
| City of Monterey Park | 47 |
| City of Norwalk | 124 |
| City of Palmdale | 248 |
| City of Palos Verdes Estates | 36 |
| City of Paramount | 97 |
| City of Pasadena | 249 |
| City of Pico Rivera | 107 |
| City of Pomona | 97 |
| City of Rancho Palos Verdes | 50 |
| City of Redondo Beach | 94 |
| City of Rolling Hills | — |
| City of Rolling Hills Estates | 13 |
| City of Rosemead | 19 |
| City of San Dimas | 23 |
| City of San Fernando | 48 |
| City of San Gabriel | 23 |
| City of San Marino | 9 |
| City of Santa Clarita | 244 |
| City of Santa Fe Springs | 15 |
| City of Santa Monica | 135 |
| City of Sierra Madre | — |
| City of Signal Hill | 5 |
| City of South El Monte | 6 |
| City of South Gate | 172 |
| City of South Pasadena | 34 |
| City of Temple City | 29 |
| City of Torrance | 217 |
| City of Vernon | 0 |
| City of Walnut | 19 |
| City of West Covina | 72 |
| City of West Hollywood | 120 |
| City of Westlake Village | 6 |
| City of Whittier | 80 |
| Los Angeles | 6904 |
| Los Angeles – Adams-Normandie | 17 |
| Los Angeles – Alsace | 16 |
| Los Angeles – Angeles National Forest | 0 |
| Los Angeles – Angelino Heights | — |
| Los Angeles – Arleta | 56 |
| Los Angeles – Atwater Village | 17 |
| Los Angeles – Baldwin Hills | 44 |
| Los Angeles – Bel Air | 26 |
| Los Angeles – Beverly Crest | 31 |
| Los Angeles – Beverlywood | 29 |
| Los Angeles – Boyle Heights | 116 |
| Los Angeles – Brentwood | 61 |
| Los Angeles – Brookside | 0 |
| Los Angeles – Cadillac-Corning | 11 |
| Los Angeles – Canoga Park | 145 |
| Los Angeles – Carthay | 54 |
| Los Angeles – Central | 74 |
| Los Angeles – Century City | 29 |
| Los Angeles – Century Palms/Cove | 50 |
| Los Angeles – Chatsworth | 54 |
| Los Angeles – Cheviot Hills | 15 |
| Los Angeles – Chinatown | — |
| Los Angeles – Cloverdale/Cochran | 22 |
| Los Angeles – Country Club Park | 44 |
| Los Angeles – Crenshaw District | 41 |
| Los Angeles – Crestview | 55 |
| Los Angeles – Del Rey | 43 |
| Los Angeles – Downtown | 36 |
| Los Angeles – Eagle Rock | 63 |
| Los Angeles – East Hollywood | 80 |
| Los Angeles – Echo Park | 13 |
| Los Angeles – El Sereno | 60 |
| Los Angeles – Elysian Park | 7 |
| Los Angeles – Elysian Valley | 14 |
| Los Angeles – Encino | 73 |
| Los Angeles – Exposition | — |
| Los Angeles – Exposition Park | 83 |
| Los Angeles – Faircrest Heights | — |
| Los Angeles – Figueroa Park Square | 16 |
| Los Angeles – Florence-Firestone | 74 |
| Los Angeles – Glassell Park | 87 |
| Los Angeles – Gramercy Place | 18 |
| Los Angeles – Granada Hills | 81 |
| Los Angeles – Green Meadows | 32 |
| Los Angeles – Hancock Park | 61 |
| Los Angeles – Harbor City | 32 |
| Los Angeles – Harbor Gateway | 48 |
| Los Angeles – Harbor Pines | 0 |
| Los Angeles – Harvard Heights | 32 |
| Los Angeles – Harvard Park | 60 |
| Los Angeles – Highland Park | 52 |
| Los Angeles – Historic Filipinotown | 34 |
| Los Angeles – Hollywood | 157 |
| Los Angeles – Hollywood Hills | 53 |
| Los Angeles – Hyde Park | 37 |
| Los Angeles – Jefferson Park | 6 |
| Los Angeles – Koreatown | 93 |
| Los Angeles – Lafayette Square | 9 |
| Los Angeles – Lake Balboa | 53 |
| Los Angeles – Lakeview Terrace | 36 |
| Los Angeles – Leimert Park | 25 |
| Los Angeles – Lincoln Heights | 40 |
| Los Angeles – Little Armenia | 72 |
| Los Angeles – Little Bangladesh | 54 |
| Los Angeles – Little Tokyo | — |
| Los Angeles – Longwood | 8 |
| Los Angeles – Los Feliz | 29 |
| Los Angeles – Manchester Square | 8 |
| Los Angeles – Mandeville Canyon | — |
| Los Angeles – Mar Vista | 45 |
| Los Angeles – Marina Peninsula | 9 |
| Los Angeles – Melrose | 265 |
| Los Angeles – Mid-city | 34 |
| Los Angeles – Miracle Mile | 32 |
| Los Angeles – Mission Hills | 46 |
| Los Angeles – Mt. Washington | 25 |
| Los Angeles – North Hills | 93 |
| Los Angeles – North Hollywood | 200 |
| Los Angeles – Northridge | 101 |
| Los Angeles – Pacific Palisades | 33 |
| Los Angeles – Pacoima | 117 |
| Los Angeles – Palisades Highlands | — |
| Los Angeles – Palms | 82 |
| Los Angeles – Panorama City | 141 |
| Los Angeles – Park La Brea | 11 |
| Los Angeles – Pico-Union | 126 |
| Los Angeles – Playa Del Rey | — |
| Los Angeles – Playa Vista | 16 |
| Los Angeles – Porter Ranch | 42 |
| Los Angeles – Rancho Park | 9 |
| Los Angeles – Regent Square | — |
| Los Angeles – Reseda | 126 |
| Los Angeles – Reseda Ranch | 11 |
| Los Angeles – Reynier Village | 6 |
| Los Angeles – San Pedro | 90 |
| Los Angeles – Shadow Hills | 10 |
| Los Angeles – Sherman Oaks | 97 |
| Los Angeles – Silverlake | 97 |
| Los Angeles – South Carthay | 22 |
| Los Angeles – South Park | 70 |
| Los Angeles – St Elmo Village | 5 |
| Los Angeles – Studio City | 26 |
| Los Angeles – Sun Valley | 70 |
| Los Angeles – Sunland | 46 |
| Los Angeles – Sycamore Square | 0 |
| Los Angeles – Sylmar | 195 |
| Los Angeles – Tarzana | 61 |
| Los Angeles – Temple-Beaudry | 103 |
| Los Angeles – Thai Town | 12 |
| Los Angeles – Toluca Lake | 9 |
| Los Angeles – Toluca Terrace | 0 |
| Los Angeles – Toluca Woods | — |
| Los Angeles – Tujunga | 35 |
| Los Angeles – University Hills | — |
| Los Angeles – University Park | 42 |
| Los Angeles – Valley Glen | 57 |
| Los Angeles – Valley Village | 60 |
| Los Angeles – Van Nuys | 172 |
| Los Angeles – Venice | 40 |
| Los Angeles – Vermont Knolls | 28 |
| Los Angeles – Vermont Square | 25 |
| Los Angeles – Vermont Vista | 63 |
| Los Angeles – Vernon Central | 87 |
| Los Angeles – Victoria Park | 26 |
| Los Angeles – View Heights | 6 |
| Los Angeles – Watts | 56 |
| Los Angeles – Wellington Square | 6 |
| Los Angeles – West Adams | 75 |
| Los Angeles – West Hills | 35 |
| Los Angeles – West Los Angeles | 46 |
| Los Angeles – West Vernon | 123 |
| Los Angeles – Westchester | 53 |
| Los Angeles – Westlake | 150 |
| Los Angeles – Westwood | 42 |
| Los Angeles – Wholesale District | 46 |
| Los Angeles – Wilmington | 60 |
| Los Angeles – Wilshire Center | 71 |
| Los Angeles – Winnetka | 84 |
| Los Angeles – Woodland Hills | 93 |
| Unincorporated – Acton | 8 |
| Unincorporated – Agua Dulce | — |
| Unincorporated – Altadena | 51 |
| Unincorporated – Anaverde | — |
| Unincorporated – Angeles National Forest | — |
| Unincorporated – Arcadia | — |
| Unincorporated – Athens-Westmont | 60 |
| Unincorporated – Athens Village | 12 |
| Unincorporated – Avocado Heights | 6 |
| Unincorporated – Azusa | 6 |
| Unincorporated – Bandini Islands | 0 |
| Unincorporated – Bassett | 20 |
| Unincorporated – Bouquet Canyon | 0 |
| Unincorporated – Bradbury | 0 |
| Unincorporated – Canyon Country | 21 |
| Unincorporated – Castaic | 12 |
| Unincorporated – Cerritos | 0 |
| Unincorporated – Charter Oak | 0 |
| Unincorporated – Claremont | 0 |
| Unincorporated – Covina | 16 |
| Unincorporated – Covina (Charter Oak) | 11 |
| Unincorporated – Del Aire | 6 |
| Unincorporated – Del Rey | 0 |
| Unincorporated – Del Sur | — |
| Unincorporated – Desert View Highlands | — |
| Unincorporated – Duarte | — |
| Unincorporated – East Covina | 0 |
| Unincorporated – East La Mirada | 6 |
| Unincorporated – East Lancaster | 0 |
| Unincorporated – East Los Angeles | 202 |
| Unincorporated – East Pasadena | 0 |
| Unincorporated – East Rancho Dominguez | 14 |
| Unincorporated – East Whittier | — |
| Unincorporated – El Camino Village | — |
| Unincorporated – El Monte | 0 |
| Unincorporated – Elizabeth Lake | 0 |
| Unincorporated – Florence-Firestone | 116 |
| Unincorporated – Franklin Canyon | 0 |
| Unincorporated – Glendora | 0 |
| Unincorporated – Hacienda Heights | 40 |
| Unincorporated – Harbor Gateway | 0 |
| Unincorporated – Hawthorne | — |
| Unincorporated – Hi Vista | 0 |
| Unincorporated – Kagel/Lopez Canyons | — |
| Unincorporated – La Crescenta-Montrose | 13 |
| Unincorporated – La Habra Heights | 0 |
| Unincorporated – La Rambla | 6 |
| Unincorporated – La Verne | — |
| Unincorporated – Ladera Heights | 16 |
| Unincorporated – Lake Hughes | 0 |
| Unincorporated – Lake Los Angeles | 11 |
| Unincorporated – Lake Manor | — |
| Unincorporated – Lakewood | 0 |
| Unincorporated – Lennox | 30 |
| Unincorporated – Leona Valley | — |
| Unincorporated – Littlerock | — |
| Unincorporated – Littlerock/Juniper Hills | — |
| Unincorporated – Littlerock/Pearblossom | — |
| Unincorporated – Llano | — |
| Unincorporated – Lynwood | 0 |
| Unincorporated – Marina del Rey | 9 |
| Unincorporated – Miracle Mile | 0 |
| Unincorporated – Monrovia | 5 |
| Unincorporated – Newhall | 0 |
| Unincorporated – North Lancaster | 0 |
| Unincorporated – North Whittier | — |
| Unincorporated – Northeast San Gabriel | 8 |
| Unincorporated – Palmdale | — |
| Unincorporated – Palos Verdes Peninsula | 0 |
| Unincorporated – Pearblossom/Llano | — |
| Unincorporated – Pellissier Village | 0 |
| Unincorporated – Placerita Canyon | 0 |
| Unincorporated – Pomona | 0 |
| Unincorporated – Quartz Hill | 18 |
| Unincorporated – Rancho Dominguez | 10 |
| Unincorporated – Roosevelt | 0 |
| Unincorporated – Rosewood | — |
| Unincorporated – Rosewood/East Gardena | 0 |
| Unincorporated – Rosewood/West Rancho Dominguez | — |
| Unincorporated – Rowland Heights | 32 |
| Unincorporated – San Clemente Island | 0 |
| Unincorporated – San Francisquito Canyon/Bouquet Canyon | 0 |
| Unincorporated – San Jose Hills | 12 |
| Unincorporated – San Pasqual | 0 |
| Unincorporated – Sand Canyon | 0 |
| Unincorporated – Santa Catalina Island | — |
| Unincorporated – Santa Monica Mountains | 8 |
| Unincorporated – Saugus | — |
| Unincorporated – Saugus/Canyon Country | 0 |
| Unincorporated – South Antelope Valley | 0 |
| Unincorporated – South Edwards | 0 |
| Unincorporated – South El Monte | — |
| Unincorporated – South San Gabriel | 7 |
| Unincorporated – South Whittier | 46 |
| Unincorporated – Southeast Antelope Valley | 0 |
| Unincorporated – Stevenson Ranch | 15 |
| Unincorporated – Sun Village | — |
| Unincorporated – Sunrise Village | — |
| Unincorporated – Twin Lakes/Oat Mountain | — |
| Unincorporated – Universal City | 0 |
| Unincorporated – Val Verde | — |
| Unincorporated – Valencia | — |
| Unincorporated – Valinda | 22 |
| Unincorporated – View Park/Windsor Hills | 21 |
| Unincorporated – Walnut | 0 |
| Unincorporated – Walnut Park | 36 |
| Unincorporated – West Antelope Valley | — |
| Unincorporated – West Carson | 39 |
| Unincorporated – West Chatsworth | 0 |
| Unincorporated – West LA | — |
| Unincorporated – West Puente Valley | 7 |
| Unincorporated – West Rancho Dominguez | — |
| Unincorporated – West Whittier/Los Nietos | 24 |
| Unincorporated – Westfield/Academy Hills | 0 |
| Unincorporated – Westhills | 0 |
| Unincorporated – White Fence Farms | — |
| Unincorporated – Whittier | — |
| Unincorporated – Whittier Narrows | 0 |
| Unincorporated – Willowbrook | 33 |
| Unincorporated – Wiseburn | — |
| – Under Investigation | 878 |