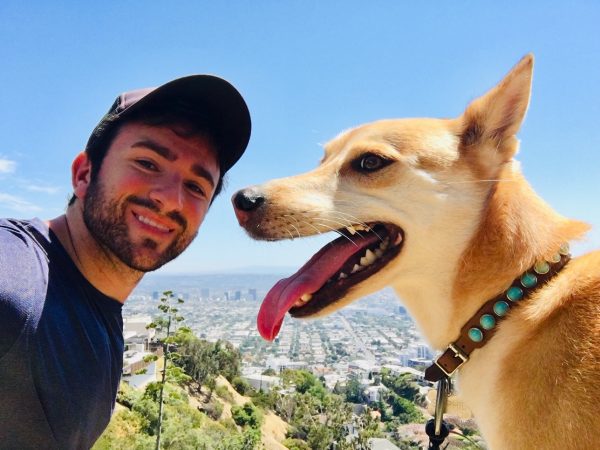 EDITOR'S NOTE: This is the latest in a series of occasional profiles of young entrepreneurs in West Hollywood.
"Silent energetic exchange."
Those were the words Jeremy David used to describe the bond he feels with the animals he cares for as founder of WeHounds, the West Hollywood born and bred business he started from his apartment in 2014.
David still lives in that "east West Hollywood" apartment near La Brea Avenue. "I happen to be of Russian descent," he said, so he enjoys the proximity to Russian culture that the area provides.
In the past five-plus years, WeHounds has grown into a virtual company with three employees and a cadre of gig workers. It's also adapted to severe unexpected challenges and new realities. It isn't only COVID-19. At the beginning of 2020, California's freelancer employment law AB5 altered the structure of businesses throughout the state.
How does a small business run by an unlikely entrepreneur who didn't go to business school, but thought, "maybe, this could be a potential line of work," survive?
Always Around Animals
"I've been typically described as a very calming presence," David said during our 60-minute FaceTime interview a few weeks ago.
While likely not a genetic trait that any of the X-Men would envy, exuding feelings of tranquility is something animals and "pet parents," as David calls his human clients, definitely appreciate about him. In fact, it may be the key to his success. Perhaps his southern Florida childhood, including many years living in the Keys, started it all.
"I pretty much had the full spectrum of dogs," David began, "and fish and hamsters and rabbits and a chameleon and sugar gliders, which are flying squirrels. … And I had turtles and lizards and just about everything, but a cat."
Thankfully, having cared for so many felines since starting WeHounds, he's no longer allergic. "Which is cool."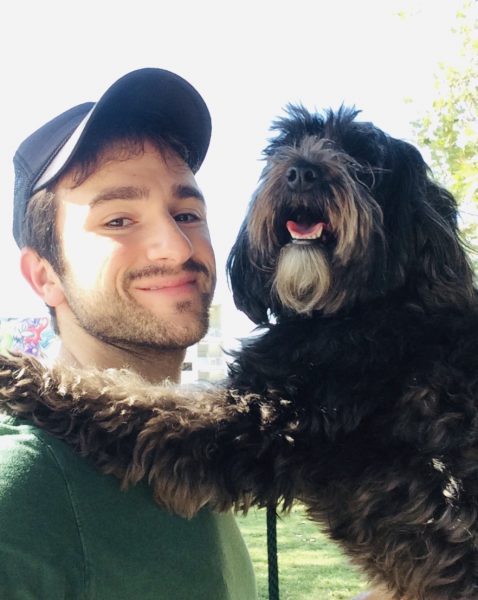 "So Many Dogs in West Hollywood"
After moving to Los Angeles from New York City, David vowed never to wait tables again. (Yes, he's also an actor.) Noticing "there are just so many dogs in West Hollywood," he got the idea for a pet care service. So he spent the next few weeks building his website, getting his business license and developing his go-to-market strategy.
"The very first day I went public with it, which was via Craigslist," David said, "I got a client." An attorney with a boxer.
Then, just by being seen around West Hollywood walking dogs, and giving advice to the willing (an Australian Shepherd was involved), WeHounds grew.
"I've spent very little money and very little time advertising because everything has been from word of mouth," he said. "Review sites like Google, Nextdoor and Yelp have been very useful."
David credits West Hollywood being a "community" for his success. "If you were in a bigger city, or even a different part of L.A., you wouldn't have that."
Another plus? "No overhead." David started WeHounds for "less than $400."
In Business
There are two types of pet parents, according to David. Those that "have no discipline" and "their pets run their homes" or those that are "so overly caring about their dogs or pets, overly affectionate, that there's no structure." Whether "no rules or too many rules, it's crazy town."
How does he remove the crazy? It starts with a free consultation. David sits down with the pet parents, asking questions to both ascertain their needs and, as it were, read the room. It's a necessary step. "You've got to be able to jive with the clients."
A lot of WeHounds' work is walking and visiting pets while owners are away during the day. But a fair amount involves training. "All training is really about the owner," David said. "It's not about the dog."
He's had success. There is that woman with a pit bull who had not had guests in her house for years. "She created what I call a care prison," David said. "I was helping her realize that while everything that she had been doing was well intentioned…she needed to let the dog be a dog."
Then comes the imagery. "Every pet that gets walked or visited, we send the owners a picture. So they get…a little boost of joy for their day. And I really, really enjoy taking the photos."
So much so that pet imagery is now an extension of his core business. His pricing for such creative services varies, but David also uses his artistic skills for customer retention.
"For my clients that are with me for the first year, I hand draw their pets. And then they get a magnet from me with their pets on it. He also does much more "when clients stay on with me longer," such as memorial videos.
Napoleon was a French Bulldog that David had "a lot of good times" with. Hence, there was a lot of Napoleon content, including "videos where I had him as Lawrence of Arabia or James Bond, singing "Respect" by Aretha Franklin." David began a tradition. "Now I do it when the pets pass away…or a birthday party."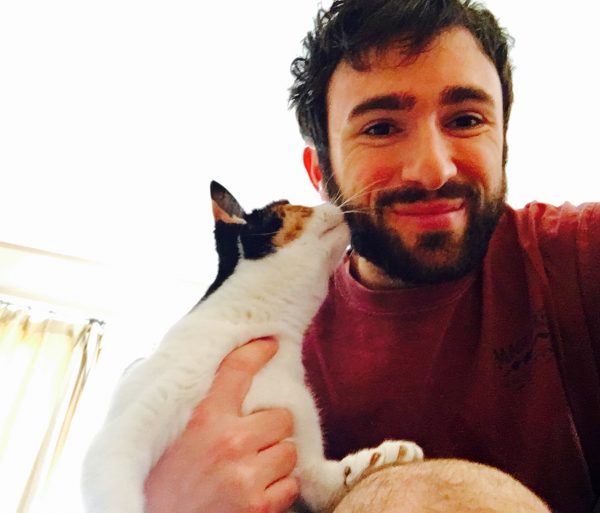 Beyond the Leash
Start Your Pet Biz is a course David created using the Teachable platform. "I love to share my passion with people on how I made this business," he said.
The 10-hour course provides the "nuts and bolts from start to finish…coming up with your business name to hiring people to managing your business long term. All the legal things you have to do to set it up." Branding, advertising, and licenses are covered, too.
WeHounds.com lists major local hotels as clients: Chateau Marmont, Sunset Marquis and The Edition. In the course, David instructs budding entrepreneurs on how to approach the hospitality sector as a revenue source.
"Really what it boils down to is hotels are in the service industry, too," David explained. "And they have a certain quality of service and a style with which they do things and interact with guests. I basically tapped into that and showed up like I was already working for the hotel."
While only five percent of WeHounds' revenue comes from hotels, there are real perks. "It's been a lot of fun because I get to meet these pups…from around the world. And celebrities and family members of celebrities. It's cool."
Too discreet (and smart) to name names, David did say he's worked for all types of stars: TV, film, music and sports. "There have been times when I've been at the hotels where they like me…invite me in and wanna party with me. Get to know me. So that's fun."
Chalk it up to his calming presence.
A Quarantine and an Assembly Bill
WeHounds, like so many small businesses across the country, has been affected by the new stay-at-home normal due to COVID-19. (More below.)
But the passage of California Assembly Bill 5 (AB5) also meant extreme changes to WeHounds' business model. "It's really taken a toll on a lot of businesses that work in this more gig way," David said.
WeHounds' four employees remain. But the independent contractors it relied on for "an occasional dog walk" had to fall away, making it "hard for me to grow the biz," David said.
Overnight pet sits branded as "slumber parties" (admit it, you're smiling) weren't affordable anymore. "I would have to charge $140 for that same service, which is obviously way above…what anyone would pay for that service." Now David does them all personally. Or he will, once life and business return to something approaching normal.
As far as commerce in the age of COVID goes, David provided an insight I didn't expect to hear.
"I have several clients that are in the healthcare industry," he said. "And they are being called in, and then some, to be of service. And they can't leave to walk their dog."
"So when it comes down to what is essential, I'm wearing gloves, I'm wearing masks. I'm sanitizing everything. I sanitize all the keys, my cell phone. All of it."
As rough as that may be, David maintains a positive outlook.
"The bottom line is I'm very grateful. I have clients who I've been with for a long time that value what I'm able to do, and have continued to use me in the appropriate capacities." Some indeed are "just paying" him, grateful in return for his Dr. Dolittle-like qualities, looking forward to the day when he can safely return.
"Hopefully," David said, "after everyone realizes they can work from home, they'll still want to have their pets cared for … Or it'll open up a new realm of clients that may want to hit the reset button on whomever they've been working with."
Should that happen, this self-made entrepreneur will be ready to explain what sets Wehounds apart from the competition. "Character and communication skills, ethics and knowledge of pets," all matter. "Everybody knows dogs," he added. "And then you really question people and you realize: They have no idea what they're talking about."