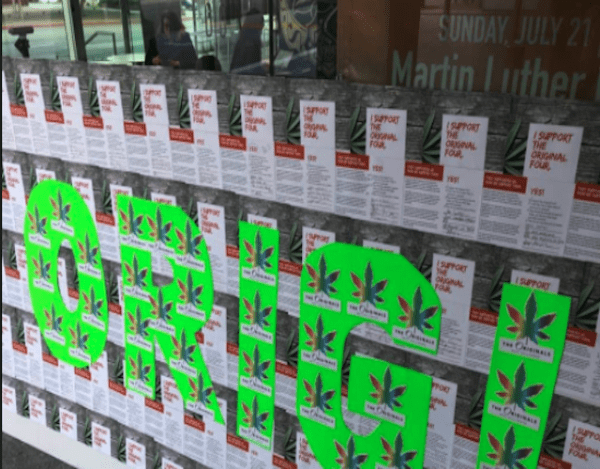 A group representing three of West Hollywood's four original holders of licenses to sell medical cannabis has obtained enough signatures to put on the Nov. 3 ballot a measure that would effectively void the complex cannabis licensing process the city launched in 2018 and allow the current medical cannabis businesses to obtain permanent licenses to sell recreational cannabis.
The "West Hollywood Close the Loopholes Initiative" has obtained 3,168 verified signatures from the city's more than 28,000 registered voters. That is significantly  more than the 10% minimum required to put an item on the ballot.
"West Hollywood has witnessed the benefits of having an engaged cannabis community at the grassroots level," said Amy Pagel of Zen Healing, one of the four medical cannabis dispensaries. "We collected enough signatures quickly because voters know our retailers are part of the fabric of the city, many of our employees live in WeHo and we have served this community for years. Voters signed the petition because they recognize the need to close the loopholes that exist in WeHo's cannabis rules which prevent the city from reaching its full potential."
At its meeting on Monday, the West Hollywood City Council will be asked to either adopt the "Close the Loopholes Initiative" or agree to put it on the Nov. 3 ballot for voters to decide. It also could ask for a study of the impact of the initiative and delay a decision until then.
If passed by the Council or a majority of voters, the initiative would:
–Combine the city's separate medicinal and recreational cannabis categories into a single retail sales category. Currently the city has a limit of eight licenses in each of those two separate categories. Merging them means that instead of eight competitors in the recreational cannabis market and eight in the medicinal cannabis market, there would be 16 competing in both categories.
The original medical cannabis license holders — MedMen, Alternative Herbal Health Services, Los Angeles Patients and Caregivers Group, and Zen Healing Collective, and known as "the Originals" — didn't have to compete with others for one of the eight medical sales licenses because the City Council agreed in 2018 to "grandfather" them in. However, they did have to compete with others for recreational sales licenses, and none of them qualified. Apart from the "Close the Loopholes" initiative, MedMen has filed its own lawsuit against the city to void the application process.
–Merge the city's license for consumption lounges at which only edible cannabis products can be consumed with its license for consumption lounges where cannabis can be smoked or vaped.  That means the 16 recipients of licenses (eight in each category) would be able to offer both edible cannabis products and smoking and vaping.
–Allow customers of consumption lounges to take home partially consumed items and also purchase and leave with unopened "specialty cannabis items." The City of West Hollywood's existing ordinance limits consumption patrons to taking away three partially consumed products but does not allow the takeaway of unopened items.
This change has been opposed by those who have qualified for recreational cannabis sales licenses. They argue that consumption lounge owners would be competing with them if those lounges are able to sell products that can be taken home. One example some have cited to support their argument is liquor stores and bars. Liquor stores can sell alcohol but not allow it to be consumed on site. Bars can sell drinks with alcohol to customers but can't allow them to take unfinished drinks or bottles of alcohol home.
Alex Kardos, a partner and founder of Where Eagles Fly, a Weho cannabis consumption lounge, supports allowing customers to buy products to take out. "This initiative not only provides safe and legal venues to consume all types of cannabis, but opens up the lounges for take-out, which in today's new world might end up being the business of the future," he said.
–Allow those who have qualified for a license to sell their businesses and, at the City Manager's discretion, transfer the license with the sale. That would effectively void the process the city established for ranking applicants based on their connection to West Hollywood, which includes such things as partnerships with existing businesses in WeHo and a plan to engage with the community through participation in community events or working with local non-profits and other community groups.
–Require businesses with ten or more employees to enter into contracts with unions. That current requirement applies only to businesses with 20 or more employees. That change is likely to draw the support from United Food and Commercial Workers Union Local 770, which has backed the effort by the current medical cannabis retailers to obtain permanent city licenses to sell recreational cannabis.
–Remove sale of cannabis to a minor, which is illegal, from the list of crimes that would bar someone from qualifying for a cannabis license.
–Extend the deadline for obtaining the final business license to open to three years from the date the applicant has qualified for a license. Currently the deadline is one or two years, depending on the type of cannabis license.
–Not penalize a cannabis business if cannabis can be smelled outside its business, so long as the smell is minor.
The City Council in 2018 adopted a "merit-based" approach to determining who qualified for each of eight cannabis licenses in five different categories. Those applying had to submit a business plan, design concept, security plan and document experience in the business. Each screening application was reviewed and scored by an independent five-member application evaluation committee appointed by City Manager Paul Arevalo.  During the application process, the medical cannabis dispensaries were allowed to sell recreational cannabis, which is easier to purchase because it doesn't require a doctor's prescription.
The eight top-ranked applicants in each category then had to apply for a business license. To get that license, each applicant has had to find a location for the business and have the city's Current and Historic Planning Division certify that the business is permitted in that property zone. With that certification, the application goes before the city's Business License Commission for final approval. The applicants also must have obtained a state cannabis license before opening the business. Objections from the current cannabis businesses and the slow process of leasing retail space and obtaining a business license and building and safety permits from the city has led the Council to let the medical cannabis businesses continue to sell recreational cannabis until Jan. 1, 2021.
The fight by the original medical cannabis retailers for permanent recreational cannabis licenses has drawn opposition from the Adult Use Retailers Association of West Hollywood (AURA), which represents the new recreational cannabis license holders.  They include Aeon West Hollywood, Inc. (Aeon Botanika), the Artist Tree, LLC (The Artist Tree), CALMA Weho LLC (Calma), Essence Weho LLC (Essence), J&P Consulting (Budberry), PDLP JV LLC (Greenwolf West Hollywood), Pleasure Med, LLC (Pleasure Med), and Redwood Retail, LLC (Lord Jones). To date, the Artist Tree at 8625 Santa Monica Blvd. and Calma at 1155 N. La Brea Ave. are the only new retailers to have opened.
The debate over whether to grant original medical cannabis dispensaries permanent retail cannabis licenses is likely to have an impact on the upcoming City Council election, where incumbents John Duran and John Heilman are running for re-election. Duran has spoken out in support of the current medical license retailers. Another City Council candidate, John Erickson, head of the Hollywood Chapter of the National Organization for Women, appeared at a City Council meeting last year to state that Hollywood NOW wanted the Originals to get permanent licenses.
The City Council will consider these and other matters at its "virtual" meeting, which will begin at 6:30 p.m. on Monday. Council members will participate from their homes. Residents can view the meeting live on several platforms:
Spectrum Channel 10 (in West Hollywood)
AT&T U-verse Channel 99 (in Southern California)
SmartTV Apps: AndroidTV; AppleTV; FireTV, and Rokufor
The City Council agenda can be accessed online , and if you'd like to make a comment on an item on the agenda, you can do that online here beginning later today. Your comment will be read aloud at the meeting when the Council considers the agenda item you are commenting on. However, your comment must be submitted before 4 p.m. on Monday.