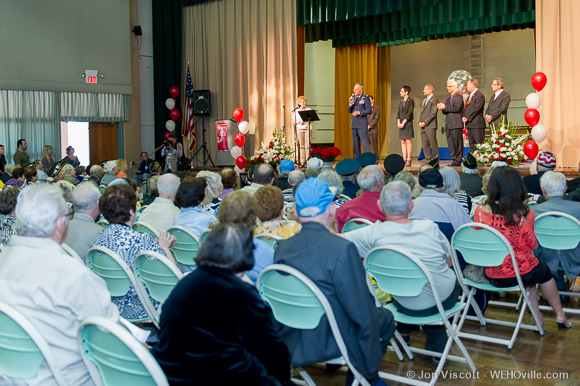 The Sample Saturday sidewalk sale. The Women in Leadership Awards ceremony. The dedication of the Rocky & Bullwinkle statue installed on Sunset at Holloway. Demin Day.
That's a short list of March and April events in West Hollywood that have been cancelled or postponed because of "stay at home" orders issued by the state and county in response to the COVID-19 pandemic. A total of 55 events scheduled from March 1 to June 30 that are at least partially funded by the city or which require city permits  have been cancelled or postponed.  The most recent were Friday's annual Rainbow Key Awards, organized by the city's Lesbian and Gay Advisory Board, and Pawsapalooza, a fundraiser for the PAWS/LA nonprofit, which helps low-income seniors and those with disabilities care for their pets.
On March 12, the City of West Hollywood cancelled all non-essential city events and gatherings, moved city meetings to a virtual platform where applicable, and revoked special event permits and film permits to comply with the social distancing orders. In addition to the Rainbow Key Awards, those cancellations include the Public Safety Awards, an annual event of the city's Public Safety Commission.  The city also has cancelled the "mayor reorganization," which is an annual ceremony, scheduled this year for May 18, at which City Councilmember Lindsey Horvath will be installed as mayor and Councilmember John Heilman as mayor pro tem.
The City of West Hollywood spends roughly $6.2 million sponsoring or hosting or co-hosting events each year. The most expensive events that have been cancelled or postponed are the 2020 LA Pride parade and festival (postponed to a date uncertain), for which the city has budgeted $3.2 million.  That event, which attracts an estimated 125,000 people to West Hollywood, also is a major generator of revenue for local bars, restaurants and shops. However, while it is the city's most costly event, the money the city spends per estimated attendee is $25.33. By contrast, the city spends an average of $300 per attendee at the annual Chamber of Commerce State of the City event and $186 for each of the estimated 350 people who attend the Women in Municipal Government's leadership conference.
The city has a long list of events scheduled for next fiscal year (July 1, 2020 to June 30, 2021) for which decisions whether to cancel or postpone haven't yet been made.  The list includes the Halloween Carnaval, for which the city currently has budgeted $1.8 million and which attracts an estimated 250,000-500,000 people.
The list will be presented tonight to the City Council which is expected to take those events into consideration as it considers the budget for the 2020-2021 fiscal year, a period in which there will be a sharp drop in revenue because of the pandemic.
Below is a chart that lists events cancelled or postponed through June 27 with their cost to the city and their estimated attendance.  It is followed on Page 2 by a list of events currently planned from July 1, 2020, through June 30, 2021 whose status is unclear.
| | | | | |
| --- | --- | --- | --- | --- |
| DATE | EVENT | STATUS | COST TO CITY | ATTENDANCE |
| 3/1/20 – 3/31/20 | Women's History Month (4 events plus displays) | Postponed | $15,000 | Varies by event |
| 3/14/20 – 3/20/20 | DEMO – MAK Center | Postponed | $9,000 | 100 |
| 3/14-3/15/20 | Transvagina Monologues – NOW | Postponed | $4,400 | 100 |
| 3/14/2020 | Maslenitsa – Dance Studio Showtime Katusha | Postponed | $9,000 | 100 |
| 3/21/2020 | Transforming Community – Rocco | Postponed | $4,400 | 50 |
| 3/21/2020 | Sample Saturday – WeHo Chamber & Capitol Drugs | Cancelled | $0 | 2000 |
| 3/21/2020 | Play Ball | Cancelled | $1,500 | 100 |
| 3/25/2020 | Women in Leadership Awards | Cancelled/ Postponed | $10,000 | 250 |
| 3/28/2020 | Dedication of Rocky & Bullwinkle Statue | Cancelled | $2,000 | 100 |
| 3/31/2020 | Transgender Visibility Day | Cancelled | $1,000 | 50 |
| 04/01 -04/30/20 | Sexual Assault Awareness Month | Cancelled | n/a | campaign |
| 4/1/20 – 4/30/20 | LA Get Down Festival – Greenway Arts Alliance | Postponed | $9,000 | 150 |
| 4/11/2020 | The California Sound – GMCLA | Postponed | $9,000 | 100 |
| 4/19/2020 | Urban Forestry Symposium | Postponed | $7,500 | 100 |
| 4/19/2020 | Explore Dance – Benita Bike | Postponed | $2,000 | 50 |
| 4/20/2020 | Denim Day | Cancelled | $500 | 150 |
| 4/20-5/2/20 | SEEFest | Postponed | $7,625 | 150 |
| 4/21/2020 | Yom Hashoah | Cancelled | $4,000 | 100 |
| 4/21/2020 | National Poetry Month (2 events plus street banner display) | Cancelled | $5,000 | 5000 |
| 4/22/2020 | Homeless Educational Training Series – Everyone In | Cancelled | $1,000 | 50 |
| 4/24/2020 | Move Me – Heidi Duckler | Postponed | $7,625 | 100 |
| 4/25/2020 | Night of Healing – Taking Back Ourselves | Cancelled | | 150 |
| 4/25/2020 | Kid's Fair | Cancelled | $10,800 | 500 |
| 4/26/2020 | The Return of the Bachs – Kontrapunctus | Postponed | $4,000 | 50 |
| 4/29/2020 | Homeless Educational Training Series – Everyone In | Cancelled | $1,000 | 50 |
| 5/1/20 – TBD | Rainbow Key Awrards | Cancelled | $6,000 | 100 |
| 5/1/2020 | Pawsapalooza – PAWS/LA | Cancelled | $1,200 | 700 |
| 5/6/2020 | Homeless Educational Training Series – Everyone In | Cancelled | $1,000 | 50 |
| 5/6/2020 | LA County Lesbian, Bi, Queer Women's Health event | Cancelled | $5,000 | 100-200 |
| 5/9/2020 | Victory in Europe Day/March | Digital format | $14,000 | 1000 |
| 5/11/2020 | Public Safety Awards | Cancelled | $5,000 | 100 |
| 5/15/2020 | Rogue Lab – Rogue Artists | Postponed | $7,500 | 200 |
| 5/16/2020 | World Dog Day – Vanderpump Dogs | Cancelled | $0 | 2550 |
| 5/17/2020 | Russian Cultural Festival (month-long festival) | Cancelled | $144,400 | 4000 |
| | | | | |
| --- | --- | --- | --- | --- |
| DATE | EVENT | STATUS | COST TO CITY | ATTENDANCE |
| 5/18/2020 | Mayoral Reorganization | Cancelled | $11,500 | 100 – 250 |
| 5/20/2020 | Senior Health Fair | Cancelled | $10,000 | 500 |
| 5/22/2020 | Harvey Milk Day (Dear Harvey Reading) | Digital Format | $5,000 | 100-120 |
| 5/23/2020 | Triumph – LA Women's Theatre Festival | Postponed | $6,250 | 200 |
| 5/25/2020 | Memorial Day Display | Static Display | $500 | Static Display |
| 5/30/2020 | Charlie Parker Centenary – LAXART | Postponed | $8,000 | 200 |
| 5/31/2020 | A Star is Born – VOX Femina LA | Postponed | $7,125 | 100 |
| 5/31/2020 | She Angels Pitchfest – 360 Karma | Cancelled | $0 | 150 |
| 5/31/2020 | Memorial Day Display | Static Display | $500 | |
| 05/22/20 – 06/30/20 | One City One Pride (20-25 events. 1-2 exhibits) | Digital Format | $52,000 | 10,000 |
| 6/1-30/20 | Artist Corner Gallery | Postponed | $3,600 | 100 |
| 6/6/2020 | AIDS/Lifecycle – AIDS/Lifecycle | Cancelled | $0 | 2300 |
| 6/8/2020 | Annual Historic Preservaton Celebration | Postponed | $6,000 | 75 |
| 6/12/2020 | Out There – LA Art Association | Postponed | $6,825 | 200 |
| 6/12/2020 | Annual Dyke March | Cancelled | $8,000 | 300 |
| 6/12/20 – 6/14/20 | LA Pride 2020 | Postponed | $3,166,151 | 125,000 |
| 6/13/2020 – 6/14/2020 | #SIZZLE! at CSW | Postponed | $10,000 | N/A |
| 6/13/2020 | Trans Pride | Cancelled | $2,500 | 1,500 |
| 6/20/2020 | Honoring our Transcestors – Nahshon Dion Anderson | Postponed | $4,600 | 50 |
| 6/27/2020 | Snow White and Eve – Invertigo Dance | Postponed | $4,400 | 100 |
| 6/27/2020 | DoYou – Yozmit | Postponed | $3,600 | 50 |
---