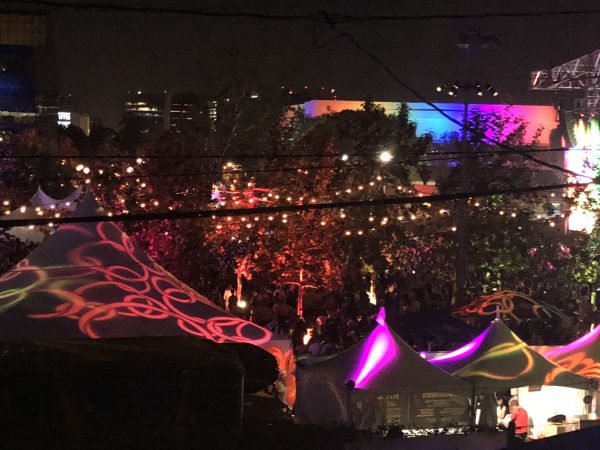 The cancellation of June's traditional LA Pride Festival and Parade, announced yesterday, is likely to have a significant impact on West Hollywood's economy. The cancellation is because of the COVID-19 pandemic, which has essentially shut down the tourism and nightlife industries that generate significant tax revenue for the city and profits for local businesses.
Christopher Street West, the non-profit that has produced the annual parade and festival, said that it will reimagine the event this year in a digital form and hopes to return to the traditional parade and festival next year when the COVID-19 pandemic has ended.
Last year's LA Pride resulted in $42.2 million in spending in Los Angeles County according to a study by Beacon Economics, a research and consulting firm engaged by CSW. The Beacon study also found the event increased economic output in Los Angeles County by $74.7 million of which $27.7 million was concentrated in West Hollywood and $18.2 million in the City of Los Angeles. Economic output is the value of goods and services provided during the Pride event.
It also increased labor income for workers in Los Angeles County by $33.1 million, including $14.7 million in West Hollywood and $7.4 million in the City of Los Angeles.
And it supported the annual equivalent of 830 jobs in L.A. County, including 397 in West Hollywood and 191 in the City of Los Angeles.
Beacon reported that the three-day event, which attracts visitors from across Southern California and from other cities and states, generated an estimated $2.5 million in tax revenue in Los Angeles County, including $896,100 in West Hollywood and $332,800 in the City of Los Angeles.
The city had budgeted $3.2 million to cover public safety and other costs associated with Pride. Given the revenue generated by the event and the estimated 125,000 people it attracts to West Hollywood, that expenditure has been supported by the City Council.
The City Council has yet to decide whether to cancel the annual Halloween Carnaval in October. A study by another consulting firm in 2016 reported that the 2014 Carnaval, a one-day event, generated $2.3 million in new spending in West Hollywood.
"The safety of the community is our top priority, and CSW must act responsibly to protect our community in the face of the COVID-19 pandemic," said Estevan Montemayor, president of the CSW Board of Directors, in an announcement of the Pride event cancellation. "Our community has always adapted, changed and become more resilient in the face of uncertain times. Although we cannot celebrate Pride with a festival or parade, CSW will make sure that the spirit of Pride is not forgotten. We are in this together, and we are here for you as we continue to navigate through this situation."
"The LGBTQ+ community has overcome many obstacles over the years and has always emerged stronger and more unified. The 50th anniversary will be one to remember regardless of a physical experience this year, and our hope is to resume in-person events for our incredible milestone in 2021. Our community will once again look adversity directly in the face and rise up together in solidarity and celebration," added Montemayor.
Madonna Cacciatore, CSW's executive director, said that it is important that people "remember that Pride is not just about a specific month or weekend in June. Los Angeles' LGBTQ+ community lives and breathes Pride every day … CSW is continuing to work with LA Pride partners to create a celebration over digital platforms, including participation in this year's virtual Global Pride. As a community, weathering this storm together will unite us and increase our appreciation for one another."
Christopher Street West organized the world's first permitted parade advocating for gay rights on June 28, 1970, as a response to and in commemoration of the Stonewall Rebellion on Christopher Street in New York City the year prior.