The City Council last night voted to continue to keep West Hollywood Park closed in order to expedite completion of the second phase of the park's redevelopment.
It was a decision that angered some regular users of the park, including members of WeHo Dodgeball and those who regularly swim at the park's outdoor pool. It also raised questions about whether the city will be able to accommodate the 2021 LA Pride Festival, which takes place in the park.
The city broke ground on the second phase of the redevelopment in January 2017. It was expected then to be completed in three years. (An earlier estimate was that it would be completed in April 2019). However, the city now has been estimating that Phase 2 won't be completed until May 2022.
At the Council's May 4 meeting, Councilmember John D'Amico noted that the entire park has been closed to prevent the spread of the coronavirus there and suggested the city take advantage of that closing and expedite construction. The city had planned to stage construction of various parts of the park so as to always leave some parts of it open to the public.
The Council's decision on Monday night will leave the entire park closed until Phase 2 is completed. Steve Campbell, director of the city's Facilities and Recreation Services Department, said that would allow the park to reopen in September 2021, 250 earlier than under the current plan.
Members of WeHo Dodgeball objected to keeping the park closed after the COVID-19 pandemic in order to expedite construction.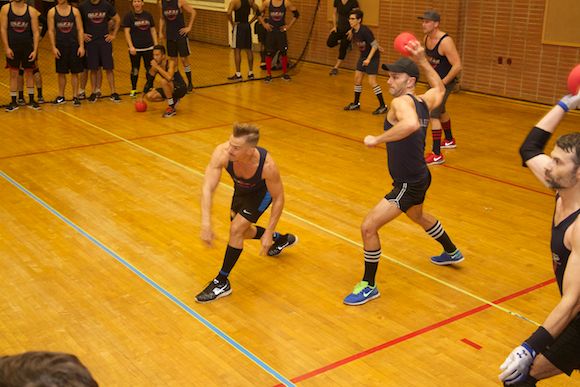 "That would leave the WeHo Dodgeball community (as well as Los Angeles Volleyball Organization (LAVO) and several other community groups) without a home for over a year," said Jake Mason, founder of WeHo Dodgeball, in a post on its Facebook page. 
"For a lot of residents, WeHo Dodgeball is where they came out, met their friends, their husbands, their wives, decided to stay in LA, found a community to battle their addiction, and just found their home. This is more than an adult sport league, this is a community that has also given so much back to the city we love.
"When the park was being planned, we attended and spoke at every council meeting. We were given several assurances that they would not tear down our home until we had a new one.
"This virus has already ravaged our community and taken the sport we love away from us for most, if not all of this year but if the City of West Hollywood ravages us as well then we will not be able to survive or come back from this."
Maurice Pilosof, who describes himself as a regular user of the pool, called into the City Council meeting on Monday night to object to the closure. Pilosof suggested the city put in place penalties for the contractor if it doesn't meet its deadlines.
Christopher Street West (CSW), which stages the annual LA Pride parade on Santa Monica Boulevard and festival in West Hollywood Park, has announced that it must postpone the physical event this year because of the COVID-19 pandemic. CSW has been able to use substantial parts of the park during construction in the last two years. CSW President Estevan Montemayor told WEHOville that he had only recently learned of the proposal to close all of the park.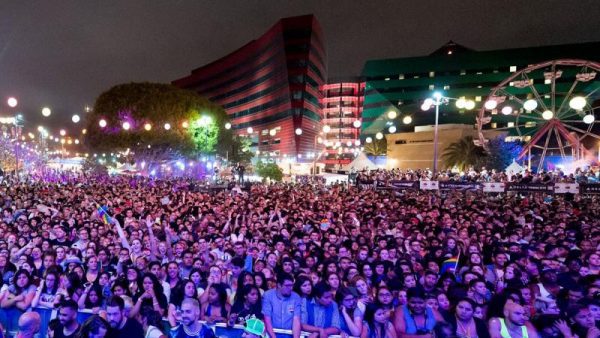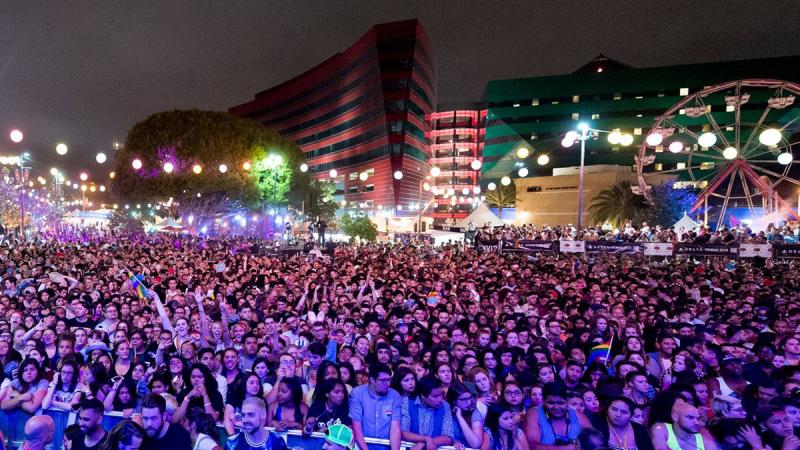 "As we look to 2021, we will work with the city and seek their guidance on how we can best produce a historic in-person festival and parade that will honor 50 years of resilience and Pride in Los Angeles," Montemayor said in a statement to WEHOville.
City Councilmember Lauren Meister asked whether WeHo Dodgeball's twice weekly games could be played in Fiesta Hall I Plummer Park. She also suggested the city reach out to hotels to see if users of the West Hollywood Park pool might be able to swim there.
Steve Campbell said that it might be possible for the city to put up an inflatable plastic structure in West Hollywood Park to house the dodgeball games.
The second phase of the park redevelopment includes demolition of the current auditorium and swimming pool and construction of an aquatic and recreation center with two rooftop swimming pools and a multi-sport court, small and large dog parks, expanded green spaces, new children's playgrounds, an AIDS Monument and a $3 million grand staircase.
At the ground-breaking ceremony in January 2017, City Manager Paul Arevalo said the overall cost of the first and second phases of the redevelopment of the eight-acre park would be about $150 million. The city now estimates the costs of both Phase 1 and Phase 2 will total $177.5 million, or $22.2 million an acre. Phase 1 included the construction of West Hollywood Library and the adjacent five story parking structures.