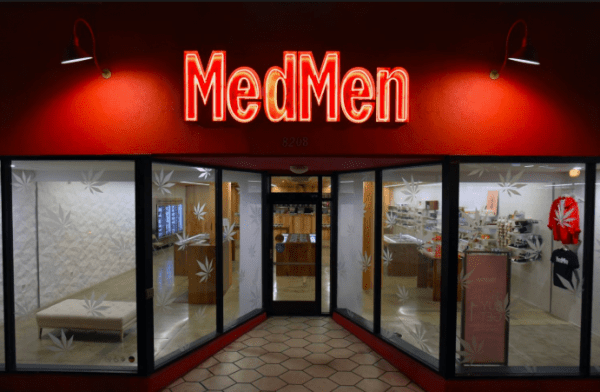 "Lavish Parties, Greedy Pols and Panic Rooms: How the 'Apple of Pot' Collapsed."  That headline on a story published by Politico doesn't come close to saying it all about one of West Hollywood's most controversial marijuana retailers.
The story takes a deep look into the launch of MedMen and its initial embrace by everyone from former L.A. Mayor Anthony Villaraigosa, who served for a while on its board of directors, to our own former mayor (and current City Councilmember) John D'Amico, whose last campaign received a major donation from MedMen's co-founder Adam Bierman.
MedMen has been labeled as one of the "Originals," the four medical cannabis dispensaries in West Hollywood that failed in their applications for permanent recreational cannabis sales licenses and have been fighting to overturn the process that ruled them ineligible. The other three want to put a measure on the Nov. 3 ballot that would grant them permanent recreational sales licenses.
MedMen has taken the fight a step farther by filing a lawsuit in L.A. County Superior Court asking that a judge effectively void the lengthy application process, which attracted about approximately 300 applicants who paid fees totaling about $3 million. If successful, the lawsuit would make the existing medical dispensaries able to sell cannabis for recreational use.
Time and time again the West Hollywood City Council has postponed deciding whether to stand by its original independent license application review process or go ahead and great permanent recreational licenses to the Originals. In May, the Council  asked City Hall staffers to study the impact of the Originals ballot measure if it passes. Its passage would allow the merger of recreational and medicinal cannabis licenses, creating a market of 16 competitors in each of the two categories, which initially were limited to eight.
As Politico reports, MedMen "got hit with a class-action lawsuit from employees alleging labor law violations. Miffed investors sued the founders, accusing them of self-dealing and other underhanded tactics. A former chief financial officer filed a blockbuster complaint in a Los Angeles court accusing the founders of a slew of misdeeds, from manipulating MedMen's stock price, to bank fraud, to seeking private intelligence groups to get dirt on their enemies, to calling an L.A. city councilman a 'midget negro' and making an illegal straw man contribution to a Nevada politician.
"MedMen stands as a cautionary tale of American Wild West capitalism."
The full story can be found by clicking here.