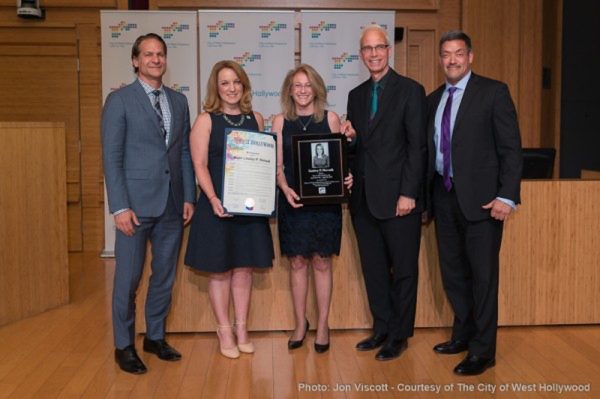 West Hollywood City Council, wake up and smell the COVID, the fear and the pain. And then get to work. We are hurting and we need leadership, not just televised meetings, celebrity endorsements, an occasional Facebook post and more apathy wrapped in a rainbow.
"All Retail Businesses, Including Drive-Ins, Can Reopen So Long As They Observe Proper Protocols," said a headline yesterday, and I was elated to read this. It is good news and necessary to ease tensions as the temperatures rise.
But, sadly, there is no uniform policy for states, counties and cities to respond to the COVID-19 pandemic. We are no longer a "United" States but a cacophony of municipalities with no cohesive or coordinated governance. We must re-open out of necessity, but unfortunately, there is little governance and no protocols in place to maintain the new rules for the new order. The new normal.
We Need  More Leadership in Local Government, Too!
West Hollywood should have a recovery task force in place, especially given that three months have passed and  already so much valuable time has been lost without making plans for a recovery and ensuring that we keep our community safe.  
For example, while the city "contracts out" to regulate parking restrictions and write parking tickets, we do not have any protocols set up to enforce health and safety measures, like wearing masks, social distancing, sneeze cards at counters and cashier stations, capacity and crowd control, etc.
You are guaranteed to get a parking ticket if you're parking in a loading zone in the city of  WeHo, but there is no penalty or enforcement if you're standing one foot away from another patron in a crowded retail store.
The city has not hired or trained additional code compliance officers to enforce COVID-19 safety measures, and we don't have our own health department. So again, like much of everything else when it comes to safety, we pass the buck and kick the can down the road.
We are a city that relies on tourism to fuel our local economy and, as a result of the pandemic, we are going to lose a huge proportion  of that revenue for at least a year. How are we planning to control what remains of our economy?
What happens when and if our bars, restaurants and clubs reopen? Do we simply simply write a glib post on Facebook condemning the revelers for "poor judgment," further widening the divide among us by assigning the label of "Democrat" or "Republican" as the party responsible for bad behavior?
It is absurd to rely on the "honor system" or expect "good judgment" to prevail. Los Angeles County opened beaches, but did not limit or close down half the beach parking lots or deploy resources like the National Guard to ensure safety practices were followed. Good Government doesn't just mean making the rules, it means enforcing those rules. We need more fire marshals enforcing occupancy regulations, more trained health and code compliance inspectors, and yes, more enforcement officers to issue citations with monetary fines when safety laws are violated.
And are our businesses ready to open? I messaged two prominent and well-respected local business leaders and community activists when I read the news that retail businesses could re-open today. One responded: "I saw this. WeHo is not ready as my counters are not safe. Thumbs up their butts."  The other response: "What's sad is that the Chamber of Commerce has had weekly meetings, and we did discuss opening procedures but seems like a failure to communicate- with just a little booklet dropped off last week to prepare for today."
West Hollywood City Council, Where Are You?
We must get back to work, out to restaurants, back to sitting in a Starbucks, back to the gym holding hands on a date, back to looking for the promise of a first kiss and a hook up without fear of death. Back to life.  But we cannot do it without leadership, compassion and a call to action in government.
West Hollywood… Wake up and smell the COVID, then get past it and get to work on governing, which means getting our city open as quickly and safely as possible, while there is still something left to open.
The reality is we have a part-time City Council with most members working full-time jobs away from their elected seats and responsibilities.  We need full-time leadership and a working city government for West Hollywood to survive and someday thrive again. City Hall must re-open with human beings working and wearing masks, with hand sanitizer and not just recorded messages but with real people answering the phones and offering help, guidance and a plan for getting back to living again.
I miss everything, even the traffic and I want to see my community healthy and optimistic.