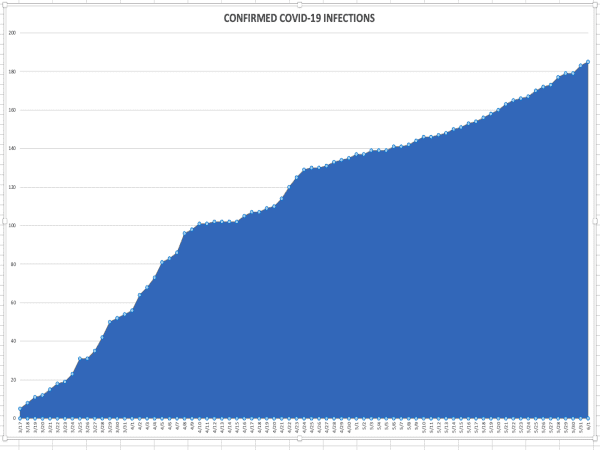 As the world enters the 12th week of the deadly COVID19 pandemic, the number of confirmed infections in West Hollywood has increased by one to a total of 186. Meanwhile, the City Council has been conflicted about enforcing measures to ensure that local businesses comply with public health regulations meant to curb transmission of the virus.
At its meeting on Monday night, the Council was asked to adopt a measure that would allow the city's Code Compliance Division to levy an initial citation that carries a fine of $1,000 on a business that violated the regulations. Without such a measure, it would be up to the Sheriff's Department to cite a non-complying business for committing a criminal misdemeanor, which could be punished by a $1,000 fine or up to six months in jail.
Danny Rivas, head of the city's Code Compliance Division, told Council members that several businesses, which he did not name, have repeatedly violated rules put in place by the Health Department to allow for their reopening.  The rules are meant to reduce the likelihood of transmission of the virus by requiring that restaurant servers wear masks (which diners also must wear if they aren't eating) and to ensure that people are kept about six feet apart.  Rivas said Code Compliance's practice is to alert a business if it is violating an emergency public health order about the rules and give it 30 minutes to comply. Rivas said Code Compliance intended to fine a business only if it failed to comply after receiving a warning. Recent examples reported by WEHOville include customers without face coverings sitting close to one another on the sidewalk outside Barney's Beanery while drinking beer and cocktails and customers at Beaches without face coverings who were dancing also  drinking cocktails alongside one another. Code Compliance issued warnings to both of those businesses.
City Councilmember John Duran objected to the $1,000 fine. "Businesses are struggling so much, the thought of enforcing a fine of any amount is working against their interests," he said.  "… I think we need a lot more honey rather than a stick." Councilmember John D'Amico made a similar argument
Duran argued that the city should consider suspending enforcement of the public health regulations for 20 to 120 days. "We are just starting back up," he said, referring to the fact that the Los Angeles County Department of Public Health and California's governor have only recently relaxed emergency orders to close all non-essential businesses.  Now retailers, toy stores, barber shops and beauty salons, and restaurants offering dine-in meals are allowed to open so long as they follow strict health safety guidelines.
With opposition from Duran and D'Amico,  the Council was unable to pass the original ordinance permitting the $1,000 fine because it required a vote of the majority of Council members.  However,  the Council members reached a compromise by agreeing to let Code Compliance levy an initial $250 fine (with an additional $50 administrative fee).  Fines for second, third, and fourth offenses are $1,000, $2,000, and $5,000 (with an additional $50 administrative fee) respectively.
In response to questions from Council members, Rivas said his staff doesn't enforce the city's requirement that anyone out in public wear a face covering. Rivas said that Sheriff's deputies do alert people to that requirement when they see them.  Rivas also suggested that residents who go outside to walk their dogs do so close to home and carry identification in the event a police officer stops them so as to confirm that they aren't far from home.
While the number of confirmed infections in West Hollywood is growing slowly, the Los Angeles County Department of Public Health today reported 978 new cases across the county. That brings the total to date to 55,968. The county has confirmed 22 new deaths related to COVID-19, bringing that total to 2,384.
As of today, the Health Department reports that 3,394 West Hollywood residents have been tested.  The death count remains at four in WeHo.
The Health Department announced on Friday that hair salons and barbershops could reopen and that in-person dining in restaurants could resume now that the State of California has agreed to accept Los Angeles County's response to the COVID-19 pandemic.  Those businesses deemed essential — grocery stores, pharmacies, cannabis stores, hardware stores — already were allowed to accept customers so long as they  limited the number inside at any time and enforced social distancing rules, and employees were required to wear masks.
On Wednesday, the Health Department announced that it was permitting the re-opening of houses of worship, office worksites, in-store shopping at retail establishments, including indoor malls and shopping centers, flea markets, swap meets and drive-in movie theaters. Houses of worship can operate at 25% capacity or with a maximum of 100 people, whichever is lower, and retail establishments can operate at 50% capacity.
If at any time, the county's rate of infection and other key metrics return to unsafe numbers, the Department of Public Health can limit or close reopened types of businesses.
The detailed rules for business owners and customers at hair salons, barbershops and in-person restaurant dining are as follows:
Barbershops and hair salons
Physical distancing measures will be in place.
Employees and customers will be screened for symptoms, including cough and fever. Clients feeling unwell should reschedule their appointment.
Everyone, including clients, must wear cloth face coverings while in the salon or barber shop and clients are encouraged to wear face coverings with ear loops to ensure the face covering does not interfere with the hair service.
Magazines, coffee and other amenities will not be available.
Clients are encouraged to use credit cards and contactless payment systems. If electronic or card payment is not possible, customers should come with exact cash payment or check, if available.
Stylists may only serve one client at a time.
More details about the rules can be found online.  
In-person dining in restaurants
Physical distancing measures will be in place.
Employees and customers will be screened for symptoms, including cough and fever. Patrons feeling unwell should not eat at a restaurant.
Outdoor seating and curbside pickup are prioritized.
Reservations will be encouraged.
Customers will be asked to wait for their table in their cars or outside the restaurant to prevent crowds from gathering.
Diners must wear cloth face coverings when not eating.
Bar areas will be closed.
Occupancy capacity will be limited to 60% for the next three weeks.
More details about these rules also can be found online.  http://publichealth.lacounty.gov/media/coronavirus/.
Nail salons and spa services,including massage, facials and waxing, are not permitted to re-open
Also still closed are:
Gyms and fitness centers
Beach piers
Indoor entertainment venues including arcades, bowling alleys, movie theaters, live performance theaters, concert halls, stadiums, arenas, theme parks, gaming facilities and festivals
Indoor museums, galleries and zoos
Click here for a detailed list of what's open and closed in L.A. County.
Public and private gatherings of people outside of a single household unit are not permitted except for public protests and faith-based services, which are permitted to operate with limits on the number of participants.
As of today, the Health Department reports an increase of one confirmed infection in Beverly Hills, bringing that total to  139.   The number of infections in Culver City increased by 14 to 161. The number of infections in the Hollywood neighborhood has increased by nine to 281.  The number of confirmed infections in the Melrose neighborhood increased by one to a total of 550.
Residents with questions about the COVID-19 pandemic and who are looking for resources to deal with it can find answers on the City of West Hollywood's  website.  Here is a list of links to sections about particular subjects and issues: