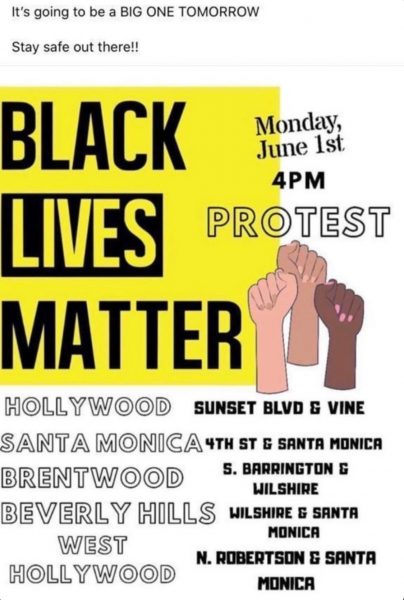 UPDATE 11:32 a.m.: The City of West Hollywood has just announced that it will hold an emergency meeting at noon today to discuss threats to public facilities and services associated with the George Floyd demonstrations. The meeting will be conducted over the telephone. Those wishing to make a comment can call into (323) 553-3576 (Conference ID Number 360951733).  After calls are finished, the Council will go into closed session.
One cancelled. And now others scheduled.
The organizers of the George Floyd protest that was scheduled to take place at 4 p.m. today at the intersection of Sunset and Crescent Heights boulevards announced last night that they are cancelling it in response to threats of violence and fear that others might take advantage of the event to loot nearby buildings.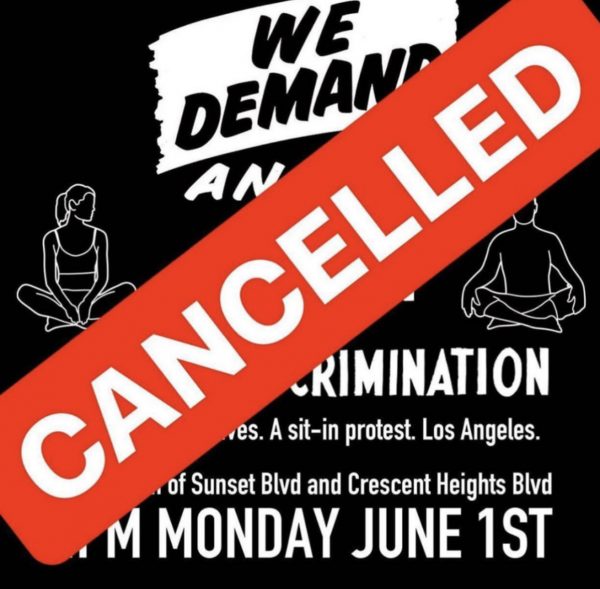 But on Instagram an announcement of another protest on Sunset has emerged, with this one said to be scheduled for 4 p.m. at Sunset and Laurel. And another social media post announces five demonstration at 4 p.m. including one on Santa Monica Boulevard at North Robertson in West Hollywood. Others are said to be planned for Wilshire Boulevard at Santa Monica in Beverly Hills, Sunset Boulevard and Vine in Hollywood, and South Barrington and South Wilshire in Brentwood.
The City of West Hollywood has instated a curfew beginning at 4 p.m. today and ending tomorrow at sunrise. It is unclear what impact the curfew will have on the planned demonstrations and why the city moved the curfew start time to the time the demonstrations are scheduled, which may put demonstrators at risk of being arrested.
Plans for the protests in and near West Hollywood have riled a number of local residents and business owners who have conflated the demonstrations with vandalism and looting of stores that have followed them on Melrose and Fairfax avenues and a few places in West Hollywood.
The Sunset and Laurel protest doesn't appear to be connected with Black Lives Matter, the national organization that advocates for an end to police violence against African-American people and was an organizer of the major marches and rallies in Los Angeles on Saturday.
Today's protest at Sunset and Laurel, just outside of West Hollywood, will be one of five on the Westside, with others in Hollywood, Brentwood, Beverly Hills, and Santa Monica. There also is a protest scheduled for noon on Saturday at Los Angeles City Hall on Spring Street by a group that identifies itself as W-A-R, Whites (and other Allies) Against Racism.
The events in the Greater West Hollywood area yesterday included a march along Santa Monica Boulevard through West Hollywood and into Beverly Hills and onto Rodeo Drive, a march up La Cienega Boulevard to Melrose, and a major rally and demonstration in the Fairfax District on Fairfax and Third Streets.
While the protest in the Fairfax District was mostly peaceful, someone did set fire to a police car on Third Street. Police officers on the scene, some armed with riot guns with rubber bullets, were more aggressive than the demonstrators. At one point they marched into a parking lot near the burning car and forced people to leave, in some instances shoving and hitting them. As reported earlier, one officer knocked this writer onto the ground and kicked him in the ribs.
A majority of those participating in yesterday's protests were white men and women who appeared to be in their 20s and early 30s, marching with fellow black and Latin and a few Asian protestors. Most were carrying signs and chanting slogans like "Black Lives Matter." The store robberies and other vandalism in the Fairfax District and on Melrose for the most part occurred after the marchers left the areas. Videos have been posted online showing people with a truck pulling up to loot a store and others busting windows and walking out with valuable merchandise. A number of those caught on camera by television helicopter cameras or mobile phone videos happened to be black, which has led those posting on social media to conflate the robbers with the protestors.
City Councilmember John Duran, in a post on his Facebook page, warned his followers that "peaceful protest and assembly is the opening for another set of people too. People who care little about the message being conveyed. Agent provocateurs from the left (anarchists) and the right (white supremacists) and sometimes historically from undercover agents within the police/government. It is also an opening for common thieves to take advantage when the police show restraint to reduce harm to protestors or unintended injury and death. Police are trained to stand by while thieves make off with their booty."
George Floyd, whose death is the inspiration for these protests and others across the nation, died on May 25 after an altercation in Minneapolis with a police officer who kneeled on his neck while Floyd, who was handcuffed, screamed that he couldn't breathe. Floyd had been arrested for allegedly trying to use a counterfeit $20 bill to make a purchase at a deli. A video of the incident went viral and has sparked protests across the nation.
The demonstration are not just about Floyd but about the large number of black people killed by police officers in the United States. The Washington Post reports that while black people make up only 13% of the population, they account for more than a quarter of police shooting victims. Also, an unarmed black man is about four times more likely to be killed by police than an unarmed white man.