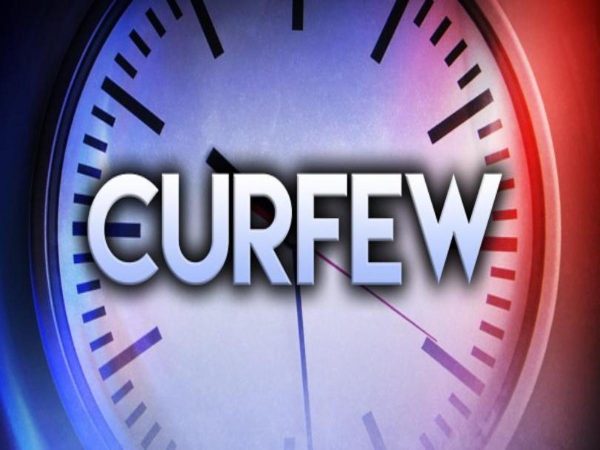 UPDATE (7:06 p.m.) An email from City Councilmember Lauren Meister elaborates on the 4 p.m. emergency curfew declared by the city manager today. Meister's email notes that the Sheriff's Station is closing the following streets during the curfew:
Sunset Blvd at Doheny Dr.
Sunset Blvd at Havenhurst Dr.
Holloway Dr. at Santa Monica Blvd.
La Cienega Blvd at Santa Monica Blvd.
Doheny Dr. at Santa Monica Blvd.
Melrose Ave at Doheny Dr
Melrose Ave at La Cienega Blvd
Beverly Blvd at San Vicente Blvd
Robertson Blvd at Beverly Blvd
More than 41 people called into an emergency session of the West Hollywood City Council at noon today to debate what the city is doing about incidents of violence and looting that have followed the George Floyd demonstrations in Los Angeles.
Not all callers were able to speak, but many of those who did criticized the city for declaring a 4 p.m. emergency curfew today, which would effectively bar protestors from rallying on Santa Monica Boulevard at Robertson as planned. That rally is one of at least five planned for 4 p.m., with the other locations being Santa Monica, Hollywood, Beverly Hills, Brentwood.
"I do have great concern about the 4 p.m. curfew being put in place, especially from a First Amendment perspective," said Kellen Martz, a local attorney. Martz noted that City Hall had announced the curfew on Twitter, saying it was in response to violence and robberies following George Floyd demonstrations on Saturday and Sunday. "I think curfews are acceptable when it gets dark and the bad actors come out to play," Martz said. But he added that there is little information that suggests there would be any violence associated with the planned protests.
Adam Bass, a member of the city's Planning Commission, also asked the Council to reconsider the curfew. "I want to ask that you seriously consider your oath to protect the Constitution of the United States to protect the First Amendment, said Bass who argued that a 4 p.m. curfew "is in direct conflict with daylight hours and peaceful protests."
"We see enough of our Constitution being thrown out in Washington, D.C., right now, but we cannot afford to see that happen in West Hollywood."
Brian Hamilton, a longtime resident of West Hollywood, stated that "first and foremost, the right of the people peaceably to assemble is in our Constitution…. A 4 p.m. curfew is not a reasonable solution and (neither is) expecting people to self-incarcerate…
"I want to be able to go out and peacefully protest. I think that that is being threatened. If I see National Guard troops going down the streets of West Hollywood…. is that as a threat, as the beginning of a police state. That scares the crap out of me."
Jason Smith, who described himself as an eight-year resident of West Hollywood who lives on Crescent Heights Boulevard, said he had participated in the protest in the Fairfax District. Now would like to see the National Guard called in. "I marched peacefully and then saw it turn into anarchy … I saw my community burn to the ground. As much as I support the cause I don't want to see my neighborhood burned down again."
A woman who lives in West Hollywood and whose name couldn't be discerned, said that anyone who "thinks that this is going to be just a peaceful march, you're living in a daydream…
"If you don't do something. it's going to be just as bad here as it was in Santa Monica and Long Beach. You have all the tools at your disposal. If that means stationing the national guard on Santa Monica…just do it."
Another caller who identified himself as a resident of Laurel Canyon said he was concerned that a protest scheduled for Sunset Boulevard at Laurel Canyon (which since has been cancelled) could lead to violence and fires that might ignite the land around homes in Laurel Canyon and the Hollywood Hills.
Barbara Clark called in to support Ashley's comments. "The people who are instigating this violence are not our black brothers and sisters," she said noting that many of them are coming from outside the region.
The City Council will begin its regular Monday online meeting with a closed session at 5 p.m. today followed by an open session at 5:30 p.m.
You can live-stream the meeting by visiting the city's website at www.weho.org/wehotv. The City Council meeting will also available on the city's YouTube channel, and on streaming services such as AndroidTV, AppleTV, FireTV, and Roku. It is broadcast on Spectrum channel 10 in West Hollywood and AT&T U-verse channel 99 throughout Southern California. Digital streaming platform viewers can easily find programming by searching for "WeHoTV" within the search functions of these services. For more information contact WeHoTV staff at (323) 848-6388 or WeHoTV@weho.org.
There are several ways for residents to offer comments on matters before the City Council:
–Email a comment by visiting www.weho.org/councilagendas. Your comment must be submitted by 4 p.m. on Monday to be forwarded to the City Council and posted on the city's website as part of the official meeting record.
–Call in. Residents who want to call into the videoconference must email City Clerk Yvonne Quarker ( yquarker@weho.org) in advance of Council meeting, to be added to the public speaker list for the meeting. Include your name, the phone number from which you will be calling, and the agenda item you would like to speak on. Dial in 10 minutes prior to the start of the meeting by calling (669) 900-6833. Then enter meeting ID 94188751501 then #. Mute your phone until you are asked to speak. Comments from the public are limited to two minutes per speaker.