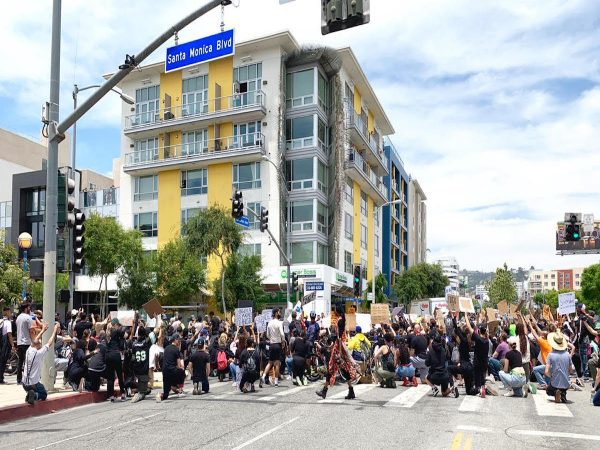 West Hollywood today blocked George Floyd demonstrators  from entering the city to march down Santa Monica Boulevard from La Brea Avenue.
A dozen Sheriff's deputies wearing helmets and apparently carrying riot guns stood across the pedestrian crosswalk at around 1:30 p.m. today to stop those protesting police brutality against African Americans from marching forward.  Some demonstrators stood in front of the deputies saying "Hands up. Don't shoot."
The demonstrators were forced to march north up La Brea Avenue. Los Angeles Police Department officers allowed them to continue their march east on Hollywood Boulevard and then north on Vine.  "A lot of cooperation here between officers and demonstrators," said Pierce Singgih in a post on Twitter about the Hollywood Boulevard march. "Some protestors here tell me they're trying to keep it as peaceful as possible."
In West Hollywood now, LASD deputies are forcing protesters to go north on La Brea from Santa Monica. Some are stopping to demonstrate in front of them saying, "hands up. Don't shoot." @ladailynews pic.twitter.com/B7CnuiiUYq

— pierce singgih (@piercesinggih) June 2, 2020
The demonstration was one of many that have been taking place in Los Angeles and across the United States after the death in Minneapolis on May 25 of George Floyd. Floyd, an African American man, died after an altercation with a police officer who kneeled on his neck while Floyd, who was handcuffed, screamed that he couldn't breathe. Floyd had been arrested for allegedly trying to use a counterfeit $20 bill to make a purchase at a deli. A video of the incident went viral and has sparked protests across the nation.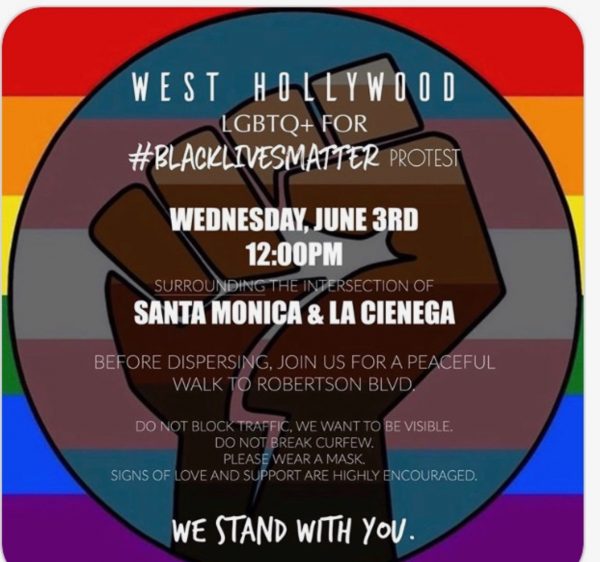 Demonstrators rallied yesterday afternoon on Sunset Boulevard at Crescent Heights, just outside the West Hollywood city limits, for a peaceful event that included a Los Angeles Police Officer "taking a knee" in solidarity with the protestors, who cheered in response.  A demonstration had been planned for 4 p.m. on Monday on Santa Monica Boulevard at Robertson in West Hollywood, however it was cancelled after the city declared a 4 p.m. curfew. Residents who called into the City Council's emergency meeting at noon on Monday argued that the early curfew was a violation of the public's First Amendment rights to peacefully protest. A demonstration is said to be scheduled for noon tomorrow on Santa Monica Boulevard at La Cienega. Nearby businesses such as CVS have already boarded up their windows.
In its announcement of today's curfew, the city said "The City of West Hollywood passionately supports the fight against racial injustice and the dismantling of systemic racism. The City respects the rights of peaceful assembly and protest. The City decries violence directed against persons and other acts that threaten public safety. The City's curfew order is aimed at reducing the potential for violence, damage, threats to public safety, and civil unrest."
The city and the Sheriff's Department make curfew decisions based on information received each morning regarding planned activities near West Hollywood that they think might result in violence or damage or threats to public safety.
WEHOville has reached out to Mayor Lindsey Horvath and Sheriff's Capt. Edward Ramirez about the decision to block the protestors from entering West Hollywood but hasn't gotten a response.
In years past Santa Monica Boulevard has been the site of protests such as the 2017  Resist March and protests by those fighting for the city's incorporation in 1984. Santa Monica Boulevard  for decades has welcomed an annual gay Pride parade and is the site of the city's annual Halloween Carnaval.  Both of those events have been cancelled this year because of the COVID-19 pandemic.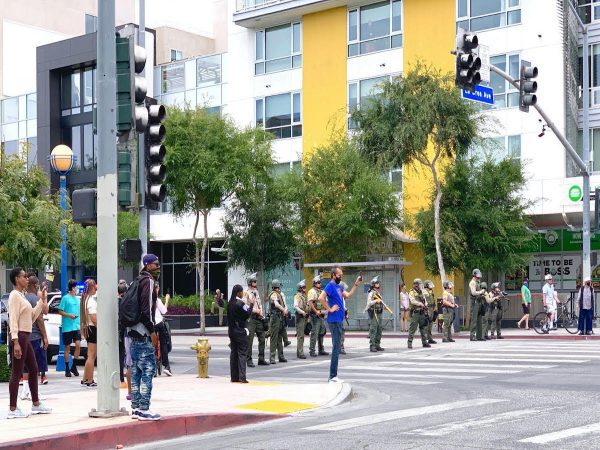 The demonstrations in Los Angeles and other cities across the country have become controversial because they have been exploited by people who have broken into, looted and sometimes burned stores. Videos have been posted of people filling cars and vans with merchandise stolen from those businesses. Some are blaming the George Floyd demonstrators for those break-ins and looting, with right wing activists claiming on social media that the demonstrators are part of the antifa moment. Antifa (anti-fascist) is a political protest movement made up of various groups with a militant opposition to fascism and other forms of extreme right-wing ideology. President Donald Trump has blamed antifa activists for violence at George Floyd demonstrations across the country. Twitter has identified some posts supposedly by antifa as coming from the white supremacy group Identity Evrope. A local Facebook user displayed on his page a poster which offers those willing to come here and riot a payment of $100, leaving other readers to fear it was posted by Black Lives Matter activists.  Research by WEHOville connected the poster to a right-wing activist in Washington State.
There actually have been some violent incidents involving demonstrators, who set two police cars on fire in Los Angeles on Sunday.  And demonstrators have been responsible for a huge amount of graffiti on store windows and walls.   A large number of West Hollywood businesses have boarded up their facades to protect themselves from break-ins.