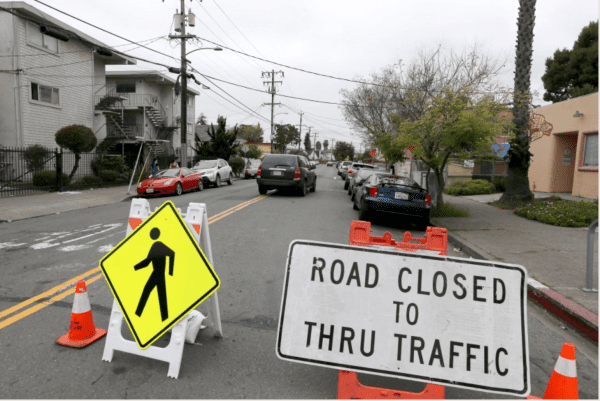 West Hollywood's "slow streets" experiment blocking off several residential streets to through traffic, thereby allowing residents to walk in the streets and have more room for social distancing, was met with lukewarm response by the City Council last night.
While the City of Los Angeles started the "slow streets" program blocking off selected residential neighborhood areas to through traffic, those areas tend to include multiple blocks, sometimes five or six blocks. The slow streets program is being adopted in cities across California, including San Diego, Oakland, and San Francisco.
Of the five West Hollywood areas selected for the initial slow streets experiment, three covered just a single block, all relatively short blocks – Hancock Avenue between Holloway Drive and West Knoll Drive, Lexington Avenue between Gardner Street and Vista Street, and Gardner Street between Romaine Street and Willoughby Avenue.
Of the West Hollywood areas that included multiple blocks, they are also relatively short areas – Cynthia Street for the two blocks between Wetherly Drive and Hilldale Avenue and Sherwood Drive for the three blocks between Huntley Drive and West Knoll Drive. 
"I actually think that our public sidewalks are more than adequate to accommodate people and I don't think that shutting down the streets are going to have the intended affect of encouraging people to come out and social distance themselves," said Councilmember John Duran. "I think it's more of an inconvenience to our residents."  
Councilmember Lauren Meister agreed, feeling more input from the neighborhoods was needed before deciding which areas to do close off.
Councilmember John Heilman noted that city staff's time would be better spent reopening the city's parks.
"It just doesn't seem to be a solution that is addressing a real problem in the community," said Heilman. "I know it's a nice thought and other communities have done it, but it doesn't seem like it makes sense given the fact that we're now going into a phase that other things have reopened."
Mayor Lindsey Horvath was the only council member who seemed supportive, but she also felt it needed more work, saying the slow streets program is "an important experiment to try and get right."
Slow streets programs have attracted opposition in other car-centric cities like West Hollywood. San Diego, for example, has reduced its slow street areas in Pacific Beach and is re-evaluating those in North Park. San Francisco, however, continues to expand its program. San Jose has decided not to implement the program.
The streets and blocks were selected and agreed-upon by the staff Slow Streets working group because they had the following characteristics:
Two-lane local streets
Residential streets that are not exclusively single-family residential
Blocks that do not intersect with a major street
Blocks that have stop signs on each end
Street segments with pavement that is in good condition
During public comment, resident Karen O'Keefe of the West Hollywood Bicycle Coalition supported the slow streets program, but urged finding longer stretches of streets to close to make biking more enjoyable.
At its meeting, the Council affirmed all the other emergency items which the city manager initiated, including requiring all people to wear face masks when in public, prohibiting construction noise between 5 p.m. and 8 a.m., allowing neighborhood meetings for development projects to take place virtually, starting City Council meetings at 5:30 p.m. rather than 6:30 p.m. and waiving/delaying various fees.   
At its March 16 meeting, the City Council declared a local state of emergency in response to the emerging coronavirus pandemic. With that declaration, the Council gave City Manager Paul Arevalo the power to issue emergency orders that would take effect quickly, without prior Council approval. Then at each biweekly City Council meeting, the councilmembers vote to affirm the emergency orders Arevalo has issued.
It was that local state of emergency order which gave Arevalo the power to declare the citywide 8 p.m. curfew on Saturday, May 30 in response to protests, riots and looting in the area. (The Sunday, May 31 countywide curfew of 6 p.m. was issued by Los Angeles County, while the Monday, June 1 curfew of 4 p.m. for West Hollywood was approved by the full City Council during an emergency meeting held earlier that day).
During non state of emergency times, the city manager does not have such power. When the city is not under a local state of emergency, items must be passed by a majority of the Council before they take effect.
CORRECTION: An earlier version of this story stated that city staff will return with a revised item regarding slow streets and greenways later this summer. In fact, City Hall staffers will return before the Council this summer with  items proposing traffic calming and other improvements on select streets rather than slow streets plans. The story has been corrected.