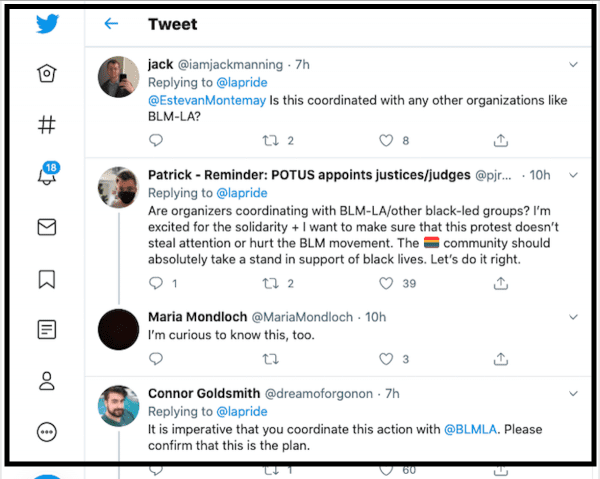 Christopher Street West is getting pushback over its plans to stage a march on June 14 to protest police brutality and racism. It would be one of many that have taken place in Los Angeles County since the death in Minneapolis on May 25 of George Floyd, a black man who choked to death after a police officer knelt on his neck after handcuffing him.
The non-profit that stages the annual LA Pride parade and festival, CSW cancelled those events this year because of the COVID-19 pandemic.  Today it announced its plans for the protest march, which would begin on Hollywood Boulevard at Highland Avenue and continue west to La Brea Avenue and then south before continuing on Santa Monica Boulevard in West Hollywood.  It would end at the intersection of Santa Monica Boulevard and San Vicente Boulevard.
"While we had cancelled all in-person events due to COVID-19, we have decided to peacefully assemble a protest in Hollywood, where the first ever permitted Pride Parade took place, in solidarity with the Black community," CSW said in a statement of the event, which noted that it would continue into West Hollywood.
Several City Council members questioned CSW's plan. Councilmember Lauren Meister noted that the Council had voted to cancel all public events in the city for the rest of the year because of the COVID-19 pandemic and because of the financial burden they would put on the city. Another issue raised by two Council members was the last-minute notice of CSW's plans and its failure to contact City Hall in advance. "They didn't ask. We found out when you did," said Councilmember John Duran in a response to a resident's question about the planned march. "Bold but reckless on their part."
Some local business owners also are concerned, saying they will have to keep their storefronts boarded up for another two weeks out of fear that vandals and looters might follow the parade, as has happened with protests elsewhere in Los Angeles County in recent days.
CSW also has been criticized by members of the black community for not engaging them in plans for the event. In an email message to City Council members, Tod Hallman, a black West Hollywood resident and captain of the city's Eastside Neighborhood Watch Group, asked "Is CSW aligning with any black organizations? Or is this going to be a faux Pride event taking advantage of the cause? I'd like for the city to ask this question?"
A number of people responded to CSW's announcement of the event on Twitter by questioning whether it was going to coordinate the event with Black Lives Matter Los Angeles. " Are organizers coordinating with BLM-LA/other black-led groups?" one person asked. "I'm excited for the solidarity + I want to make sure that this protest doesn't steal attention or hurt the BLM movement. The Rainbow flag community should absolutely take a stand in support of black lives. Let's do it right.
The event has gotten the support of Los Angeles City Councilmember David Ryu, whose 4th District includes Hollywood. Ryu's deputy chief of staff is Estevan Montemayor, the president of CSW's board. Ryu has told Cory Palka, commander of the Los Angeles Police Department's West Bureau, which covers Hollywood, that his office would help cover costs of the march incurred by the Police Department, the City of Los Angeles or CSW.
City Councilmember John d'Amico has referred questions about the event to CSW. Councilmember John Heilman hasn't responded to them. West Hollywood Mayor Lindsey Horvath has declined to make a statement about the event. In an email message to residents who questioned it Horvath said that CSW is being represented by the American Civil Liberties Union "so I will decline to comment other than to say i know our staff is reviewing the request." There is no evidence that the ACLU has filed a lawsuit against the city in this matter, which the city has yet to formally accept or deny.
The city recently commissioned a survey of residents to determine at what point after the lifting of COVID-19 restrictions on public gatherings they would be willing to attend them. A third (34%) of respondents said they thought the pandemic would be under control in the next three months, with 40% saying it would take six months. But only 14% of respondents said they would be willing to attend a small event such as a film screening within the first month after COVID-19 restrictions are lifted. A third of respondents said they would wait until the pandemic is under control and a vaccine has been developed.
Only 8% of respondents said they would attend a major event such as Halloween Carnaval or LA Pride within the first month after restrictions are lifted. Fifty-seven percent said they would not attend large events until the pandemic is under control and a vaccine is developed.