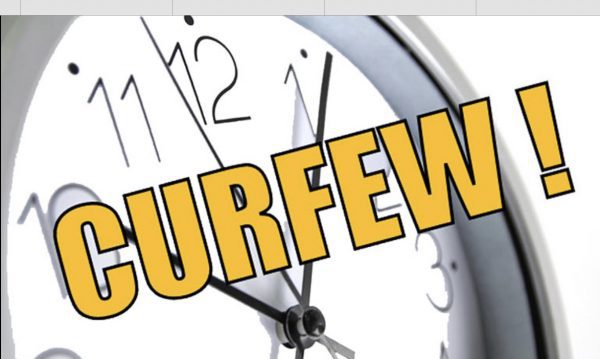 UPDATE: The City of West Hollywood now has moved its curfew to 9 p.m. tonight.
The City of West Hollywood, which has received complaints from many residents about its 4 p.m. curfew, has moved it today to 6 p.m. The announcement was made on City Councilmember John Duran's Facebook page.
Los Angeles County, which previously had declared a 6 p.m. curfew, has moved to today to 9 p.m.
The 4 p.m. curfew, which came from an emergency order issued by the City Manager, was criticized by a number of residents calling into the City Council's emergency meeting at noon on Monday, when a demonstration had been planned for 4 p.m. on Santa Monica Boulevard at Robertson. Those callers said the early closing was an apparent effort to block protests from taking place in West Hollywood and was a violation of the First Amendment.  Another demonstration is planned for noon today on Santa Monica Boulevard at La Cienega.
Scott Dyle, an attorney and long-time resident of West Hollywood, recently criticized the 4 p.m. curfew in an email to the City Council members which has been published by WEHOville.
"It is becoming more apparent that the Order is being used to suppress the voice and First Amendment Rights of the downtrodden and disenfranchised to protect  the property of the business owners of West Hollywood," Dyle said.
WEHOville sent an email to the City Manager, the head of the West Hollywood Sheriff's Station and Mayor Lindsey Horvath on Monday asking why 4 p.m. was chosen as the time for the curfew. To date none have responded although WEHOville has been told that the time is set after an assessment each morning of possible safety risks from violent protestors and looters.
The curfew order states: "No person shall be upon the public street, avenue, alley, park, or other public place or unimproved public realty."
This curfew will remain in effect on a daily basis from 6 p.m. until sunrise until such time as it is lifted. Members of the media and people traveling to and from work are exempt, says a statement from the city. The Los Angeles County Sheriff's Department will enforce the curfew.
Residents should remain at home; hotel guests should remain safely indoors; and businesses should close in time for employees and patrons to be off the streets by 4 p.m.
The Sheriff's Department will block traffic during the curfew at the following locations:
Sunset Blvd at Doheny Drive
Sunset Blvd at Havenhurst Drive
Holloway Drive at Santa Monica Blvd
La Cienega Blvd at Santa Monica Blvd.
Doheny Drive at Santa Monica Blvd.
Melrose Ave at Doheny Drive
Melrose Avene at La Cienega Blvd
Beverly Blvd at San Vicente Blvd
Robertson Blvd at Beverly Blvd
In announcements of its curfew, the city has stated: "the city of West Hollywood passionately supports the fight against racial injustice and the dismantling of systemic racism. The city respects the rights of peaceful assembly and protest. The city decries violence directed against persons and other acts that threaten public safety. The city's curfew order is aimed at reducing the potential for violence, damage, threats to public safety, and civil unrest."
Enforcement of the curfew has been controversial in some communities.  TMZ recently published a story   that includes a video of Los Angeles County Sheriff's deputies driving on Fountain Avenue at Mansfield in Los Angeles and shooting rubber bullets toward African American children while yelling that they are violating the curfew.
Groups have assembled across  the country and around West Hollywood to protest the death in Minneapolis on May 25 of George Floyd, who stopped breathing after a police officer knelt on his neck for more than eight minutes while arresting him.  Floyd had been arrested for allegedly trying to use a counterfeit $20 bill to make a purchase at a deli. A video of the incident went viral and has sparked protests across the nation.  
The demonstrations have been largely peaceful. But in a number of occasions looters have followed the demonstrators and broken into and robbed businesses.