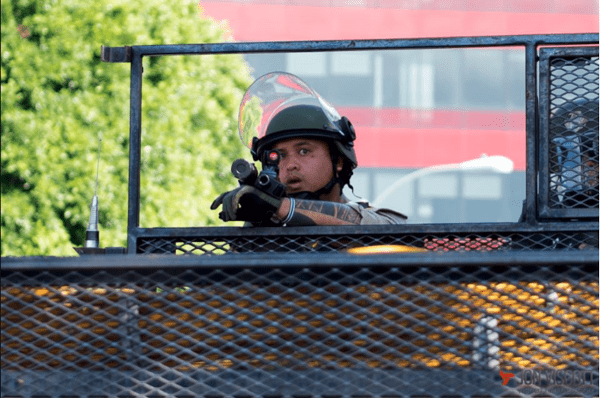 Images of National Guard troops and Sheriff's deputies with rifles watching protests in West Hollywood against police brutality and creating a barrier across San Vicente Boulevard have drawn criticism on social media from local residents.
A photo taken by Jon Viscott, a well-known local photographer, shows a helmeted deputy in what appears to be a jeep on San Vicente Boulevard watching the demonstrators through the scope on a rifle that he is pointing at them. Another photo, posted on the Citizen crime app, shows deputies in riot gear and with rifles on the roof of Rocco's restaurant and bar on Santa Monica Boulevard and San Vicente. The deputies are watching those who marched through West Hollywood on Saturday and Sunday in peaceful protests of the deaths of black people at the hands of law enforcement officers.
"West Hollywood Sheriff's Station's overarching goal is to keep our residents, businesses, visitors, friends, and protesters safe in the City of West Hollywood," said Capt. Edward Ramirez, who heads the station, in respond to an email from WEHOville about the complaints about the rifle-bearing deputies .  "The men and women of the Los Angeles County Sheriff's Department are dedicated to protecting and defending everyone's First Amendment Right to protest while ensuring a peaceful experience. In order to fulfill that commitment, we have set up barriers at certain intersections as there have been threats against the Sunset Strip, Sunset Plaza, the Melrose Shopping District, and our Station.  These barriers also help to protect protesters from vehicles and allow them to walk and congregate safely."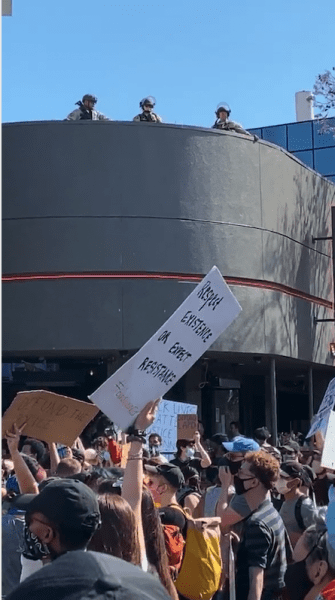 In a post on Facebook that included Viscott's photo, Sepi Shyne, a lawyer who is a candidate in the Nov. 3 City Council election, said: "This is one of the reasons my wife, black friends, neighbors and protestors do not feel safe in West Hollywood or Los Angeles."
"Just this past week, I have seen a video of the L.A. Sheriff's department deputies shooting rubber or paint bullets at and chasing peaceful young black and brown people right outside of West Hollywood without warning while sitting in their car and yelling at them, 'This is an illegal assembly'."
"I have seen a video of a deputy or National Guards member literally holding a grenade in his hand in West Hollywood in the middle of a crowd during a peaceful protest, and now these pictures.
"The pictures and video of police and sheriff's kneeling is nice,  but until the entire force and system is de-escalated and has MAJOR reform then kneeling in a photo won't change a thing."
"Unacceptable. Why is this man looking at his fellow citizens as a target of his assault weapon during peaceful protests??" said Michael Ferrera in a reference to Viscott's photo.
Residents commenting on the post asked why City Council members and city officials weren't responding to the presence of heavily armed law enforcement officers. 
In an email message to City Council members, Frank Voci, who described himself as a 20-year West Hollywood resident, said the city should "demand that the sheriff's department meet humanity with humanity. This doesn't get better and things don't change when the sheriff's deputies are only a wall of defense. They can both protect our safety and property and meet with protesters eye to eye. Given the substantial presence of our sheriff's department, I have no doubt they can handle both tasks in a single afternoon.
"If the sheriff cannot do this and if they cannot see that they—like all other law enforcement departments—need to listen and engage at every single opportunity, I think it's time to re-examine the city's contract with them. They work for us. It's time they did the work for us. It's time they got out of their shiny SUV's and walked the streets."
In his email to WEHOville, Ramirez said: "Because of the measures we have employed, we have been able to keep looting and vandalism to an absolute minimum.  We have deployed less lethal weapons in the field, which are meant to deter looters and rioters, certainly, never peaceful protestors.
"The variety of Station security measures has been in response to credible threats, agitators who have thrown rocks and bottles, both at our Station and police precincts across the nation, attacks on law enforcement officers, and the burning down of the Minneapolis Police Precinct.  "