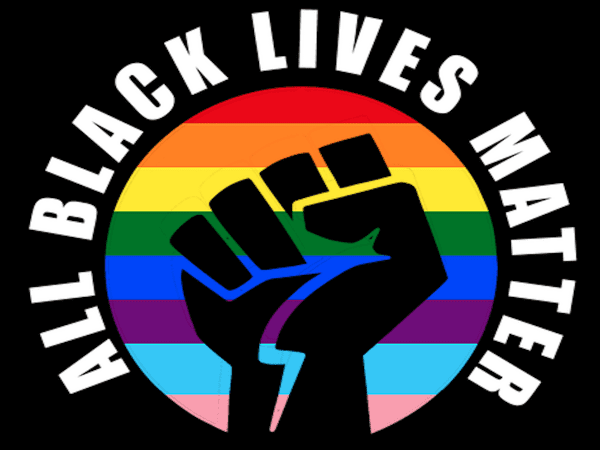 UPDATE: All Black Lives Matter, the organizer of the June 14 protest march, has posted a route map on its Instagram page that shows the march will begin on Hollywood Boulevard at Highland, then head west to La Brea Avenue. It then will move south on La Brea to Sunset Boulevard, where the marchers will turn and march west to Crescent Heights Boulevard. They will head south on Crescent Heights Boulevard into West Hollywood and then turn right at the intersection with Santa Monica Boulevard and march on Santa Monica to San Vicente Boulevard.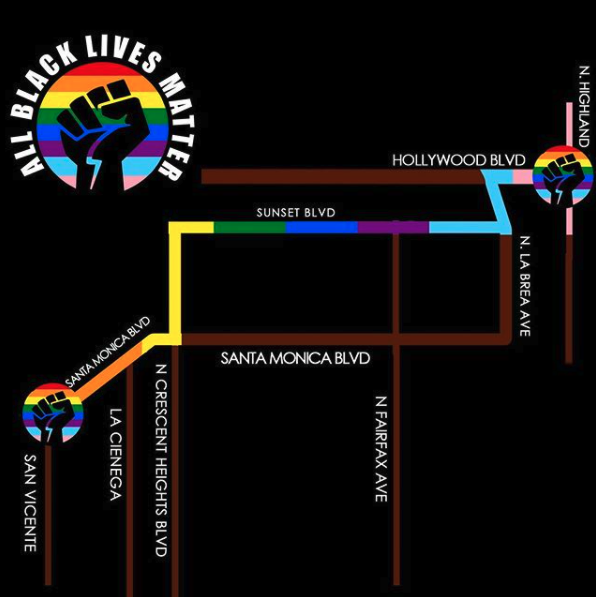 Leaders of various Black rights groups have come together to stage an All Black Lives Matter protest march on June 14.  The announcement of the march follows a decision by Christopher Street West, producer of the annual LA Pride, to abandon its controversial plan to stage a similar event on that day.
The march will begin at 11 a.m. at the intersection of Hollywood Boulevard and Vine Street in Los Angeles and continue into West Hollywood on Santa Monica Boulevard.
CSW has posted an announcement of the All Black Lives Matter protest march on its website. "Out of recognition and respect to the years of work and action of Black LGBTQ+ leadership and community organizers, Christopher Street West and LA Pride will no longer co-organize the All Black Lives Matter march," the announcement says. "However, they are in full support and stand unapologetically in solidarity with efforts to dismantle racial (in)justice, systemic oppression, institutional barriers, police brutality and discrimination of all kinds."
The announcement says the ABLM group will not solicit support from sponsors of the annual LA Pride parade nor will it engage law enforcement agencies in organizing the event.
On June 3, CSW announced that it would stage a Pride demonstration march on June 14. Earlier it had announced that it was cancelling what would have been the 50th annual Pride parade because of the COVID-19 pandemic.  But by June 5, faced with complaints from Black activists that they hadn't been engaged in plans for the demonstration march, CSW said it was withdrawing its request for permits for the parade, which would have begun in Hollywood and continued on Santa Monica Boulevard into West Hollywood.
In addition to complaints that it had not involved Black rights groups in planning the protest, CSW was criticized for saying it was working with law enforcement agencies on plans for the march.  The protest marches that have taken place in Los Angeles and across the country in recent weeks were sparked by the death in Minneapolis on May 25 of George Floyd, who stopped breathing after a police officer who had handcuffed him pressed his knee on Floyd's neck. Protestors have also called out other instances of black people being killed by police.
Some members of the West Hollywood City Council expressed concerns about the CSW march given that the city had suspended all major public events, including the Pride Parade and Halloween Carnaval, out of concern that they would lead to COVID-19 infections. In its announcement of the All Black Lives Matter parade, the advisory board asks protestors to wear face coverings and avoid large groups if they are at high risk of being infected with COVID-19 or are showing symptoms.
The All Black Lives Matter advisory board that is organizing the event, which was created on Sunday, includes Gerald Garth of Garth Management  Group, who is the  CSW board treasurer, and Brandon Anthony of B.A.S.H. LA. Both had been members of CSW's Solidarity March Committee. Other members are Rev. Sammie Haynes of Vision Church Los Angeles, Paul Scott of the LA Black LGBTQ Movement, Princess Murray, an organizer of Compton Pride, Dr. Christopher Jackson of Black Lives Matter LA, Stacy Afford, Yuriel "Miss Shalae" Young, the Glasswing Group and Blossom Brown.