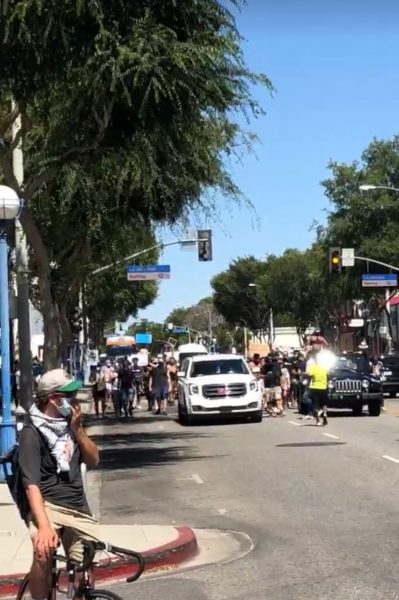 As funeral services were held in Houston for George Floyd, another series of protests took place across the Southland Tuesday in memory of the man who died after being pinned to the ground by a white police officer, and to call for an end to police brutality. There were protests on Sunset Boulevard near the Laugh Factory and on Santa Monica Boulevard in West Hollywood this afternoon.
Protests have been held daily for more than a week, including a massive gathering Sunday in Hollywood that attracted an estimated 50,000 people.
Hundreds of people gathered Monday in downtown Los Angeles, where four funeral-like processions — complete with hearses — originated in different locations and converged at First Street and Broadway.
Multiple gatherings were held across the Southland Tuesday, including a student march in Culver City, a rally in Burbank and late-afternoon marches and rallies in Long Beach and West Hollywood.
The West Hollywood gathering featured hundreds of protesters who sat on Sunset Boulevard in front of the Laugh Factory comedy club, forcing a full closure of the street. A group, mostly in cars, also moved down Santa Monica Boulevard.
There were no reports of violence or disturbances associated with any of the gatherings.
A small group of people protesting against police brutality slept Tuesday morning in Grand Park, across the street from Los Angeles City Hall. The campers in five tents said they plan to stay put.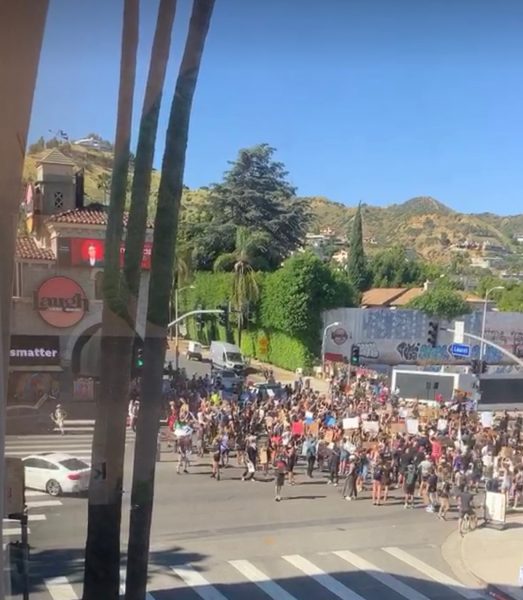 "Just like they did on Wall Street, because we want them to know that every single day and every single night we will be here until our message is heard and until there is change," protester Jose Gomez told ABC7.
The Los Angeles City Attorney's Office announced Monday that thousands of people arrested for curfew violations during the past week of protests won't be facing criminal prosecution, with plans being developed for people who were arrested to attend education-based discussions.
But City Attorney Mike Feuer said Tuesday that nobody will be required to attend those sessions. The announcement followed criticism from advocacy groups and a City Council motion calling for cases against curfew violators to simply be dropped.
The diversionary programs will still be held, but attendance will be voluntary. People arrested for more serious violations, such as violence, looting or vandalism, could still face criminal prosecution.
A lawsuit filed last week by the American Civil Liberties Union of Southern California and Black Lives Matter L.A. claimed the curfews illegally suppressed constitutionally protected protests and violated people's freedom of movement.
The day after the lawsuit was filed last week, Los Angeles County and most Southland cities stopped imposing curfews, saying the protest marches had become noticeably more peaceful, absent the violence and looting that marred some of the gatherings early on.
Rachel Steinback, a civil rights lawyer and representative of the National Lawyers Guild of Los Angeles' Mass Defense Committee, said there was no basis to require curfew violators to attend educational discussions.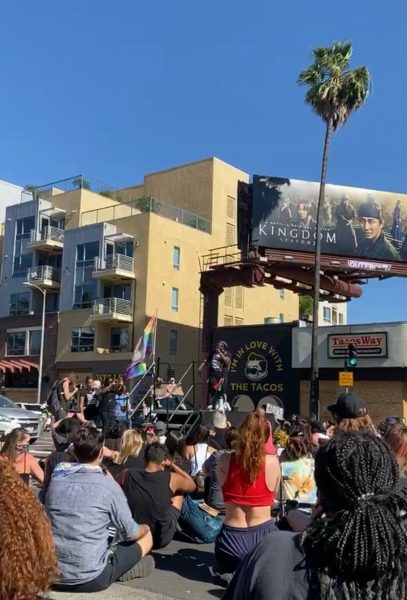 "The arrestees are protesters who were engaging in protected speech. They were largely arrested for curfew violations, which the city attorney's office knows is illegal, and the notion that the Los Angeles Police Department and Los Angeles City Attorney are going to require these protesters to engage in communications about race, racism and police violence in exchange for dismissals is unacceptable to us," Steinback said.
"It is the police who need educating," Steinback said. "The black community in Los Angeles has been reaching out to the city, the county and the police department for decades asking to be heard. We appreciate that the city and the county are responding with an interest in talking, but our protesters should not be compelled to engage in discussions in exchange for dismissals of cases that should not be brought."
Los Angeles County District Attorney Jackie Lacey, whose office would handle curfew violations in parts of the county without their own local prosecutor's office, said her office will not pursue charges for people arrested on curfew violations or failure to disperse.
Memorial services were held Monday in Houston for Floyd — who died after being pinned to the ground by a white Minneapolis police officer who placed his knee on Floyd's neck for nearly nine minutes.