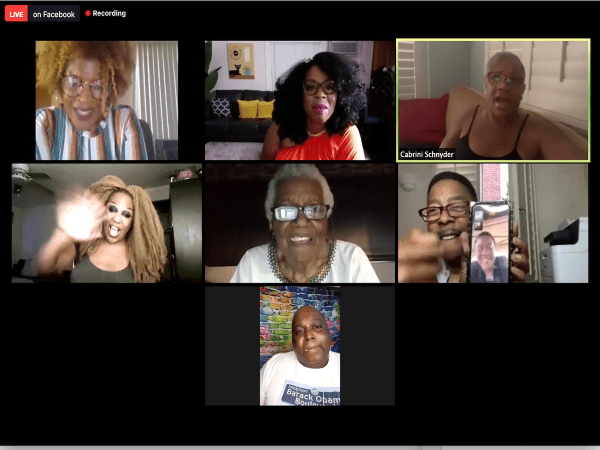 In an online forum tonight, prominent Black LGBTQ leaders and activists discussed what they saw as a history of discrimination against people of color by L.A. Pride and by the West Hollywood gay community.
That history included allegations of discrimination against Black men by the owner of Studio One, the legendary gay nightclub in what was once the Factory building on Robertson Boulevard. Ivan Daniel, a club event promoter, noted negative comments he heard about Black men attending an event he hosted at the now-closed Here lounge for wearing "baggie" clothes. Daniel said Black men found it difficult to get jobs at bars and clubs in West Hollywood. Another participant in the forum said that she had "been called a n-gger three times in my whole life, and two times were here" in West Hollywood. 
"The People's History of Black People & L.A. Gay Pride" forum was moderated by Jasmyne Cannick, a Black communications and public affairs strategist.  Cannick also is known for having organized a campaign that pushed for the arrest of Ed Buck, a gay white West Hollywood resident known for his campaign donations to local, state and national politicians and in whose apartment two Black men died of methamphetamine overdoses.
In addition to Cannick and Daniel, those participating included Jewel Thais-Williams, founder of the iconic Catch One Disco, one of L.A.'s first clubs for Black LGBT people; Marquita Thomas, executive director of the LA Gay and Lesbian Chamber of Commerce; Thea Williams, president of Los Angeles Black Pride, and Cabrini Schnyder,  a restaurateur and author. Other participants were Roz Renfro, chief financial officer of L.A. Black Pride who once co-hosted a popular nightclub event in West Hollywood for lesbian and bisexual Black women; performer and activist Jazzmun Crayton, and Tyesse Jackson, producer of the Tyesse Report.
The forum was inspired by the controversial announcement on June 3 by Christopher Street West, producer of the annual L.A. Pride parade and festival in West Hollywood, that it would stage a Pride demonstration march on June 14 in solidarity with protests against police brutality sparked by the death in Minneapolis on May 25 of George Floyd, a Black man who stopped breathing after a police officer who had handcuffed him pressed his knee on Floyd's neck.
CSW said it had formed a Solidarity March Committee whose members included Gerald Garth of Garth Management  Group, who is the  CSW board treasurer, and Brandon Anthony of B.A.S.H. LA., who has worked with CSW on past LA Pride events. Both are Black men.
CSW had earlier announced that it was cancelling its regular Pride parade and festival because of the COVID-19 pandemic. The City of West Hollywood, which has contributed as much as $2 million to help fund the annual event, had decided to halt all public events through the end of the year because of the pandemic.
Leaders in the Black community complained that CSW hadn't reached out to them or the Black Lives Matter organization about its proposed march despite the fact that it claimed it was doing it in solidarity with Black Lives Matter.
Cannick and Thomas were two of 39 people on a conference call with CSW after it announced its protest march. During tonight's forum Thomas, a former CSW board member, said it appeared on the call that CSW hadn't actually been aware that Black Lives Matter was an organization when it cited its unity with BLM.
Thomas said those on the call told CSW that they needed more than nine days to plan such an event.  And they said that if CSW wanted the support of Black Lives Matter, it shouldn't be saying that it had the support of law enforcement to stage the march and that it should say it supported calls by Black activist to defund law enforcement.
On June 5, CSW responded by saying it was withdrawing its request for permits for the parade, which would have begun in Hollywood and continued on Santa Monica Boulevard into West Hollywood. 
Soon after CSW backed away from the event, another group called All Black Lives Matter said it would stage the June 14 protest march. The All Black Lives Matter advisory board includes Gerald Garth and Brandon Anthony, who had been on CSW's Solidarity March Committee.
Thomas served on the CSW board from 2016 through 2018 when she said she was pushed off the CSW board.  She criticized CSW for no long having a hip hop stage performance at its annual festival. And she said the board should be more diverse, given that a majority of the people in Los Angeles are people of color.  Three-quarters of West Hollywood's population identifies as non-Hispanic white and four percent as Black or African-American.
Panelists noted that there is an annual DTLA Proud event in Pershing Square in downtown Los Angeles. Jewel Thais-Williams questioned why there shouldn't be an LA Pride parade and festival in downtown Los Angeles. "Let's move it downtown, she said. "West Hollywood is not L.A."