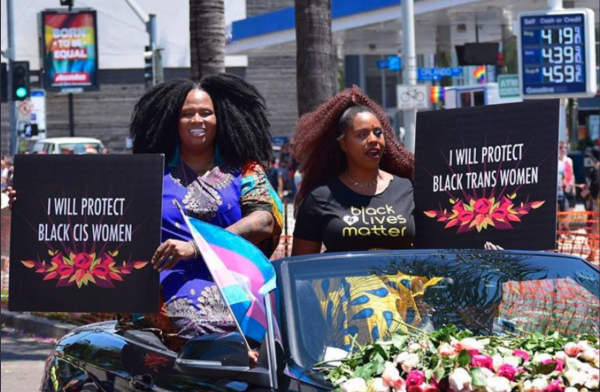 Sunday's All Black Lives Matter march into West Hollywood, meant to protest police violence against Black people, is exposing a rift in the LGBTQ community that might have an impact on which people and how many people join it. The debate over the march also may have a negative impact on West Hollywood's effort to promote itself as a diverse and all-accepting community. A story published by LAist about the debate mentions what it calls "WeHo's Whiteness Problem."
Prominent Black LGBTQ people such as Jasmyne Cannick and Ashlee Marie Preston have condemned the march as an effort by White LGBTQ people to "co-opt" the Black Lives Matter movement, which has been a major force behind demonstrations against police brutality across the country. But the march also shows a split among Black community leaders, with some local Black activists criticizing the All Black Lives Matter organizers, who are themselves are Black, for co-opting the BLM name and for their affiliation with Christopher Street West, the non-profit organization that stages the annual LA Pride parade and festival in June. CSW has cancelled this year's Pride event because of the COVID-19 pandemic.
And some White gay community leaders have criticized Cannick's condemnation of Sunday's All Black Lives Matters march.
"Can't we all get along?" asked Steve Martin, a gay White man who is an attorney and a former West Hollywood City Council member, in an email message to WEHOville. "Jasmyn Cannick's comments were divisive, hurtful and tinged with homophobia. Instead of bringing people together, she is fostering division that trivializes and marginalizes our community, particularly the voices of queer people of color.
"We should not be engaging in selective solidarity. Yes CSW exhibited insensitivity in calling its march without having any done any outreach to African American organizations, but our community has been out in force during these demonstrations, and our commitment to police reform should not be in question. Why such resistance to a march led by queer people of color?
As a veteran of the 1990s efforts to oust Darryl Gates and reform the LAPD, gay activists faced hostility, and attempts to marginalize us, from African American groups who should have seen us as natural allies. Cannick's comments are unnecessarily divisive at a time when we need leadership that unites us rather than fostering division and resurrecting grievances. "
In his remarks, Martin was referring to CSW's June 3 announcement of plans for a "solidarity" march being organized by a "Solidarity March Committee" whose members included Gerald Garth of Garth Management Group, who is the CSW board treasurer, and Brandon Anthony of B.A.S.H. LA., who has worked with CSW on past LA Pride events. Both are Black men.
CSW Backs Off; All Black Lives Matter Steps In
CSW quickly stepped away from its plans for that march after Cannick, West Hollywood resident Tod Hallman, and others objected that it hadn't engaged Black community leaders in planning the event. Cannick also called out Jeff Consoletti, the producer of the annual Pride event, for having reached out to the Los Angeles Police Department for a permit for the march. She and others pointed out that the demonstrations, sparked by by George Floyd's May 25 death in Minneapolis after being choked by a police officer, are meant to protest the police not engage them. In his letter to the LAPD, Consoletti had described CSW's "strong and unified partnership with law enforcement" over the past 50 years and said that the founders of CSW had worked with the LAPD to organize the first permitted Pride parade in 1970. Actually, LAPD Chief Edward Davis had opposed the 1970 parade and the LA Police Commission had insisted that the organizers would have to post a $1.5 million bond for it to go forward. The organizers appealed that demand, and an L.A. Superior Court judge issued an order that the parade be allowed to proceed without such a heavy assessment.
Garth and Anthony of CSW's Solidarity March Committee now are the organizers of the All Black Lives Matter protest march on Sunday. Other members, all of whom are Black, are Rev. Sammie Haynes of Vision Church Los Angeles, Paul Scott of the LA Black LGBTQ Movement, Princess Murray, an organizer of Compton Pride, Dr. Christopher Jackson of Black Lives Matter LA, Stacy Afford, Yuriel "Miss Shalae" Young of the Glasswing Group, Blossom Brown, Luckie Fuller of Invisible Men, Chela Demuir of the Unique Woman's Coalition, and Jeannette Bronson, co-founder of Black Lesbians United.
On its website, ABLM states that it supports Black Lives Matter, a national. organization whose three co-founders include Patrisse Khan-Cullors, a Los Angeles resident who is an accomplished artist and writer.
"All Black Lives Matter supports Black Lives Matter in its current global demands: 1) Prosecute killer cops. 2) Defund the police and reinvest in the community," ABLM says on its website.
"The protest is in direct response to the state-sanctioned violence against Black people, and the murders of #TonyMcDade, #GeorgeFloyd, #BreonnaTaylor, and #AhmaudArbery. It is also about the 601 of our people killed by police in Los Angeles County in the last seven years and hundreds of others killed by White supremacy more broadly, including #SkyYoung, #GemmelMoore and #TimothyDean."
Gemmel Moore and Timothy Dean are Black men who died of methamphetamine overdoses in the West Hollywood apartment of Ed Buck, a 65-year-old gay White man known for his donations to the election campaigns of West Hollywood City Council members as well as Democratic candidates for county, state and federal offices. Buck is known for having solicited young Black men for sex. Buck currently is in federal prison awaiting trial on charges associated with the deaths of Moore and Dean. In the months before his arrest, Cannick was instrumental in organizing numerous demonstrations by Black activists outside Buck's apartment building on Laurel Avenue that attracted widespread media coverage and challenged WeHo's reputation as a diverse and inclusive community.
Blacks Boycotting the March?
Despite ABLM's statement of support for Black Lives Matter, Cannick, in a post on her Twitter account, continues to say CSW owns the march. "Let me (be) clear, CSW/LAPride may say this is not their march on Sunday–but it is their march," she wrote. "It's led by one of their board members and a consultant. Now their website points to it."
"CSW won. They got what they wanted for their people at the expense of mine. Half the people of Los Angeles think this march is sanctioned and supported by Black Lives Matter–and it is not."
Some of those following Cannick on Twitter posted that they would not participate in Sunday's All Black Lives Matter march because of complaints about its connections with CSW. Jewel Thais-Williams, who in 1973 opened Catch One, one of the earlier Black gay bars in Los Angeles, also has said she would not join the march.
Ashlee Marie Preston, a well-known Black trans woman, also has criticized CSW in a video posted on Twitter for using the BLM name without reaching out to the organization.
'WeHo's Whiteness Problem'
The section of the LAist story headlined "WeHo's Whiteness Problem" cites several things that put the city's reputation at risk.
"From the removal of the hip-hop stage at last year's L.A. Pride to discrimination against Black patrons in clubs and bars to the disheartening statistic that Black people make up 27.9% of West Hollywood's homeless population to wealthy White men, like Ed Buck, who have been accused of preying on Black men, Cannick believes anti-Blackness pulses through L.A.'s queer community," the story says.
Only four percent of West Hollywood residents identify as Black. However, the city has been host to some Black-oriented events, such as the September 2017 screening of a documentary about mass criminalization and incarceration of Black people. The City of West Hollywood also hosts an annual "Martin Luther King Jr. Day of Service" every January in which people volunteer to collect food and clothing for people in need.
Steve Martin objected to statements that West Hollywood isn't supportive of Black people. "Cannick's attacks on West Hollywood are unfortunate as our community has been overwhelming welcoming to her and her allies during several demonstrations demanding justice for Gemmel Moore. Yes Black people have experienced racism in WeHo, but is not like we a bastion of hate and intolerance. We are a work in progress like the rest of the country. "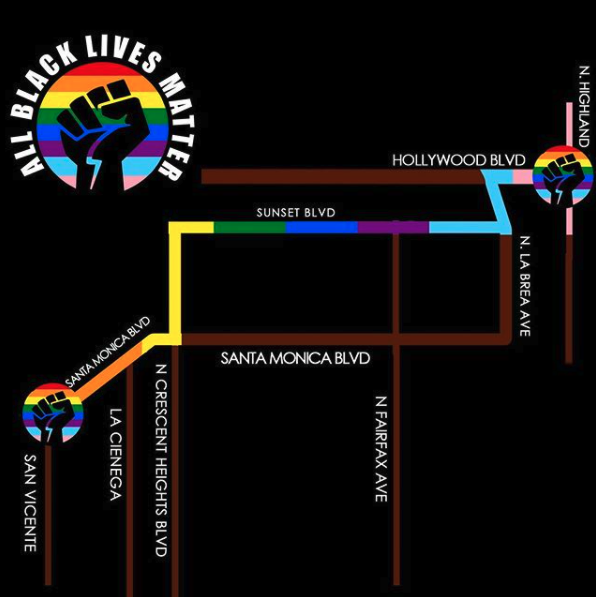 The March
The All Black Lives Matter march will begin at 11 a.m. at the intersection of Hollywood Boulevard and Highland and then head west to La Brea Avenue. It then will move south on La Brea to Sunset Boulevard, where the marchers will turn and march west to Crescent Heights Boulevard. They will head south on Crescent Heights Boulevard into West Hollywood and then turn right at the intersection with Santa Monica Boulevard and march on Santa Monica to San Vicente Boulevard.
ABLM has announced that the march "will honor the life of Tony McDade, a Black trans man killed by a Tallahassee officer on May 27." It "will start with two trans speakers. They'll be followed by a moment of quiet meditation for Black people who have been killed by police or other forms of institutional violence."
ABLM says it "will neither engage corporate sponsors from or through CSW nor official police involvement in organizing the All Black Lives Matter march. For the All Black Lives Matter solidarity march on Sunday, June 14, 2020, we recognize the safety concerns around COVID-19 and the pandemic currently plaguing the nation, and disproportionately the Black and LGBTQ+ communities, and ask protesters to take protective measures, including wearing face coverings and avoiding large crowds if you are at high risk or displaying symptoms of COVID-19."
Travel and Transportation
The West Hollywood Sheriff's Station will be blocking traffic on San Vicente Boulevard during the event and it is likely that vehicles won't be able to access Santa Monica Boulevard from Crescent Heights to San Vicente from 11 a.m. through the rest of the day. LA Metro has announced there will be no bus service on Santa Monica Boulevard between Beverly and San Vicente Boulevards, on La Cienega Boulevard between Holloway Drive and Beverly Boulevard, and on Melrose Avenue between La Cienega and San Vicente boulevards. Those traveling on the 4 and 704 bus routes can board buses on Santa Monica Boulevard to the west of Beverly Boulevard and the east of Fairfax Avenue. Those riding on the 10 route can board on Melrose Avenue east of La Cienega Boulevard. On the 30 route, riders can board on San Vicente Boulevard south of 3rd Street. And on the 105 route, boarding is possible south of Beverly Boulevard,