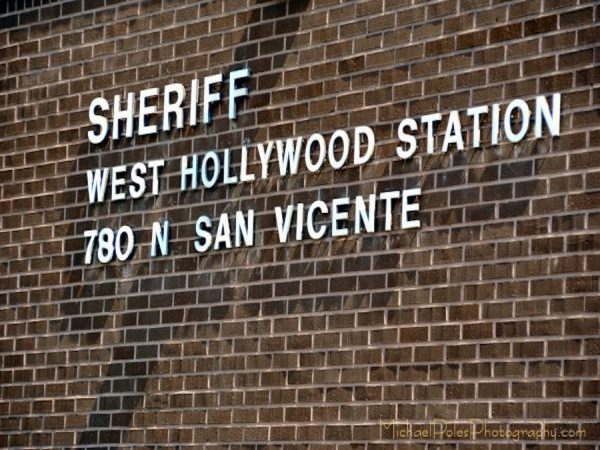 Leaders in West Hollywood's business community and City Councilmember John Duran last night voiced strong support for the way the local Sheriff's Station has handled demonstrations against police brutality.
However, some residents continued to object to the five days of curfews, the calling in of the National Guard, and stationing of heavily armed officers near the June 7 protest on Santa Monica Boulevard at San Vicente. And other City Council members said it might be worthwhile to look at how law enforcement does its work, including when gun-carrying deputies should be called to respond to incidents.
Capt. Edward Ramirez, who heads the West Hollywood Sheriff's Station, said that 16 West Hollywood businesses have been looted since the protests on May 30 in the Pan Pacific Park area. On that day, criminals took advantage of law enforcement's focus on the protests to loot many businesses in the Fairfax District and on Melrose Avenue. One of the more prominent lootings in West Hollywood was of the MedMen cannabis store on Santa Monica Boulevard, whose windows had been busted and much of its merchandise stolen. Ramirez said local Sheriff's deputies have arrested seven looting suspects and a total of 160 people overall for crimes including vandalism and violating city curfews.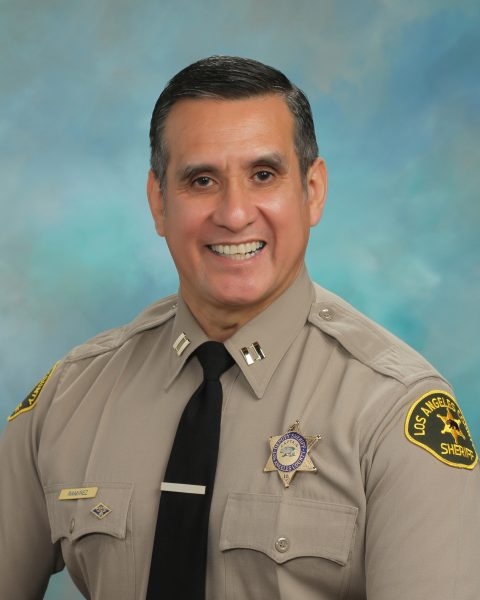 The protests were sparked by the death in Minneapolis on May 25 of George Floyd, a man who was arrested for allegedly trying to make a purchase with a fake $20 bill. Floyd had been thrown to the ground and handcuffed, and then he died after a police officer kneeled on his neck for more than eight minutes.
Floyd's death was followed by numerous protests in Minneapolis and across the nation. Ramirez said that after a police station was set on fire in Minneapolis on May 28 "we received numerous intelligence reports from credible sources than an edict had been sent out to burn down a police station in retribution for the death of Mr. Floyd." While Ramirez didn't say that edict involved the West Hollywood Sheriff's Station, he did say that there had been threats to "empty the Gateway," the shopping plaza at the southwest corner of Santa Monica Boulevard and La Brea Avenue. Those threats were what prompted him to bring National Guard troops into West Hollywood.
"This was done for additional station protection, and to protect the Gateway," Ramirez said, adding that two five-gallon cans of gasoline had been found near it.
Ramirez said that using the National Guard freed up 20 to 25 deputies to patrol West Hollywood. At one point, he said, there were over 50 police cars in the city and over the week there had been more than 400 deputies. Ramirez noted that West Hollywood had not experienced any building fires, no police vehicles were burned or vandalized and no protestors were injured, although a deputy did suffer a minor injury. There also was no looting of local businesses after the National Guard was summoned.
Ramirez said there has been a protest of some sort in West Hollywood every day for 16 days. The most prominent of them were the June 3 protest march, which attracted several thousand people and was peaceful, the June 7 protest, also peaceful, and the June 14 All Black Lives Matter solidarity march, which drew more than 20,000 people to West Hollywood.
Ramirez addressed complaints about using heavily armed officers and industrial waste bins to block traffic in nine locations. "As I have mentioned countless times to members of the public, special interest groups and peaceful protestors, this was not meant for you, and it certainly was not meant as an intimidation tactic for our law-abiding citizenry," he said. "This preparation and staging was for those whose goal was to create lawlessness, wreak havoc, harm innocent protestors or citizens , hurt police officers and perhaps burn down a police station."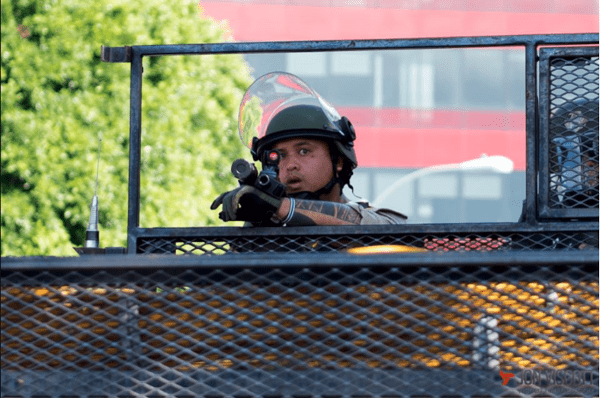 Among those voicing support for Ramirez and the Sheriff's station response were Genevieve Morrill, CEO of the West Hollywood Chamber of Commerce, and Nick Remedio, general manager of the La Peer hotel and chair of the chamber's board of directors. Both Remedio and Morrill cited calls from City Manager Paul Arevalo and Capt. Ramirez to business leaders to keep them informed about measures to keep them safe. Norbert Relecker, manager of the Mondrian hotel, sent an email to the Council praising the Sheriff's Station's work.
However, other members of the public objected to the curfews and heavy police presence. For example, one resident, James Gillum, said the 4 p.m. curfew declared by the city manager on June 1 "was not designed to protect citizens of West Hollywood, it was designed to sabotage our right to protest and punitively vilify us from the perspectives of those who chose to stay home.
"At one point while demonstrating in Hollywood, I received a text message that I was half an hour away from curfew in West Hollywood. I couldn't make it back in time if I'd wanted to. While I was not arrested when walking back, I was harassed by police along the way, and I am sickened to know how many more peaceful protesters were arrested for overstaying these unconstitutional curfews intentionally or otherwise."
Another commenter, Ed Devine, questioned why the cost of West Hollywood's contract with the Los Angeles County Sheriff's Department for public safety services has increased steadily over the years while what the city spends on social services has remained relatively flat.
In response to complaints about the curfews, Councilmember Duran said that four days of curfews "were a reasonable limit on civil liberties."
"We'd rather exercise on the side of caution and make sure that our people and or property is protected than to be so liberal and so unprepared that we are cleaning up the ruins the next day, saying 'if only we had done X, Y and Z'," Duran said.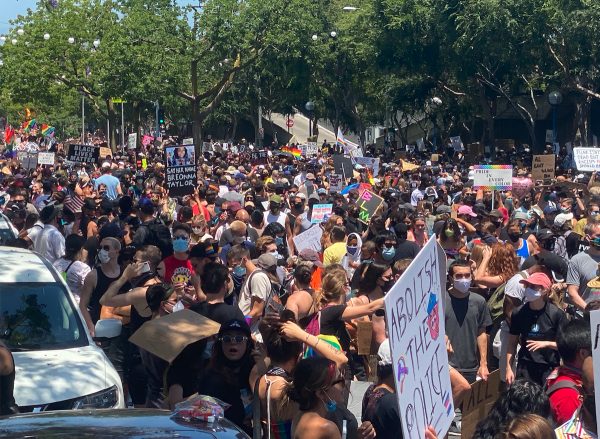 Duran praised Ramirez, Sheriff's Lt. William Moulder and other deputies for their response to protests over the last few weeks and said he was opposed to what he called "extreme and drastic solutions" that some people have proposed to curb violence against Black people by police officers.
Those proposals have included "defunding" the police, a term used by those who advocate allocating some law enforcement funding to social service and mental health agencies. Duran also disputed claims of racism in West Hollywood. "I don't see a lot of racism in the city," he said, adding that sometimes people's bias is stimulated by their perception of one's class, not their race.
City Councilmember John Heilman also praised the Sheriff's Station's handling of the protests and the curfew. However, he suggested the city follow the lead of the Los Angeles County Board of Supervisors in looking at how the money it allocates for law enforcement is used and whether some of those services could be supplied through other agencies. An example he noted would be moving the mental health evaluation service provided by the Sheriff's Department into the Department of Public Health.
Councilmember Lauren Meister questioned whether deputies moved to the West Hollywood station are tested in any way to see if their core values align with those of the city, which is known for its support for LGBTQ rights. Capt. Ramirez said the West Hollywood Station doesn't choose what deputies are assigned there, but does provide sensitivity training and has worked to transfer to other stations three deputies who didn't seem to be a good fit.
Meister also suggested the city consider working with the Center for Policing Equity, a data-driven organization that works with law enforcement agencies and local communities to develop more equitable law enforcement practices.
Mayor Lindsey Horvath said she would like to see the city embrace the Los Angeles County Alternatives to Incarceration Work Group. It was created in February 2019 after the Los Angeles County Board of Supervisors passed a motion that called for leaders from the justice system and health departments as well as community experts to develop a plan to scale alternatives to incarceration and diversion so care and services are provided first and jail is a last resort.
Horvath also noted that she has heard from people, like those from the trans community, who haven't had a good experience in West Hollywood.
"While many of us can say that we've had a great working relationship with the Sheriffs Department, I also know that – not being a Black person – I don't understand what the experience is of being a Black person in response to experiencing law enforcement in our community or any community," Horvath said. " And I think that we have to recognize that none of us are Black people having this conversation and keep open minds and open hearts to listen to what those experiences are and to see if there are things we can do better."
Councilmember John D'Amico, who questioned the use of officers with firearms in situations like giving out a parking ticket, noted that the city's contract with the LASD is renegotiated each year. D'Amico suggested the city's Public Safety Commission be asked to review it and consider what can be done to deal with perceptions of racism by police offers and offering services that don't require carrying guns. The Council agreed ask City Hall staff to return with a formal request for that at its next meeting.
CORRECTION: An earlier version of this story said that Mayor Lindsey Horvath called for the city to embrace the county's Public Safety Realignment Plan. In fact, Horvath asked that the city get involved with the Los Angeles County Alternatives to Incarceration Work Group. The story has been updated to correct the error,