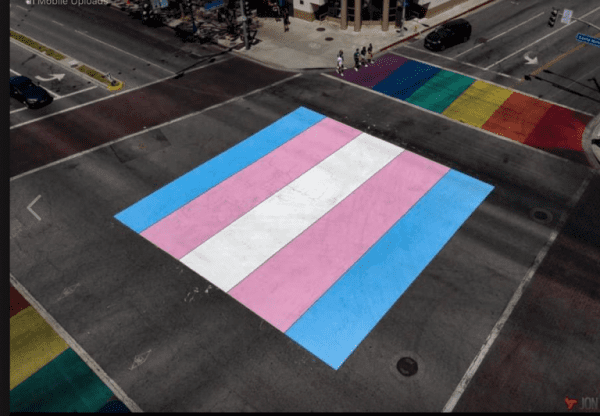 The intersection of Santa Monica Boulevard and San Vicente Boulevard is viewed by many as the entrance to West Hollywood's Boystown gay nightlife district. That's why the City Council decided in 2012 to create two crosswalks painted in the rainbow of colors used in 1978 by Gilbert Baker to create the Gay Pride flag.
But the thousands and thousands of people who marched into West Hollywood on Sunday to protest police violence against Black people found themselves also greeted by a rendering of the blue, pink, and white transgender flag.  And some City Council members aren't happy that city board and commission members were involved in creating that.
City Councilmember John Duran, at Monday's Council meeting, was critical that people had painted the trans flag image without reaching out to City Hall for permission. He noted that when the city created the rainbow crosswalks, it decided not to put an image in the center of the intersection.
Duran was more upset when he learned today that members of city boards and commissions participated in the painting and that, by her presence, Mayor Lindsey Horvath was giving her tacit permission. Sheriff's deputies were also on the scene, standing quietly by while the painting was being done. Councilmember Lauren Meister also expressed her concern about that.
"There is a reason that law enforcement and government officials have to remain neutral on free speech," Duran said in a text message to WEHOville objecting to the flag painting. "For example, if this sets a precedent and a group wants to paint a Confederate flag on Santa Monica Boulevard, we can't say 'oh we agree with trans rights so that unauthorized mural can stay, but your Confederate flag has to go.'  Now we are regulating content.  And the government cannot regulate free speech — whether it's law enforcement or city government. "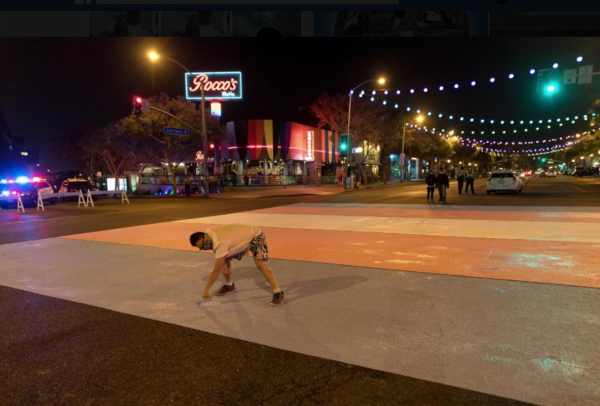 The painting was a project of the organizers of Sunday's All Black Lives Matter protest march.  John Erickson, a member of the city's Planning Commission and a candidate in the Nov. 3 City Council election, was part of the group that help paint the flag image late on Saturday night.  Mayor Horvath was on the scene, as were more than a dozen others including Karen Andros Eyres and Angela de Silva, members of the city's Women's Advisory Board; Alexis Sanchez, a member of the city's Transgender Advisory Board, Zekiah Wright, a member of the city's Lesbian and Gay Advisory Board, and Noemi Torres, a member of the city's Public Facilities Commission who also is running for a West Hollywood City Council seat.  Duran and Councilmember John Heilman are both up for re-election in the Nov. 3 race.
In a Facebook post that included photos of him and others doing the painting Erickson said: "Sometimes you take over Santa Monica Blvd. on a Saturday night and paint a giant trans flag to say loud and proud: Black Trans Lives Matter!"
In a text message to WEHOville, Duran said that "any person defacing public property is subject to arrest for misdemeanor vandalism.But when a crime is committed with the participation of public officials who act under the color of authority,  it is especially troubling.   Any other person would have been arrested.   The Mayor and commissioners are supposed to defend the city, not order deputies to stand guard while an offense is committed."
In an email message to WEHOville, Erickson said: "This action was clearly meant to lift up trans voices and visibility and stand as allies for the trans community, as trans people -especially Black trans women – continue to fall victim to violence and murder. I believe it it's important to center trans voices in the conversation and I hope West Hollywood will do more to include them in the conversation as we work to build a more just future.
"While painting the flag was not my idea, I support the action.  While activists, advocates, and others are out fighting to keep our transgender community alive, some seem to be more concerned with washing away advocacy, rather than fighting for Black trans lives and supporting all members of our community."
Horvath said she was aware that the demonstration and the painting of the transgender flag were not conducted with a formal permit from the city. "Recognizing that this was not a permitted event, I applaud the city's response to this demonstration — especially our Sheriffs who were there protecting the peaceful protestors," she said. "I truly appreciate them stepping up to protect our trans activists and their allies.
"I am aware of the limits of my formal authority as the Mayor of West Hollywood.  No one person on the City Council can 'order' or direct the Sheriff's Department or city staff to do anything.
"That being said, I am a proud ally of the transgender community, and I have marched in the streets in support of black lives. If the organizers of this flag painting action had come to me in time, I would have proudly drafted an agenda item of support for the Council to consider, and I would like to think the Council would have passed it.
"We need to direct our energy to support activists who are fighting to protect black trans lives. We should focus our anger on the recent brutal murders of two black trans women, or the Trump Administration's erasure of healthcare protections for transgender people during Pride Month on the anniversary of the Pulse shooting. Better yet, maybe cisgender people can take a pause all together and listen to our transgender family, center their voices in this conversation, and empower their work."
Councilmember Meister said she also felt that it had been inappropriate to paint the transgender flag image on a city street without reaching out to City Hall.
"While I am very supportive of our transgender community and #TransLivesMatters, it does concern me that no one thought to apply for a permit, no one thought to check with our City Manager, and no one thought to ask Council to expedite," Meister said. "If a council member was involved that evening,  and approval was implied as far as Sheriff's personnel or city staff were concerned, that would be disturbing because as a sworn public official in the City of West Hollywood, there is, like it or not, protocol and a code of conduct. This is not about the transgender community, but rather a public official's actions, without the consent of the Council majority or knowledge of the City Manager."