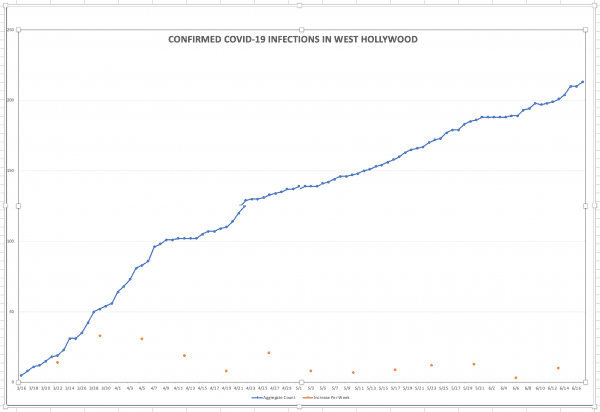 Three new cases of COVID-19 infections among residents of West Hollywood were confirmed today, bringing the total to 213.
Los Angeles County Department of Public Health today confirms 1,414 new infections and 38 new COVID-19-related deaths in Los Angeles County. That means the total of those confirmed to have been infected is 79,609, and 3,063 have died.
The number of West Hollywood residents who have been tested as of today is 4,761. The number of West Hollywood residents who have died from COVID-19-related illnesses remains at four.
Beverly Hills as of today has 191 infections, an increase of one from Thursday's count. The number of confirmed infections in Culver City has increased by two to 181. The Hollywood neighborhood now has 369 confirmed infections, an increase of four from yesterday's count. The Melrose neighborhood's infections have increased by nine to 725.
The Health Department reports that there are 1,446 people who are currently hospitalized, with 29% of them in the intensive care unit and 21% on ventilators. Testing capacity continues to increase in LA County, with testing results available for nearly 891,000 individuals and 8% of people testing positive.
The Health Department reminds people that even if you tested negative, that negative test only tells you your status the day you were tested. You could become infected the very next day and unknowingly pass on COVID-19 to others. If you were already positive for COVID-19, it is still not clear that you have immunity from the virus, which means you could become infected again and therefore pass along the virus to others. For that reasons, people are asked to always wear a cloth face covering when you are around anyone else, even if this is just passing by someone else. 
The Health Department reports that the seven-day average of deaths are decreasing across all races and ethnicities, however Black people, Latinos/Latinx and Native Hawaiians and Pacific Islanders are still experiencing a disproportionate number of deaths from COVID-19. The average daily deaths were at their highest in early May at 45 or 46 deaths per day, and in early June, the average daily deaths range between 20 and 30. The daily number of hospitalizations has decreased as well, from peaks of over 1,900 to now between 1,350 to 1,450 per day, although there is a slight increase in the last few days.
"Los Angeles County continues to be on target for maintaining adequate hospital capacity, including capacity in intensive care units and having an adequate numbers of ventilators, and meeting the goal of testing 15,000 people per day," the Health Department reports.
As of today, the Health Department is allowing the opening of bars, skin care and cosmetology services, nail salons, piercing and tattoo parlors, massage parlors, and wineries and breweries so long as they follow rules designed to reduce the likelihood of customers and workers transmitting the virus.
Because this virus is still easily transmitted among people in contact with each other, the best protection against COVID-19 continues to be to wash your hands frequently, avoid touching your eyes, nose, and mouth with unwashed hands, self-isolate if you are sick, practice physical distancing, and wear a clean face covering when in contact after symptoms and fever subside, or until they receive a negative result. A person who tests positive for COVID-19, should expect to receive a call from a contact tracer to discuss how to protect themselves and others, to find out where they may have been, and who they were in close contact with while infectious.
People who have underlying health conditions remain at much greater risk for serious illness from COVID-19, so it will continue to be very important for the county's vulnerable residents to stay at home as much as possible, to have groceries and medicine delivered, and to call their providers immediately if they have even mild symptoms.
Residents with questions about the COVID-19 pandemic and who are looking for resources to deal with it can find answers on the City of West Hollywood's website. Here is a list of links to sections about particular subjects and issues:
Residents with questions about the COVID-19 pandemic and who are looking for resources to deal with it can find answers on the City of West Hollywood's website. Here is a list of links to sections about particular subjects and issues: